Our School's Too White? Outraged Parents Vow to Lie About Child's Race to Keep City From Removing Teachers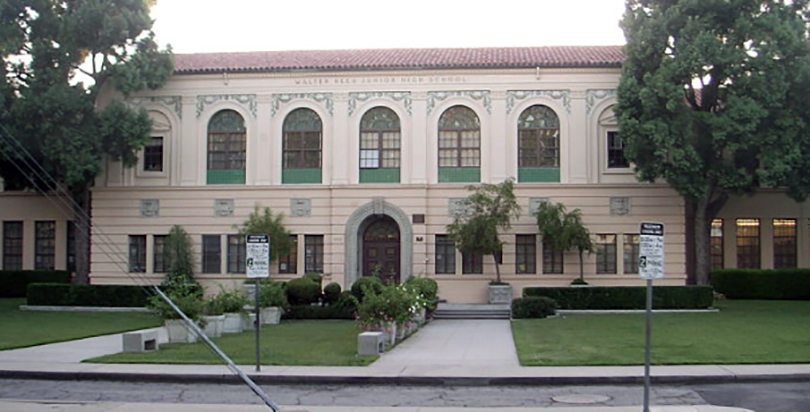 White parents who stand to lose teachers and counselors at their neighborhood public school in Los Angeles are changing their ethnic status with LA Unified to get around a district policy that strips extra staff from schools that are more than 30 percent white.
And some Latino parents who fear deportation under the Trump Administration are saying they are white, further imperiling the smaller class sizes guaranteed under a 40-year-old desegregation settlement.
A 1978 legal settlement requires that LA schools with less than 30 percent white students get extra teachers, counselors, and parent-teacher conferences. But each year, a handful of schools lose that status, known as
PHBAO
(pronounced "fuh-BOW") — an acronym for "Predominantly Hispanic, Black, Asian, or Other."
Nine schools will lose their PHBAO status this year — six elementary schools, two middle schools, and one high school. Five of them are in the Los Angeles suburban San Fernando Valley, three are affiliated charter schools, and six are Title 1 schools, meaning that more than half are socioeconomically disadvantaged. The
latest list of schools designated as PHBAO
schools shows that only 12 percent of all LA Unified schools, which are predominantly poor and Latino, have more than 30 percent Anglo students.
At one of those schools,
Walter Reed Middle School
in Studio City, some of the 80 parents attending a school-wide meeting this month said that fears of immigration raids have led families to identify as "White/Caucasian" rather than "Hispanic," which decreases the school's minority population. Others, who are angry about the arbitrary nature of the school district's policy, said they will change their status and encourage others to do so too in order to keep their teachers.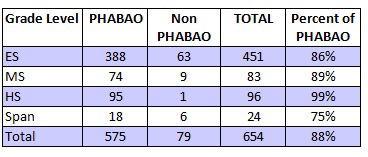 "I know I can find some minority designation in my family heritage. I will be changing my status as soon as I can," said Reed parent Alexis Prescott, in tears while speaking at a meeting with district officials who explained that the school could lose five teachers and a counselor and increase class sizes from 34 to 39 students. "People don't realize how this can affect their schools, and we have to let everyone know. This is my worst nightmare."
A school district official, Keith Abrahams, said there's nothing that can be done about parents wanting to change their racial designation.
"You have an opportunity to self-select — we can't tell you what race or ethnicity you are," said Abrahams, who said he wasn't sure if there will now be a trend leading people to falsify their status to keep the PHBAO designation. "This is certainly something that people are upset over."
Erica Fox, a white Jewish mom, enrolled her son and her non-biological African-American daughter at Reed and said she is concerned about it becoming a racism issue. "To make this an argument about racism against whites is absurd and dangerous and outrageous," said Fox, who said she was told that Reed's students were "too brown and too poor" at one time. "I am proud that the schools are so diverse. I think it makes the schools better. Once this becomes a story about racism against whites, it will be bad for Reed and for schools like it."
Fox said she knows that there are parents who are redefining their children's status to mark the "O" boxes, as in "other," and said, "In this era of Donald Trump and the fear that he has caused, I know there are families afraid of his anti-immigrant and anti-Muslim rhetoric and I worry that the data will not be accurate during his administration."
As news reports come out about the loss of teachers at PHBAO schools, reporters have swarmed Reed's school grounds. "Now it is becoming an issue of racism against whites," Fox said. "Whenever people talk that way, it becomes a dangerous time for people of color."
Reed's principal, Jeanne Gamba, first suspected something could be wrong with the reported racial mix at her school when she was holding a parent conference with a mother who had a Latino surname. The mother had a Spanish translator provided by the district. Yet the mother was identified as white.
"If we had about 50 families change their race to more reflect their actual status, then we will be back to the situation we were in before," Gamba said. "We have to be delicate in approaching this issue with families as they re-examine their self-identifications."
A father of mixed Asian descent who adopted two Hispanic girls said that he has previously changed their racial designation to benefit them. "Sophia had blue eyes, so we said she was white so she could get into a magnet program that was outside of our school district," said Sabin Gray, whose daughters have both since graduated from Hollywood High School. "They were sisters, but Rita was designated Hispanic and Sophia was white. You had to figure out how to game the system and figure out what was best for your child."
Abrahams said he doesn't want parents to incorrectly identify their status but said, "It is important for parents to understand their self-selection and the reality of how it impacts the school. No principal, no administrator can say, 'No, I think you are this' and challenge you."
Board member Scott Schmerelson, who was at the three-hour meeting on March 15 at Reed with about 80 parents, said Tuesday, "What I hope doesn't happen is that people lie — they should tell the truth. It wasn't until I attended the Reed meeting that I realized that so many people were afraid to identify as Hispanic because they feared deportation, but it makes sense. I can see that there's a need to scrub the data to have people identify properly, but I don't think people should lie. That sets a terrible precedent to the children."
School board president Steve Zimmer said the guidelines were put in place for a reason and need to be followed. "It is important that we ensure that services are in place for students of color in diverse school settings," Zimmer said. "The equity mission of the district drives our work every day. We need to make sure all schools, especially diverse schools, have all the tools they need to fulfill this mission."
Reed's parent center coordinator, Carol Convey, said she already knows of more than a dozen parents who have purposely misidentified their status and will now change it to be a minority. Many parents and the principal said they believe that Reed will be a PHBAO school again next year.
But that's not enough for Fox, who picked Reed because of its diversity. Juggling the number of teachers the school can have and increasing class sizes can only hurt the school, she said, adding: "If the school is stripped of its PHBAO status, the programs we have in place will collapse and, with that, the school's efficacy and well-deserved reputation."
Reed is in a wealthy San Fernando Valley suburb near the CBS Studios and home to many celebrities who also send their children to the school. William Shatner, Miley Cyrus, and Ed Begley Jr. all live in the neighborhood. Former students include Mayim Bialik, Adam Carolla, Brian Austin Green, and Alyson Hannigan. The iconic 1939 school is one of the district's most popular filming sites, and the houses used for family TV shows like The Brady Bunch and Malcolm in the Middle are only a short walk away.
To lose PHBAO status, a school must have recorded at least two years of enrolling more than 30 percent white students. For Reed, the white population among its nearly 1,600 students was 32 percent in 2014, 35 percent in 2015, and 38 percent in 2016, said Rena Perez, the district's director of master planning and demographics.
A newly opened middle school, Roy Romer, in North Hollywood, has siphoned off many Hispanic and black students living in the north Valley. And a crackdown on families
faking their addresses
to attend an affiliated charter elementary school that feeds into Reed may also contribute to the demographic change.
"A lot of it may have to do with the changing demographics of the neighborhood," suggested Gamba, who is spending the rest of the year going through each family's racial status to see if she can find families that listed themselves as white either out of fear or on the assumption that it would help their child get into certain programs. The PHBAO rating only counts the students going to school from within the neighborhood, not those transferring in from other areas for special programs like Reed's popular Independent Honors Program. "In fact, if we were to include some of those students, the [white] numbers would be even higher," she said.
The changing neighborhood around Reed could eventually cost the school's Title 1 status too, which would translate to a loss of several hundred thousand dollars, the principal noted. Over the past year alone, housing prices in the 91604 ZIP code, where most Reed students live, went up 28 percent to a median price of $1.16 million, and rents went up 7 percent to more than $6,000 a month, according to
Trulia.com
.
Local District Northeast superintendent Linda Del Cueto, who spoke at the Reed parent meeting, soothed some parents' concerns by saying that out of her own budget she found enough money to allow Reed to keep the counselor that would have been lost. Then, this week, Del Cueto sent a letter in
English
and
Spanish
to parents, explaining that the school would be redefined in "alternative funding models and has identified Reed as a per-pupil spending model school" so they won't lose five teachers as expected. Gamba said it may turn out to be only one or two teachers.
That "per-pupil spending model" is also being used at the eight other schools losing PHBAO status this year, so the loss of teachers will be at a minimum. The schools are: Third Street Elementary School in Hancock Park, in board member George McKenna's district; Broadway Elementary in Venice and Emerson Community Charter Middle School in Westwood, in Steve Zimmer's district; Dahlia Heights Elementary in Eagle Rock, in Ref Rodriguez's district; Plainview Academic Elementary in Tujunga and Stonehurst Elementary in Sun Valley, in Monica Ratliff's district; and Knollwood Prep Academy Elementary in Granada Hills, Grant High School in Van Nuys, and Reed, in Scott Schmerelson's district.
After attending the Reed meeting, Schmerelson tried to have a "stay" on the schools across the district losing their PHBAO status. "I hear you, and I understand your concerns. Let me see what I can do at the district level. I know the parent activism is always big here." But he said this week that legally the district could not do it, and that each of the schools had a few years' notice before they lost their status.
Abrahams, the Student Integration Services executive director, noted that the schools could get back on the PHBAO list as quickly as next year if the racial mix changes. He added that no specific funding is granted to schools on the PHBAO list, but class sizes do readjust the number of teachers assigned to a school.
The district needs to change the school forms, admitted Del Cueto at the parent meeting. "We will work to make the form parent-friendly," she said. "Hispanic" is the only ethnically separated designation; the other categories are racial designations.
"I know families checked off white even though they are Hispanic," Fox said. "I know that some Armenian families resent having to check off white. The whole form needs to be changed."
Get stories like these delivered straight to your inbox. Sign up for The 74 Newsletter