Nebraska Lawmakers Dissect Omaha Schools' Special Ed Teacher Vacancies
Omaha district recently transferred special needs students from three schools as part of more than 130 total special education classroom vacancies.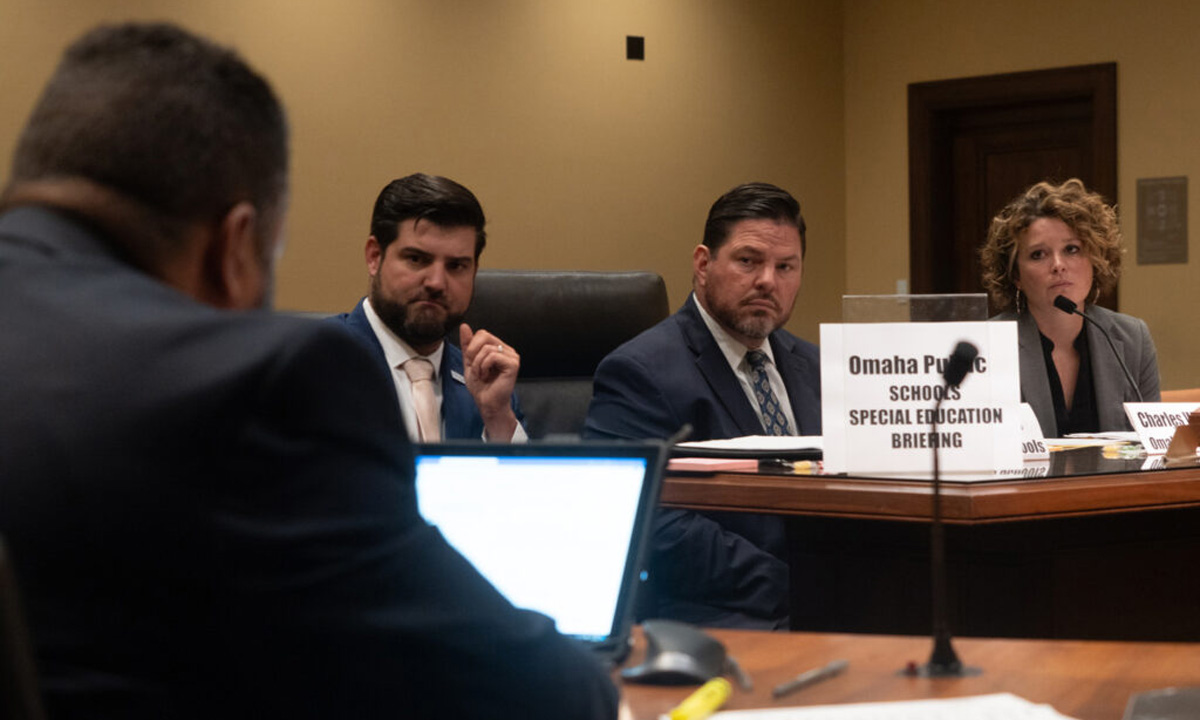 Get stories like these delivered straight to your inbox. Sign up for The 74 Newsletter
LINCOLN — About one week before school started this fall, Omaha Public Schools informed Kelsey Escobar her child would need to change schools to continue his individualized special education. She could choose among a dozen different sites.
Escobar said her son transferred into one of those sites, but the afternoon school bus that was arranged to pick up her son did not arrive multiple times during the first week of school, and school administrators didn't tell her about a change in plans until 4:30 or 5 p.m. She said that no one from the OPS central office told her in advance and that it felt like OPS was trying to "bully" her family into selecting another school.
Though the situation has since improved, Escobar told the Nebraska Legislature's Education Committee on Friday the experience traumatized her and scared her son for being left behind.
"It was very stressful for me," Escobar told the committee. "It was something that I didn't think I would ever have to go through because, obviously, it's the school system, they know what they're doing. Our kids are in their hands pretty much."
"I always have my phone next to me just in case the school tells me, 'Hey, the bus is not coming today,'" Escobar added.
Vacancies pushed students from three schools
The Education Committee called for Friday's special briefing after three North Omaha schools — Walnut Hill, King and Central Park — were left without a single special education instructor this year.
Spencer Head, president of the Omaha School Board, said the five vacancies at those schools are the result of four resignations and one transfer in the spring. The vacancies are just a handful of 133 special education teachers missing in OPS classrooms.
Across the three North Omaha schools, 137 students have been displaced or are going without services if they chose not to relocate.
OPS, Head said, has 52,000 students. Roughly 21.3% of them are on an individual education plan, or IEP — the national average is 15% of students. OPS's share of special needs students is greater than the number of total students in all but five of the state's 244 districts, Head said.
IEP teams can include five to 15 support staff members and are crafted delicately according to state and federal laws after meetings usually lasting one to five hours.
"It's a complicated process with one primary goal: to ensure that students with disabilities receive a free and appropriate education," Head testified.
The process has also gone through "lawyerfication" with 330 families now coming to IEP meetings with lawyers who treat the process as "mini-trials," according to Head. Five years ago, the district averaged five cases of families who were represented by lawyers, Head said, and the increases are because juvenile courts have appointed legal counsel for families in unrelated cases.
"It's a process that really makes no sense," Head said. "IEPs are meant to be collaborative rather than combative endeavors."
'What are we doing?'
Lawmakers at the hearing often traded grilling questions to Head as well as to Charles Wakefield, OPS's chief operations and talent officer, and Kara Saldierna, executive director of special education for OPS.
At times, lawmakers scrunched their faces or used their hands to hide their faces or hold their noses after asking OPS officials what steps they took to minimize the fallout and communicate with families.
At one point, the room fell silent after Omaha State Sen. Justin Wayne, who represents North Omaha alongside State Sen. Terrell McKinney, asked, "What are we doing?"
No OPS official had a response.
State Sen. Danielle Conrad of Lincoln asked whether OPS had taken other steps, such as negotiating with the local teachers union, communicating with the Nebraska Department of Education or using emergency funds to address the vacancies. Wayne asked whether the district considered contracting with private companies to provide certain services.
Wakefield said OPS last negotiated teacher contracts in the winter but has not done so recently because teachers would breach their contracts and risk losing their licenses if they left their current districts to come to OPS.
Why these schools?
Conrad asked the officials, "Is this an emergency?" and Head nodded, "Yep," and explained the district is now looking at using reserves in some way. Head said the district is also in contact with the Nebraska Department of Education.
OPS board members approved the district's next budget, which Wayne noted includes fewer funds for the North Omaha schools that no longer offer certain special education services.
Saldierna said that the intent is to restaff the schools and that OPS will not require students who have transferred to return to their schools unless they want to.
OPS is also shifting more than 1,000 students for speech language pathology to online services through the Chicago-based TeleTeachers. An in-person staff will monitor students.
State Sen. Lou Ann Linehan of Elkhorn asked why the issue fell on the three North Omaha schools, which Saldierna said was not OPS's choice.
"What we did have control over was to ensure that students at those schools were able to receive special education services," Saldierna added.
Head said Matthew Ray, OPS interim superintendent, made the final call to move the North Omaha families. Doing so was meant to avoid a "ripple effect" impacting more students if the district took an alternate route, Head said.
'We scavenge wherever we can'
Conrad asked why the changes seemed sudden in mid-August when families were first notified, considering the district knew about the vacancies in April.
Wakefield said OPS had every intent to fill the positions, working to recruit year-round, attending multiple career fairs, visiting 20 different states and advertising through billboards in districts miles away to "steal" teachers.
Still, the vacancies — similar to districts nationwide — persisted.
"We scavenge wherever we can, but no matter how much money we actually contract … we've got to have the people to do it," Wakefield said, stating no teachers are available.
OPS officials said the district would be in further trouble if a teacher suddenly resigned or was injured. Wayne asked repeatedly what the contingency plan was and expressed concern for liability in the district.
Legislature mulls more legislation
Solving the shortage of special education teachers is a little more complicated than a shortage of general education teachers because there is a licensing requirement. There are current teachers certified in special education, but Wakefield said they've not been approached because of a similarly feared "ripple effect" for those students.
Head suggested possible changes could include changing a licensure requirement so it could be fulfilled through a Nebraska Department of Education course or allowing teaching certification tests to substitute additional education and get teachers in the classroom sooner.
Conrad said there has to be a price point to incentivize teachers. She said she hopes OPS and other districts facing similar circumstances will use the moment to come up with a clear plan so the Legislature can further address teacher retention and recruitment.
This year, the Education Committee eliminated certain certification fees and budgeted stipends to retain teachers as two ways of addressing the issues with legislation led by State Sens. Lynne Walz of Fremont and Linehan, respectively.
'We are exploiting their altruism'
Elizabeth Eynon-Kokrda, managing attorney for Education Rights Counsel, which provides support to under-resourced public pre-K-12 students, said the Legislature could choose to address student-to-teacher ratios, resolve transportation concerns or require more accountability.
"Some children, you can give them those tools and they don't use them," Eynon-Kokrda said. "But the vast majority of students that we work with, when they get those tools, they start succeeding."
She added it's hard to understand why no teachers were removed from schools that, unlike in North Omaha, do not have a majority of students of color or families living in poverty.
Edison McDonald, executive director of The Arc of Nebraska, which advocates with and for people with intellectual or developmental disabilities, thanked the Legislature for this year's investments in special education. However, he said, more support will soon be needed.
Conrad said the situation raises racial and gender justice issues and has another complexity: a history of society and the state not valuing teachers.
"We're not paying them for the professionals that they are," Conrad said. "And we are exploiting their altruism and dedication because they are passionate about teaching and kids in education, paying them salaries that don't let them buy a house or live in any sort of peace of mind."
Nebraska Examiner is part of States Newsroom, a network of news bureaus supported by grants and a coalition of donors as a 501c(3) public charity. Nebraska Examiner maintains editorial independence. Contact Editor Cate Folsom for questions: info@nebraskaexaminer.com. Follow Nebraska Examiner on Facebook and Twitter.
Get stories like these delivered straight to your inbox. Sign up for The 74 Newsletter