Our 2018 Education Journalism Jealousy List: 22 Important Articles About Schools We Wish We Had Published This Year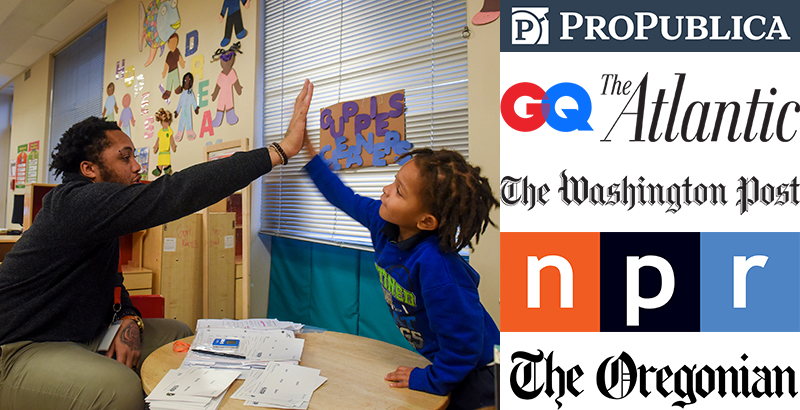 We've been jealous of Bloomberg Businessweek's "Jealousy List" for quite some time — the magazine's annual tribute to the best features, analyses, and scoops to run in other outlets. (Here's all of their 2018 shout-outs.) So we're stealing the concept this year and applying it to the world of education journalism.
2018 was a wild time for the ed beat. We'll remember this as the year that frustrated teachers seized state capitols; when students marched for their lives; when the Supreme Court undercut unions; when career educators ran for office amid a blue wave. It was also a time for incredible reporting about equity, student safety, governmental waste, and hard pivots in federal policy.
We're continuously in awe of the work being done by the other outlets and writers in our space. A quick tip of the cap to these 22 must-reads we wish we had published this year: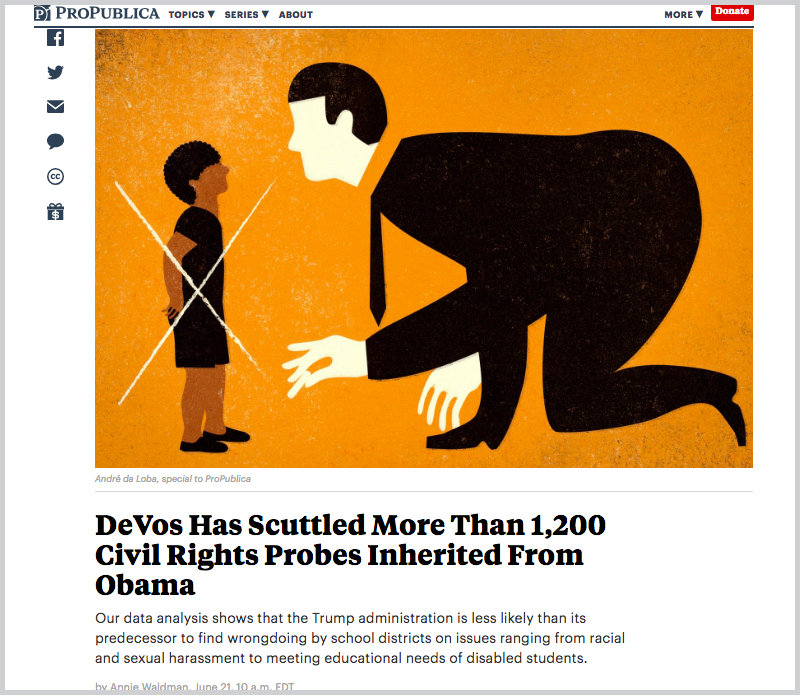 ProPublica — DeVos Has Scuttled More Than 1,200 Civil Rights Probes Inherited From Obama: Much has been written about the state of student civil rights under Education Secretary Betsy DeVos, and advocates have expressed concern that the Trump administration would scale back investigations on issues from sexual harassment to racial disparities in discipline. But ProPublica's Annie Waldman adds to the conversation with an impressive data analysis on civil rights enforcement in the DeVos Education Department. Through public records, Waldman analyzed more than 40,000 civil rights cases and found that the Education Department's Office for Civil Rights has become more lenient on enforcement in the name of efficiency. ProPublica also put the data in the hands of its readers with a feature that allows people to search for civil rights complaints filed against their schools. Read Waldman's investigation.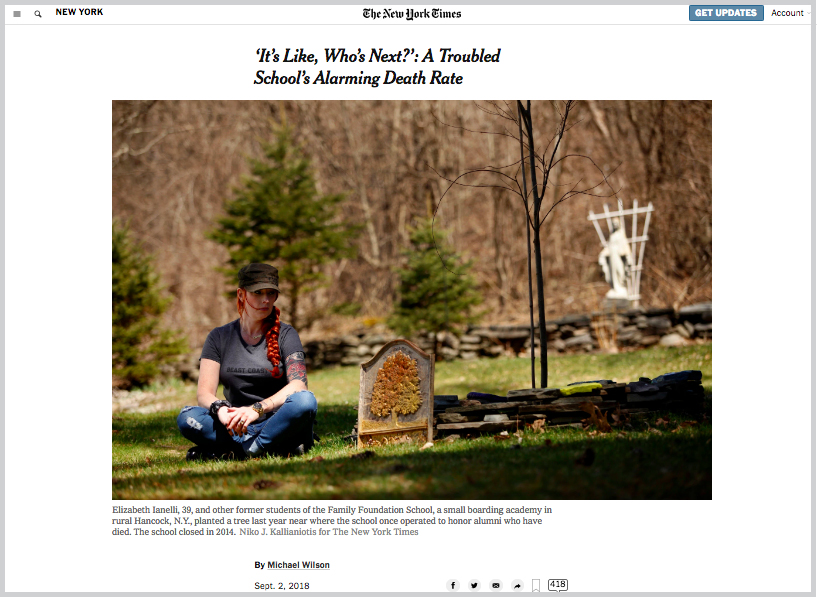 The New York Times —'It's Like, Who's Next?': A Troubled School's Alarming Death Rate: In January, the Times's Michael Wilson dropped one of the most poignant character studies I've read in ages, a look at the overdose death of a Bronx special education teacher in his school bathroom. The deceased, who left behind two children and a pregnant wife, had fought addiction since adolescence, when he was sent to a sobriety-focused Family Foundation School in upstate New York. (The program closed in 2014.) After months of reporting, Wilson discovered that early death has claimed nearly 100 alumni of the school, whose therapeutic methods included solitary confinement and physical restraints. A cardinal example of following a compelling story wherever it leads. Read Wilson's article.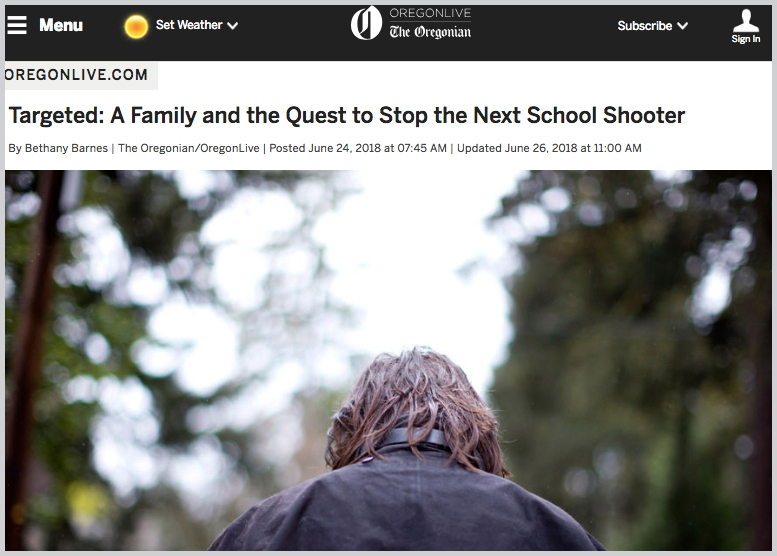 The Oregonian — Targeted: A Family and the Quest to Stop the Next School Shooter: Reporter Bethany Barnes investigates the dark side of the frenzy to identify potential school shooters by investigating how one student was harmed by his district's threat assessment plan, which isolated and punished him with frustratingly little evidence that he was actually a danger. It's told and reported so well that you can't read this story and not get angry at the injustice. Read Barnes's article.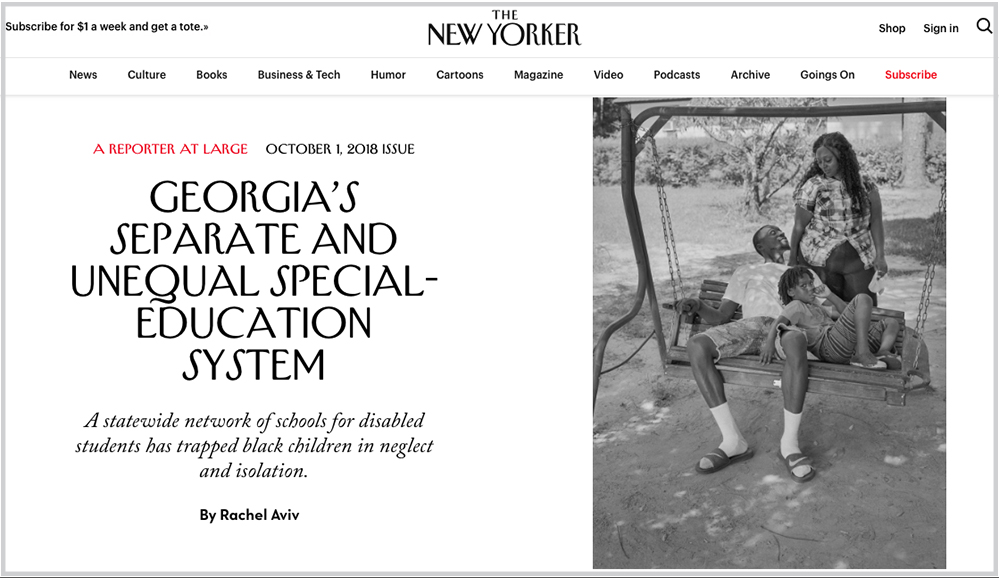 The New Yorker — Georgia's Separate and Unequal Special-Education System: The New Yorker's Rachel Aviv tells the story of LaToya Martin's efforts to rescue her son, Seth Murrell, from an "insidious, shadow education system" where black children with disabilities are warehoused — and sometimes abused — in Georgia, despite the existence of a well-trod body of law designed to protect their rights. "Latoya said that, when she walked into her son's class, 'I did not see one white child. All I saw was black boys.' Seth's 'target behavior,' according to the center's intervention plan, was to 'comply with adult directives.' Latoya demanded that Seth be returned to his neighborhood school, but she was told that first he had to meet his performance goals, which included following instructions seventy percent of the day. 'You all know this is against the law, right?' she said to Seth's teacher. Read Aviv's feature.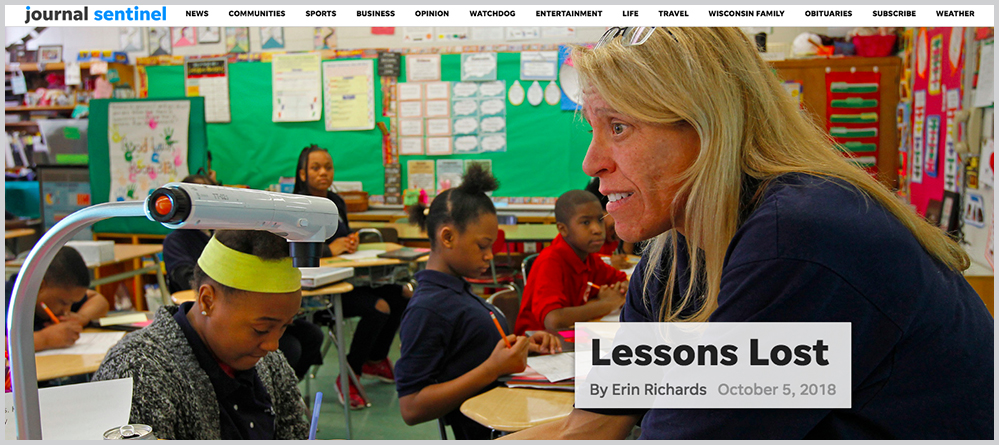 The Milwaukee Journal-Sentinel — Lessons Lost: Erin Richards digs into the effects of high student turnover in Milwaukee's schools. High poverty and levels of instability, discipline and transportation issues, and ample school choice all contribute to the "quiet churn" of students from year to year, which slows achievement for both students who change schools and those who stay. Richards focuses on Carver Academy, a district school where improvement was frustratingly slow or nonexistent year after year despite plenty of money for new initiatives and a range of reforms. Read Richards's feature.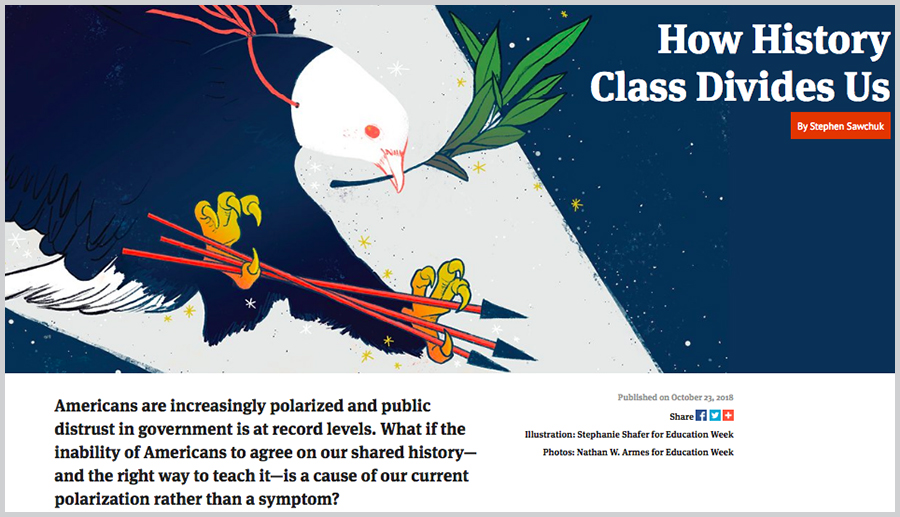 EdWeek — How History Class Divides Us: A very timely read with good graphics. A snippet: "What if the inability of Americans to agree on our shared history — and on the right way to teach it — is a cause of our current polarization and political dysfunction, rather than a symptom? It's a question that gets right to the issues of what constitutes facts, how to interpret them, and how they inform contemporary debates, all of which are key themes as America experiences a kind of civic crisis." Read Stephen Sawchuk's feature.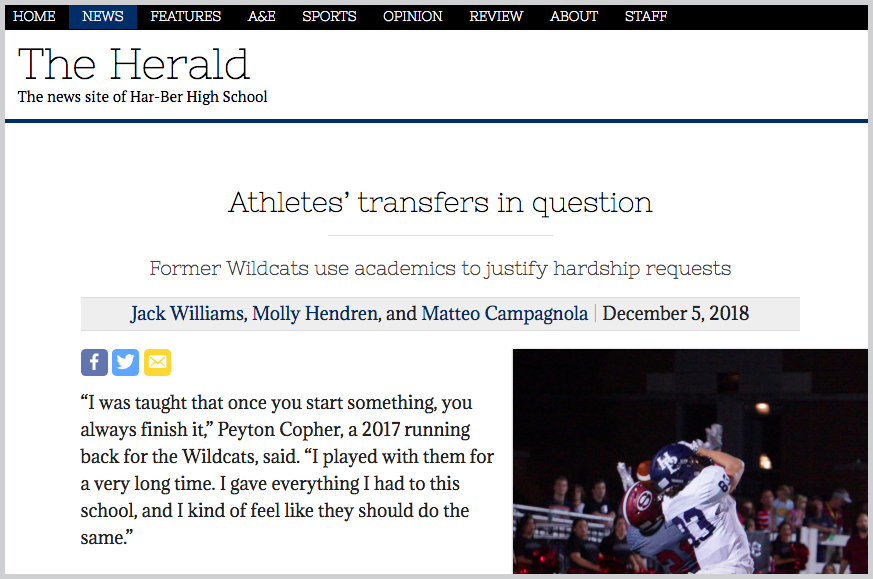 The Har-Ber Herald — Athletes' transfers in question: These high schoolers could give older journalists an object lesson in the freedom of the press. After five starters from Har-Ber's varsity football team transferred to a rival school, spurring gossip in their Arkansas town, the reporters started digging. They soon discovered that while the district approved the move on academic grounds, the transfers were actually concocted to get the players more Division I exposure. But the story went from petty scandal to local outrage after the district suspended publication of the Har-Ber Herald and threatened to fire its faculty adviser. That brought national attention that no one anticipated. Read the full story.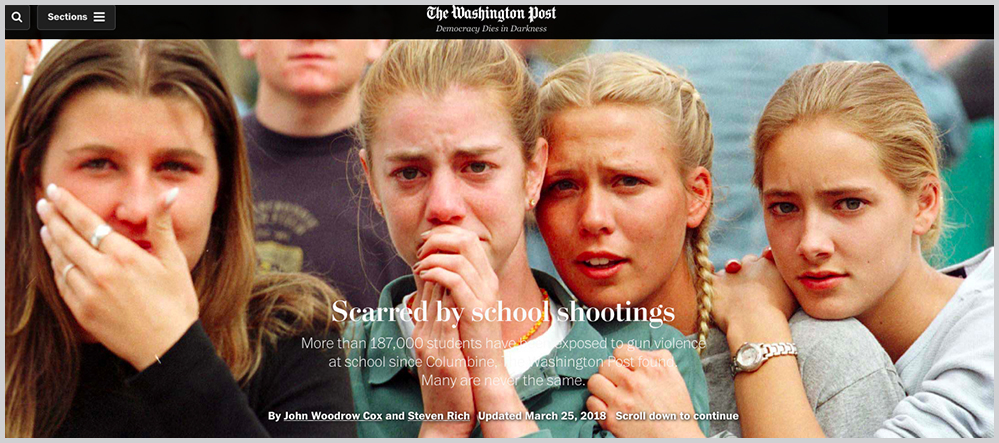 The Washington Post — Scarred by school shootings: We at The 74 and other news outlets across the country have written a lot about school shootings, gun control, and campus safety this year, in the wake of the Parkland, Florida, shooting and the wave of student protests, walkouts, and other advocacy. This story, though, offers a unique analysis, taking stock of the aggregate trauma of 20 years of incidents. As John Woodrow Cox and Steven Rich write, more than 187,000 students attending at least 193 primary or secondary schools have experienced a shooting on campus during school hours since 1999. Read the full feature.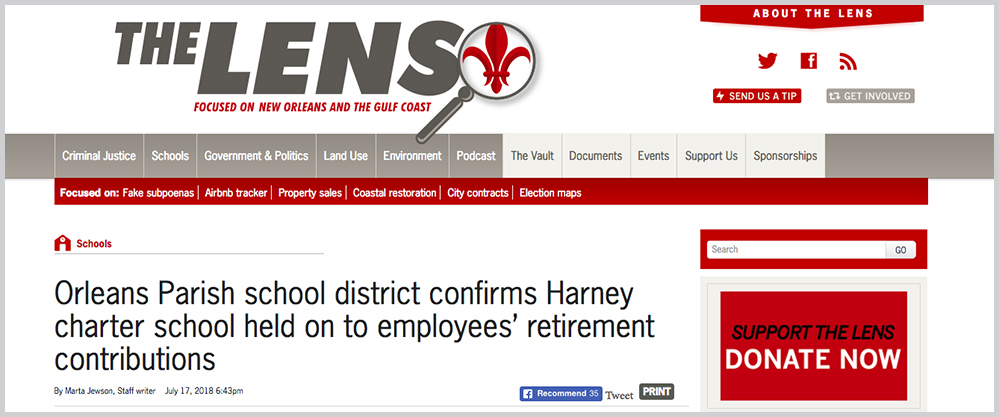 The Lens — Orleans Parish school district confirms Harney charter school held on to employees' retirement contributions: Lots of reporters struggle to keep up with the news generated by a single school board, so we can only speculate that Marta Jewson has a secret superpower that allows her to be in a dozen places at once. An investigative reporter covering education for New Orleans's nonprofit news site The Lens, Jewson has the daunting job of covering a district that is governed by upwards of 75 school boards. In July, she busted one board covertly withholding tens of thousands of dollars in contributions to employees' retirement funds. Jewson's investigation was followed by an Orleans Parish School Board probe into the financial irregularities and other allegations that ended with a decision to close Edgar P. Harney Spirit of Excellence Academy. Read Jewson's full story.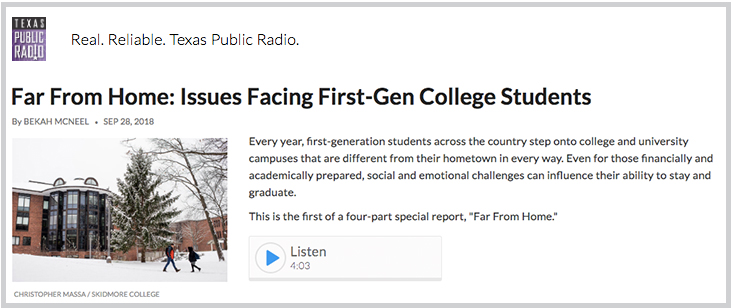 Texas Public Radio — Far From Home: Issues Facing First-Gen College Students: It's long been known that "undermatching" — when first-generation college-goers set their sights too low — means too few academically distinguished students of color end up at top colleges and universities. Add to that cultural values that make Latino students often reluctant to leave home. Texas Public Radio and education writer Bekah McNeel are following three San Antonio students who made the leap thanks in part to programs at both the high schools they graduated from and the campuses where they're adjusting to being far from home. Read McNeel's story.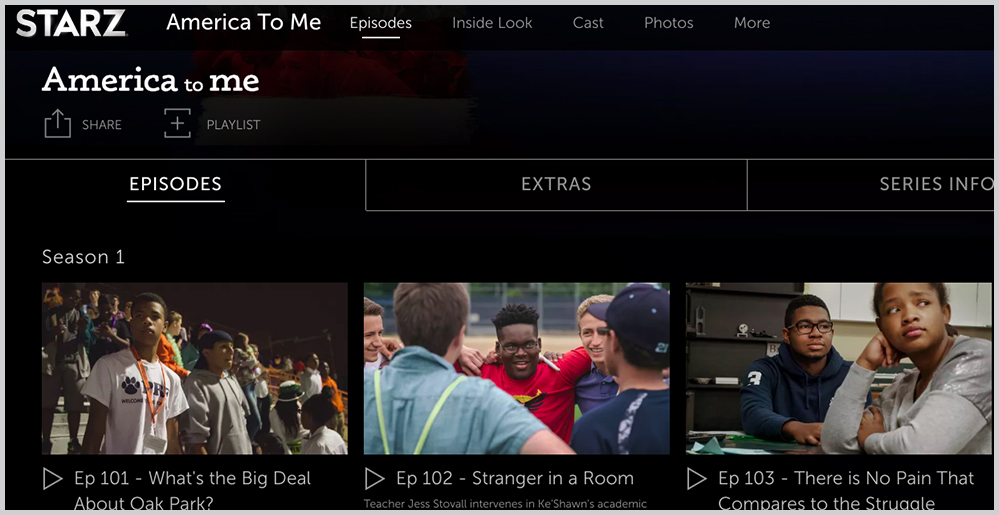 Starz — America to Me: One of the year's most impactful education storytelling efforts was produced not by a news outlet but by Steve James, the documentarian behind Hoop Dreams. For America to Me — available for streaming on the Starz network — James followed students, teachers, and others at Oak Park and River Forest High School for a year. Located just outside Chicago in the progressive community of Oak Park, it has long been considered one of the most successfully racially integrated schools in the country. And yet even as James's cameras record talk about inclusion and bias, they also capture ongoing, stark racial disparities. In a moment when integration and desegregation efforts top newsrooms' education coverage agendas, the 10-part series stands apart for revealing that even as they inhabit the same halls, black and white students frequently exist in very different worlds. Watch the documentary.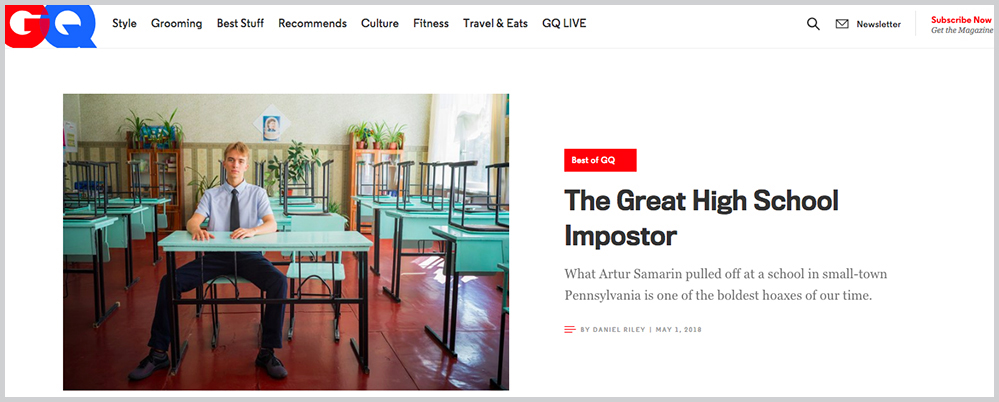 GQ — The Great High School Impostor: This story is the classic grifter tale, 21st-century-America style: the con man is a Ukrainian immigrant, and his loot is, in essence, the American dream, via a public high school education. I'll admit that I'm a little biased in loving this since it takes place in my hometown, but everything from the rat-a-tat writing listing his successes and accolades in high school, to the details, like that the protagonist spoke English fluently, but with an accent that was "Boris-and-Natasha thick," makes this the perfect magazine read. Check out Daniel Riley's feature.
APM Reports —Hard Words: Why aren't kids being taught to read?
New York Times — Extensive Data Shows Punishing Reach of Racism for Black Boys
The Atlantic — Parents Are Biased Against Even Quality 'Urban' Schools
NPR — The School Shootings That Weren't
AL.com — Rural Alabama Charter Opens as First Integrated School in Sumpter County
The Atlantic – Why Did No One Save Gabriel?
The New Yorker — At Trial, Harvard's Asian Problem and a Preference for White Students From 'Sparse Country'
Los Angeles Times — Hidden in L.A. suburbia, wrenching poverty preys on children and destroys dreams
The Baltimore Sun — These Baltimore students aren't afraid of mass shootings. They're facing gun violence in their everyday lives
The Chronicle of Higher Education — Hungry to Learn
Support The 74's year-end campaign. Make a tax-exempt donation now.