Oregon Ballot Measure Looks to Turn Around One of the Worst Graduation Rates in the U.S.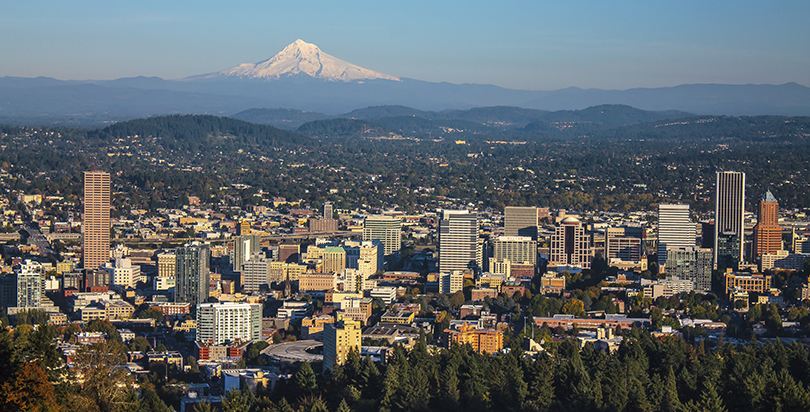 The nation's graduation rate, which has climbed to an all-time high over the past few years, has become a point of pride for the Obama administration and state education leaders across the country.
Oregon is a different story.
There, the high school graduation rate was 73.8 percent in 2014–15, nearly 10 percentage points below the national average, according to federal statistics released in mid-October. That put Oregon at No. 48 out of 51 in the country, above just the District of Columbia (68.5 percent), New Mexico (68.6 percent) and Nevada (71.3 percent).
(The 74: High School Graduation Rate Hits New High as Obama Credits Federal Investments in Education)
In response to years of lagging graduation rates, advocates launched a campaign for a ballot initiative, now known as Measure 98, that would require state legislators to dole out an additional $800 per high school student per year for districts to use for dropout prevention, college-level courses and career and technical education.
Advocates could have pushed for any number of education-improvement efforts that have been tried elsewhere, such as offering universal preschool or increasing teacher pay. But they noticed that Oregon eighth-graders' test scores were high — above the national average on the benchmark NAEP math and reading tests — and so deduced that the problem arose specifically in high school, said Toya Fick, executive director of Stand for Children Oregon, the primary backer of the initiative.
"We're really seeing this as a problem between ninth grade and 12th grade," she said. "We've been staring at this problem for a little while and really wanted to make sure that anything that we proposed would actually move the needle."
Fick said it isn't entirely clear why Oregon has such a low graduation rate, though it's likely at least partly because the state doesn't give more funding per student for older students even though they require more teachers in a greater variety of subjects. Districts have put more money into elementary and middle grades, in some places as much as 20 percent more per student, leading to larger class sizes and cuts to electives in high school, she said.
"That compounds over four years, and you get so many kids who get to senior year and drop out, or push through and aren't prepared," Fick said. A 2015 study found that 75 percent of Oregon students who went straight to community college needed remedial classes.
Monique Coleman Davis, a marketing teacher at Aloha High School in suburban Portland, taught other subjects, such as culinary arts and travel and tourism, in Texas for 12 years before moving to Oregon two years ago.
In Texas, students felt lucky to be studying something that interested them. In Oregon, classes are full, but students are in them mostly because there are few other options, Davis said, not because they're particularly interested in the subject.
"The kids that I see that aren't graduating on time, truly they're overwhelmed [by huge class sizes] or underwhelmed — there's no excitement about the programs that are available," she said.
Carmen Rubio, executive director of the nonprofit Latino Network, said the school system wasn't designed to meet the needs of the current multicultural, multiethnic student population. Her group, which started in 1996 and is part of the coalition backing Measure 98, provides after-school, dropout-prevention and college-prep programs in schools.
"Nonprofits have been there to try and fill in the gap as much as we can, but what we need is some systemic change, and I think this is a great opportunity to start to make some shifts in the system," she said.
In forming their plan of action, Stand for Children, Latino Network and other advocacy groups looked at schools in districts in Oregon and across the U.S. that had high graduation rates. They settled on three initiatives: dropout-prevention programs, career and technical education, and "college-level educational opportunities" such as AP programs and dual enrollment.
"These three things are not brand-new for anybody," Fick said.
The dropout prevention was inspired partly by the success of Chicago's ninth-grade academies, Fick said. The college-level opportunities were inspired by examples in eastern Oregon, where districts that provide them have graduation rates over 95 percent. A report from the state education department earlier this year found that students enrolled in CTE (career and technical education) graduate at a rate 15 percentage points higher than the statewide average. The boost for students of color in CTE is even greater.
Education-reform group Stand for Children has contributed most of the funding — more than $4 million — to push the ballot initiative. Civil-rights and disability groups support the measure, as do many trade unions. Both candidates for governor, incumbent Democrat Kate Brown and her GOP challenger, Bud Pierce, also back it.
The state teachers union, the Oregon Education Association, is neutral on the measure, calling it a "one-size-fits-all" solution to a larger problem. There is no organized opposition campaign.
A majority of voters — 58 percent in an early-October poll by Oregon Public Broadcasting — supported the measure. Twenty-nine percent were opposed, and 13 percent were undecided.
Oregon voters will also consider two other education-related ballot questions. Measure 99 would designate $22 million from lottery funds for outdoor education for fifth- and sixth-graders. Measure 97 would impose a 2.5 percent tax on corporate profits over $25 million to be used for K-12 education, health care, and senior citizen services.
More than two thirds of respondents in the Oregon Public Broadcasting poll backed the outdoor-education measure. The tax measure is much closer — 43 percent said they would vote in favor of it, with 49 percent against and 10 percent undecided.
Much of the publicity around Measure 98 has focused on career and technical education and how much it has been cut over the past few decades.
The cuts started sometime in the 1990s, said Gary Young, business manager at the Oregon chapter of the International Brotherhood of Electrical Workers.
Jon Jensen, another official with the union, tied the decrease in CTE to the larger push to get all students to college — an admirable goal, but unrealistic for the students who just don't have any interest in continuing on to higher education, he said.
"Those are the kids who sort of got left behind in the last 20 years," he said.
Davis, the marketing teacher, worked as a substitute teacher before landing her current job.
"What I saw was just tremendous neglect of all the CTE programs," she said. "The equipment that they did have was usually outdated and often not even functioning."
The union had to switch its programming to accommodate those left-behind kids who did wind up in the building trades, Young said. Sometime around 2000, the union added a two-week basic safety and skills boot camp to its apprenticeship program — teaching things those apprentices should have learned in CTE or shop classes in high school.
The Eli and Edythe Broad Foundation and the Walton Family Foundation provide funding to The 74 and Stand for Children.
Support The 74's year-end campaign. Make a tax-exempt donation now.