Opinion: What Teachers Talk About When They Talk About Evaluation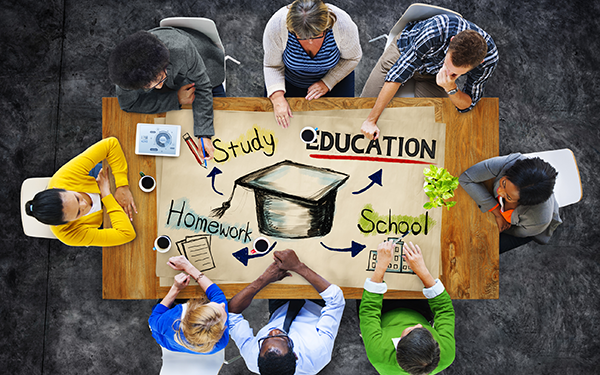 "Can you believe that SHE came in to observe when I had four differentiated groups of highly engaged students and the only thing it occurred to her to say was that Pedro wasn't writing enough! A positive comment once in awhile would go far!"
This is the type of frustrated comment you might hear in the teachers' room at any given school in this country. As an educator and qualitative researcher focusing on how teacher leadership can improve schools, I've come to find that teachers' rooms are great places to research the kinds of systemic changes needed in schools, especially when it comes to teacher evaluations.
The perceptions of teachers I've known and listened to in teachers' rooms and classrooms during my career are well captured in Teacher evaluation and support systems: A roadmap for improvement, a new report from the Aspen Institute. This report offers ten recommendations to help states recognize teacher expertise and provide space for collaboration, growth, and differentiated evaluations that focus on what teachers want to learn. Here's a quick walkthrough of the four recommendations that resonated with me the most, along with a few reflections.
Prioritize principal and evaluator training … with a focus on professional growth helping teachers improve.
The real purpose of teacher evaluation is professional growth, not rating teachers. The feedback that evaluators give teachers should be constructive, actionable, and based on a wide variety of elements like student work, survey data, assessments, and observations. Instead of creating a "gotcha" culture in which evaluators seem to home in on the one thing going wrong in a classroom, principals and evaluators should be trained to help improve instruction, not just adhere to a rubric.
I remember how, during one of my evaluations as an early-career teacher in the Bronx, the evaluator focused on making sure that my objective was written on the left hand side of the blackboard, as per district policy. What I really wanted him to notice, however, was how knowledgeable my students were when talking to each other about Cubism! I felt he not only missed what I cared most about, but that I hadn't received any good advice to improve my game.
Differentiate evaluation and support based on teachers' experience and past performance.
When beginning teachers are developing their professional practice, they need very clear and explicit support to improve. The feedback culture should be one where novice educators can learn without worrying about high-stakes consequences as they grow. High-performing colleagues can be called upon to mentor and support these emerging teachers. At the same time, teachers who have already demonstrated that they are effective should continue to receive support, along with extra recognition. Such high performers may have fewer or more flexible observations, for example, and should participate in decisions about the kinds of professional learning opportunities or objectives they need.
As a novice teacher in a class bulging with squirmy middle school students, I could have used some specific recommendations to help me do a better job of managing the energy in my room and, years later, as a veteran teacher, I would have enjoyed being given more leadership opportunities to share the expertise I had developed. Differentiating evaluation and support gives teachers what they need when they need it most.
Allow teachers and observers to collaborate on areas of focus.
Teaching is complex, intellectually rigorous work that is hard to capture in a rubric, no matter how detailed and accurate. When teachers are rated on all of the domains that comprise instruction, it's easy to become overwhelmed. When educators have demonstrated effective practice, however, teachers and their evaluators should have the flexibility to zero in on an area of growth or learning that will improve practice, rather than trying to evaluate multiple aspects of instruction and perhaps improve none of them.
In my current hybrid role as a teacher and professional development coach, I am encouraged to focus on two annual professional goals that make the most sense to me and to my evaluator. We reflect and review evidence from my teaching and professional development work in the district to figure out how we can focus on the most crucial and actionable goals. Of course, I am expected to do a good job on all of the domains of instruction, but having two focus areas really helps me to curate resources, specify professional learning plans, and figure out how to continually improve.
I admit that having deep conversations about my improvement felt risky to me at first. I had come into a new role in a district after having been named New Jersey's State Teacher of the Year in 2010 so I confess that I wanted to be seen as outstanding from the first minute, even before I had mastered new skills. Clearly, this was not a good learning stance and I had to learn to open myself up to useful critical feedback.
For example, while an administrator was observing me lead one professional learning session, I ended an activity abruptly, without giving participants time to process the work we had done. The truth is that I was nervous and lacked confidence about how my colleagues felt about the session. The evaluator caught on and brought up the concern in a rich, albeit painful, conversation. Later I realized that the conversation is always painful when perfection and not learning is the goal. Excellence is never static; a commitment to continual learning means , one will always encounter occasions to stretch outside of the comfort zone.
Make sure all important aspects of teaching performance are valued in evaluation.
Teachers sometimes worry that aspects of teaching they consider unimportant are the main focus of evaluations. Good evaluations should include educators' effectiveness in supporting social and emotional learning, a commitment to community, students' perceptions, and the creation of a safe and supportive learning environment where students feel comfortable taking intellectual risks.
One of the biggest gripes I hear when teachers vent about evaluation is that their work to nurture the whole student is missed. "Students are not just a number," they cry. Although data gleaned from all kinds of assessments help educators create a more complete learning portrait, the ways that educators support communities and their students' emotional lives matter and often fuel their commitment.
A study I conducted on perspectives about teacher leadership among exemplary New Jersey teachers affirmed my experience and belief that teachers care deeply about their work and are driven to make a difference for their students and the communities they serve. Teaching evaluation systems, therefore, must recognize and lift up these highly valued aspects of the teaching profession.
The Aspen Institute's recommendations urge states to remember that well-designed evaluation systems position teachers as lead learners who model the same process for their students. The recommendations emerge from the experiences of high-performing systems and their teachers; they offer a chance to shift the conversation in states about teacher evaluation from a focus on mere accountability to a deeper and richer one built on professional growth, learning, and partnership.
Any educator will confirm that teachers have long shared insights and concerns about the evaluation process to each other in safe spaces. I look forward to the day when these conversations will be seen as exciting, useful, and open learning experiences for everyone involved.
Support The 74's year-end campaign. Make a tax-exempt donation now.