Opinion — The Looming Threat to Buffalo's Revival: Terrible Schools, and Those Who Protect Them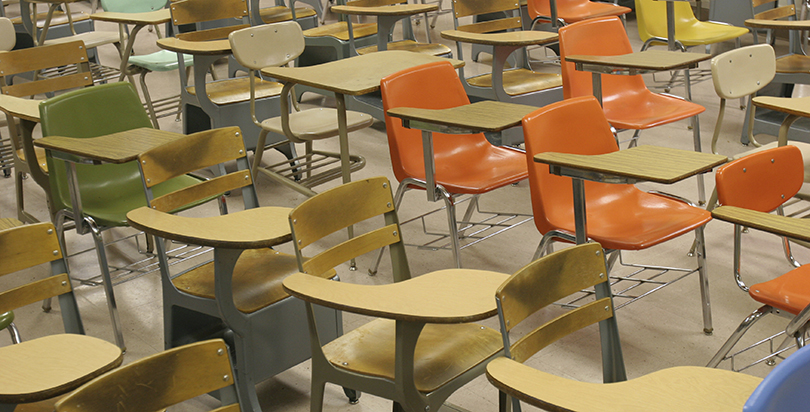 Everybody loves a comeback story and my proud and beautiful hometown of Buffalo, New York is in the midst of a historic one. After years of chronic economic stagnation, hope is finally on the horizon.
Everywhere, that is, except in the city's public schools.
While construction cranes rise along with Buffalo's economic prospects, the sad and tragic truth is that our city's public schools are not.
It's almost as if Buffalo exists in two parallel universes – an economic one full of growth, innovation and potential, and an educational one mired in failure and status quo protectionism.
The latter reality is the single greatest threat to Buffalo's resurgence. I dare anyone to challenge me on that.
(74 Investigates: Kriner Cash says he can fix Buffalo's broken schools. Should we believe him?)
Just how bad are Buffalo's city schools?
According to the New York State Education Department, more than 9 out of 10 black and Hispanic children in Buffalo's city schools cannot pass the state Math or ELA exams.
If you're a black or Hispanic child in Buffalo, you'd be better off if you moved and went to school in Detroit, nationally known as an educational and municipal trainwreck.
Buffalo's black student graduation rate is 20 points lower than Detroit's. For Hispanic kids, it's 33 points lower.
And all this for the astounding cost of more than $20,000 per student.
My story: I was born and raised in Buffalo, on the East side, near Bennett High School. I attended the Buffalo Academy for Visual and Performing Arts. It was while working in Alabama for the Black Alliance for Educational Options that I came to understand the tremendous opportunities that school choice — and particularly charter schools — could offer these children.
I jumped at the opportunity to return this year and work to expand choice and charters in my hometown as the regional advocacy manager for the Northeast Charter Schools Network advocacy organization.
A few years in Alabama taught this upstate New York kid a few things about the "good ol' boy network." But I have to tell you: The old boys' club is also alive and well in Buffalo public education — and every bit as obstinate as anything I witnessed and fought against down South.
Case in point: the recent election of Buffalo Teachers Federation-backed candidates to the school board – folks opposed to charter schools, receivership and real innovation – threatens any real changes or reforms.
Innovation, debate, new ways of doing things… these are all dirty words to the Buffalo "edu-stablishment".
These same people fought hard – and unsuccessfully — to prevent acclaimed educator and reformer Dr. Steve Perry from providing the keynote at the district's recent parent assembly. Rather than acknowledge Buffalo's educational crisis, the union tried to silence Dr. Perry and, what's worse, censor what the city's parents could hear when it comes to new ideas about how their children can access better schools.
The district's own Superintendent Kriner Cash even said he's "not a fan" of Perry. What exactly is not to like? Perry is about giving low-income, minority kids a great education so they can succeed in college and life.
As a native of Buffalo, a taxpayer and most importantly a father of children in both district and charter schools, I'm challenged to hold back my anger at these attitudes. Educators are supposed to try and open minds, not close down debate while denying citizens the chance to hear opinions from those outside the establishment orthodoxy.
This orthodoxy has contributed mightily to the downfall of Buffalo's public schools and the destruction of hope for so many children, mostly low-income children of color. Reviewing the cold hard facts of Buffalo's student outcomes, I can see why the union would stop at nothing to keep parents from hearing those facts.
Which brings me back to Steve Perry. Since 2006, his school, Capital Preparatory Magnet School in Hartford, CT, has sent 100% of its predominantly low-income, minority, first-generation high school graduates to four-year colleges. Perry now runs a charter school in Bridgeport, CT, and is opening a charter in New York York City this fall with Sean "Diddy" Combs.
I know another region that would be lucky to have Steve Perry as an educational collaborator – Buffalo.
Ultimately, Dr. Perry did speak last month at the parent summit, and more than 300 Buffalo parents came out to listen. It was an evening of energy and hope.
It was also an evening, and a controversy, that reminded me how hard some will fight to prevent change and how much some are willing to sacrifice parental hope on the altar of self interest.
If Buffalo had tainted water like Flint, Michigan, and someone wanted to show us how to clean it up, wouldn't everyone rush to provide a forum? Well, Buffalo's water may be fine but there's a public school crisis that's poisoning the futures of so many children.
The Buffalo "edu-stablishment" is working night and day to squash any ideas except their own – regardless of who pays the price. Perhaps they should look past their own big feet and realize kids' futures – and Buffalo's hope – is what's under their heel.
Get stories like these delivered straight to your inbox. Sign up for The 74 Newsletter