Opinion: Rather Than Arming Teachers With Guns, Let's Arm Them With the Supports They Need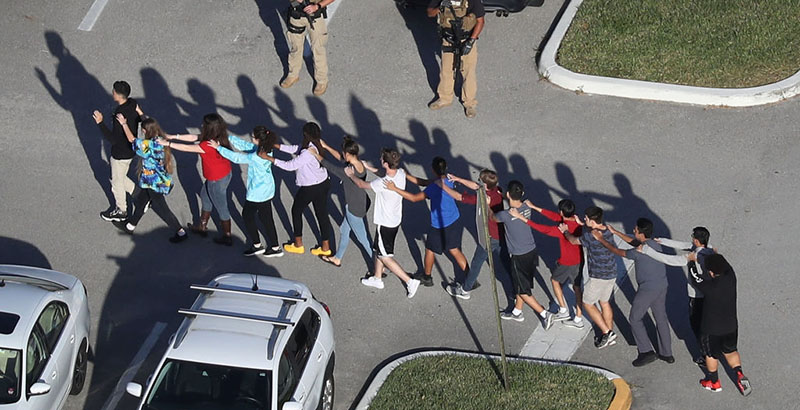 I never thought I would have to write this sentence: Asking our educators to carry guns in the classroom is a senseless idea.
Teachers are supposed to play a critical role in shaping the development of our nation's children and teens. Though undervalued, they always have been tasked with creating supportive learning environments that enable their students to thrive.
Yet how are they supposed to do this when teaching is now ranked as one of the most stressful occupations in the United States? Educators are left to address escalating job demands with little autonomy, working long hours to grade assignments and plan lessons, struggling to achieve unrealistic accountability measures, and on top of all this, figuring out how to pay for their classroom supplies. This stress is affecting educators' mental and physical health, leading to burnout, poor performance, and escalating turnover.
And as we grapple with yet another school shooting, our educators are also left to navigate an uncertain environment, where tragedy can strike at any moment.
Now, consider the undue stress that some of our educators would face if they were asked to take on double duty as law enforcement officers, as proposed by President Trump and embraced by Secretary of Education Betsy DeVos and the National Rifle Association after the February 14 shooting at Marjory Stoneman Douglas High School in Parkland, Florida.
The negative implications of this are endless.
There are the questions of logistics: Where will the teacher keep the gun — on a holster under the arm? Will it be loaded at all times? There are the questions of training: How often will the teacher need to train in order to have the skill to take down an active shooter toting an automatic rifle? Who will be liable when we see the training is insufficient and the educator makes a mistake?
And how are children going to feel in a class where their teacher might be wearing a gun? Students are already struggling to feel safe at school. Research shows that children in high-stress environments are more likely to drop out of school, experience behavioral problems, and demonstrate aggressive responses than those who learn in a safe, nurturing environment.
Finally, what is the price associated with bringing this training to even 10 percent of our teachers — up to 1.4 million educators across the country? This would come at the expense of the already limited professional development they receive, programs that are threatened further by a proposed federal budget that completely eliminates Title II professional development funds. Along with paying for pencils, paper, and books, would our teachers have to buy guns, too?
Our educators' role in our society is to teach, not to be armed. They should not need to be on constant alert for an active shooter with an AR-15, or always wonder if they have the training to respond effectively in this worst-case, incredibly stressful, scenario.
They should be able to focus on equipping our students with the academic, social-emotional, and career skills they need to succeed in our society — and providing them with that supportive, caring environment.
The evidence shows that hardening our schools is not the answer. We need to enable our educators, and individuals throughout the school building, to identify the warning signs that troubled students may demonstrate and provide them with the supports they need.
Rather than arm our teachers and anticipate the worst, let's heed the call on social media from educators across the country and arm them with the resources to be more mindful, compassionate, and responsive in the classroom, and embrace the role they have always played in our society: creating a learning environment where all our children and teens can feel engaged and cared for, and thrive.
Support The 74's year-end campaign. Make a tax-exempt donation now.