Opinion: Now More Than Ever, Diverse Charter Schools Are Essential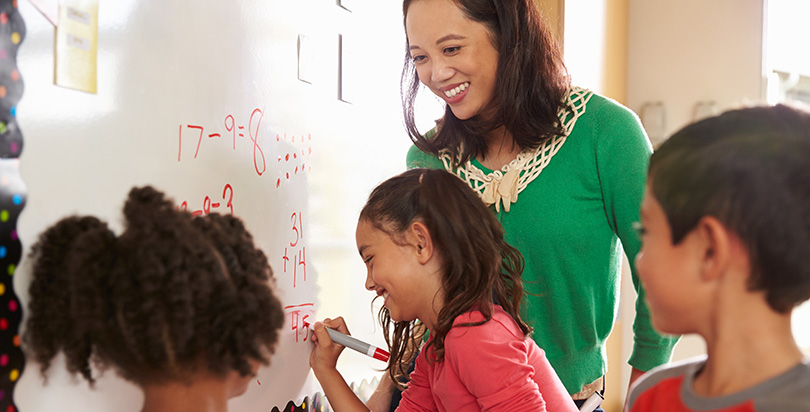 America grows more diverse every day. In the future, today's young people will need to be able to thrive amid a multiplicity of nationalities, perspectives and practices; our society and economy count on it. But too many of our public schools continue to isolate students from peers and adult role models of
different backgrounds
.
One promising strategy to better prepare students comes from a group of "intentionally diverse" charter schools designed to attract and effectively serve students from different racial, economic, cultural and linguistic backgrounds. The National Charter School Resource Center describes how leaders of these schools pursue their vision. Educators have created a new national organization, the National Coalition of Diverse Charter Schools, to help support the model.
Intentional diversity requires being intentional about elements of school life that may be unaddressed in traditional settings.
It takes broad outreach to bring together a diverse student body
The recruitment and admissions process is critical. School leaders use strategies such as online and print marketing, door-to-door recruitment, neighborhood information sessions, school fairs, partnering with community and cultural organizations, and providing translators and materials in other languages.
Voice Charter School, which serves students in grades K-8 in Long Island City, N.Y., direct-mails every student in its district eligible for grades K-8 — about 25,000 homes, from which the school generates about 2,000 applications. Voice also places ads in neighborhood newsletters and free non-English newspapers, presents at community forums and has a booth at citywide student recruitment fairs. To support home language needs beyond English and Spanish, the school uses translators available through the New York City Department of Education speaking more than 100 languages. All these efforts promote the school in many communities.
A diverse school culture values all students
There are schoolwide and classroom-level instructional methods that can help ensure the school's overall diversity is also reflected in the classroom. For example, student-centered approaches to teaching and professional development for instructors can incorporate a multicultural perspective to promote achievement and a sense of well-being about the individual's cultural place in the world.
Diverse charter schools are also rethinking or avoiding tracking, which separates students by achievement levels, and proactively employing academic supports like targeted remediation and mentoring, helping to foster integration within classrooms. Truly effective differentiated instruction requires thorough preparation and high-quality practice, and teachers in diverse schools organize their instruction to incorporate multiple cultures, as well as to meet the needs of English-language learners, students with disabilities and students seeking advanced coursework within the same classroom.
Valor Collegiate Academies, a charter management organization in Nashville, emphasizes full inclusion (including for students receiving English-language instruction and students with disabilities), along with differentiated instruction, in its two schools of fifth- through eighth-graders. Valor students who perform below grade level receive intensive instruction through push-in and pull-out remediation during their fifth- and sixth-grade years. The goal is to close the preparation gap to a level where teachers can effectively differentiate instruction while addressing student needs in the general classroom.
If the remediation is successful, students are educated in the general classroom, with small group instruction and push-in supports, as necessary, during their seventh- and eighth-grade years. This strategy has been particularly effective with English-language-learner students, who represent 24 percent of Valor Academies' student body. Valor schools had the highest academic results in 2014–15 for ELL students among Metro Nashville Public Schools.
Why undertake the exhaustive effort necessary to establish and maintain an intentionally diverse charter school? Because the results are compelling. Research finds that intentionally diverse schools benefit students from low-income families as well as their more-affluent peers in building academic and cultural competency.
All students in diverse settings benefit from cross-racial and cross-cultural understanding, breaking down stereotypes, and decreasing bias and prejudice. Students from low-income families benefit from working alongside children from middle-income families, where parents are likely to have larger vocabularies, have time and resources to be more involved in school and set higher expectations for their children. Students from middle-income families who are educated with less-affluent peers work more effectively with diverse groups throughout adulthood.
We want our students to graduate prepared to succeed in college and their careers — and interacting with diverse peers is part of that reality. Intentionally diverse charter schools are a powerful way to give our students the experiences they need to be successful in our increasingly pluralistic world.
Dianne Piché is the founding executive director of the National Coalition of Diverse Charter Schools. Nora Kern is a senior associate and Alex Medler is the senior director of the National Charter School Resource Center.
Get stories like these delivered straight to your inbox. Sign up for The 74 Newsletter