Opinion: For Teacher Appreciation Week, 3 Ways School and District Leaders Can Support Their Teachers So They and Their Students Can Thrive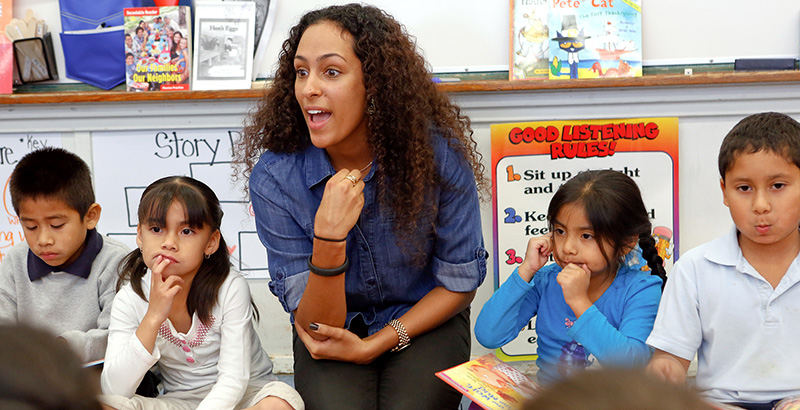 In the months leading up to Teacher Appreciation Week, we've seen protests and demonstrations by educators in states across the country. What's often overlooked in a national narrative centered on funding shortages and salaries is the complexity of the challenge for teachers charged with preparing today's students for careers that don't even exist yet.
But educators are up for the challenge. They are resilient. They are adaptable. I'm inspired by the ways that teachers, both veteran and early career, reinvent their practice in response to shifting external dynamics and learners' increasingly diverse needs.
The teachers I work with in Chicago to implement personalized learning models are tailoring educational experiences based on students' needs, strengths, and interests to spark investment in — and ownership of — their educational journey. This takes compassion, persistence, and intentionality to create a context where educators have space to innovate.
Here are three commitments school and district leaders can make to ensure that teachers are not only appreciated but also equipped with working environments that enable them to thrive.
Increase Access to Meaningful Professional Learning
While 84 percent of teachers say they wish they had access to more professional development opportunities, they're not looking for more one-time workshops or a parade of new programs. Nearly all want ongoing, relevant professional learning that will help them improve their practice and grow as classroom leaders.
In designing professional learning opportunities for teachers, it is important to create space for teachers to collaborate as they examine their practice and determine what they should learn based on their needs and interests. Personalization of professional learning requires opportunities to build relationships within and across schools, and time for practice, reflection, and coaching.
Provide Teachers With Autonomy
If we really appreciate teachers, we need to respect their role as classroom leaders. Autonomy and flexibility enable teachers to identify students' individual needs and experiment with innovative instructional practices to meet those needs.
When teachers know they have administrative support to think outside the box, they can introduce forward-thinking concepts like interest-based units that give students a choice over what they learn, flexible seating classroom designs, or student-led lessons, which allow students to share their knowledge and practice their leadership skills.
There's every reason to believe that innovative, flexible learning strategies are key to preparing students for the demands of a 21st century workplace: 51 percent of educators say active learning, problem-solving, and discussions are very important strategies in their classroom, while 41 percent say personalized learning — tailoring instruction to the unique needs of students — is key.
Teachers are energized by the knowledge that they are trusted as classroom leaders to know what's best for their students. In fact, educators who see their school as having "much better" teacher autonomy than other schools in their county were recently found to be 23 points more likely to say they're "very well equipped" to teach both foundational literacies and soft skills.
Adapting and building on instructional strategies is key to creating a truly personalized model of education, which in turn prepares students to thrive in a rapidly changing world. Modern employers know they will need employees with different technical skill sets every few years, so they appreciate candidates who can adapt and persevere through challenges. Teachers are best equipped to impart those skills when they have the leeway to innovate in the classroom.
Guarantee Adequate Time and Resources
Supporting teachers also means giving them time to grow and collaborate, as well as the resources to put their best ideas into action. Teacher learning should be an essential part of the academic calendar and schoolwide planning, rather than work reserved for stand-alone "in-service" days. Teachers need regular opportunities to share their successes and challenges with one another and to collaborate on instructional methods.
In some districts, resource support also includes technology — 82 percent of teachers see technology as a valuable teaching tool. But it takes time and support for teachers to devise an implementation plan for integrating technology in a way that will best advance student learning.
We no longer expect students to learn the way they always have. We know that tomorrow's students will need to be more dynamic and creative than today's. We do teachers a disservice if we expect them to teach differently using the same tools and approaches they always have.
For innovative classrooms techniques to succeed, we have to listen to teachers when they tell us what support they need, and we have to pursue creative, dynamic solutions to fill their toolboxes. This Teacher Appreciation Week, let's do more than just thank teachers. Let's redouble our commitment to supporting their professional growth and development, respecting their classroom leadership, and guaranteeing they have the time and resources needed for them — and their students — to excel.
Erin Figula is director of professional learning at LEAP Innovations.
Get stories like these delivered straight to your inbox. Sign up for The 74 Newsletter