Analysis: If the NCAA Basketball Tournament Was About 'Income Mobility,' Buffalo, Houston, UCLA & Seton Hall Would Be Leading the Final Four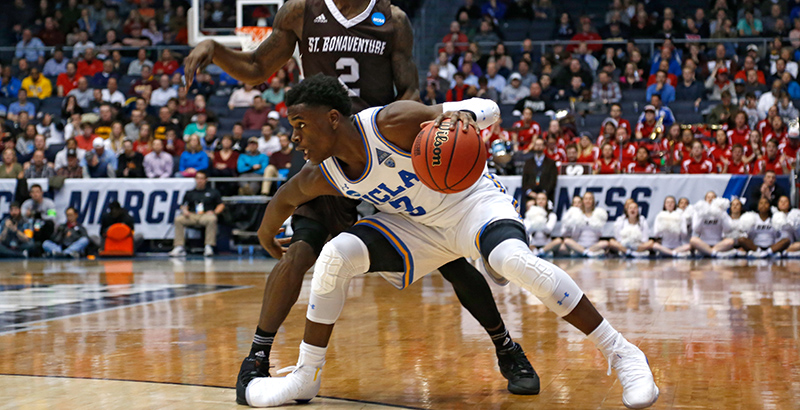 Like millions of fans, we are looking forward to the outcome of Saturday's Final Four in the NCAA Division I men's basketball tournament: Kansas vs. Villanova and Michigan vs. Loyola of Chicago. But we're also eagerly tracking the Final Four in the bracket we created to chart the performance of the 68 tournament teams by how well they move their students to the highest 20 percent of income distribution, although their parents came from the lowest.
In creating our 2018 Income Mobility Tournament bracket, we used mobility scores from the Equality of Opportunity Project, which represent the percentage of low-income students, ages 19 to 22 in the early 2000s, who by 2014 had made that huge leap in intergenerational mobility. Our aim is to help divert some of the hoopla surrounding March Madness from a focus on the schools that might take home the basketball trophy to those most likely to help their lowest-income students achieve the American Dream. Our Final Four: State University of New York at Buffalo vs. the University of Houston and UCLA vs. Seton Hall.
Although a school's success on the basketball court does not necessarily reflect how well it helps students climb the income ladder, in two of the biggest upsets of the NCAA tournament, the schools with the higher mobility scores were triumphant. While it is widely known that for the first time a No. 16 seed beat the No. 1 seed, few know that the winner, University of Maryland-Baltimore County, has a higher mobility score (2.24) than the defeated Cavaliers of the University of Virginia (1.46). Likewise, No. 13 Buffalo, with a mobility score of 3.47, beat No. 4 seed (and Pac-12 champion) University of Arizona, whose mobility score was less than half that.
While both these Cinderella schools will no doubt brag about their hoops success, they should also be boasting about how well they are doing in helping their students succeed in the competition for good jobs and high wages.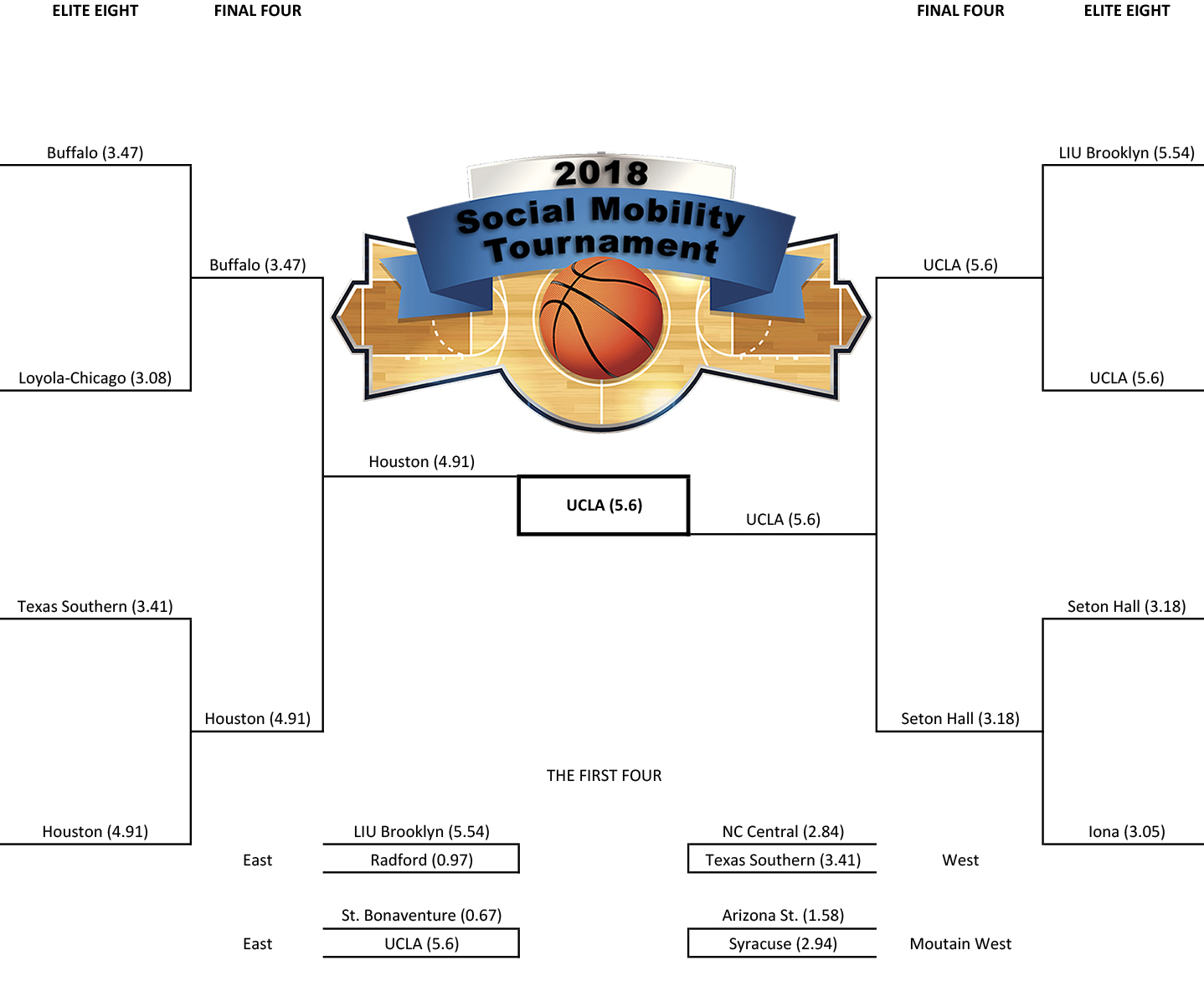 So what makes a school good at moving young men and women up the ladder of financial success?
To begin with, it's not that a school is of a specific type. Our mobility bracket's Elite Eight, for example, represent a broad mix of institutional characteristics. Five are public and three are private Catholic institutions. Using the popular categories from Barron's Profiles of American Colleges, they range in selectivity from "Most Competitive" (admitting only a small percentage of applicants) to "Competitive" (accepting around three-quarters of applicants). One, the University of Houston, is a Hispanic-serving institution, with Latinos making up over 29 percent of its 43,800 students. Another, Texas Southern University, is one of the nation's largest historically black universities, with more than 9,000 students.
To see just how special our Elite Eight schools are in terms of helping students achieve the American dream, let's compare them to the NCAA's Sweet Sixteen.
First, they are much better at providing what it takes to help poor kids advance economically. The average mobility score of our Elite Eight is 4.03, meaning that over 4 percent of their 164,000 students — around 6,560 — have managed to move from the lowest-income quintile to the highest. In contrast, the average mobility score of the NCAA's Sweet Sixteen is only 1.26, two-thirds lower than our Elite Eight. Put another way, with only one-fourth as many students our Elite Eight manage to help nearly the same number of students climb the earnings ladder to the highest rung as the NCAA's Sweet Sixteen.
Second, the success of our Elite Eight has come while serving a less advantaged population of students. These schools have a much higher percentage of low-income Pell Grant students than the NCAA's Sweet Sixteen (42 percent vs. 20.5 percent), and they serve a much larger percentage of minority students. On average, over 18 percent of their students are black and nearly 16 percent are Hispanic, while the numbers for the Sweet Sixteen are 5 percent and 10 percent, respectively. In short, the high-mobility schools in our Elite Eight have a heavier lift than the NCAA's Sweet Sixteen.
Among other things, this means much extra attention needs to be put on helping the students who lack the college savvy that is common among youngsters raised by college-educated parents. And given that the schools with high mobility scores are not necessarily more selective than those with lower scores, it is safe to assume they must be providing the kind of hands-on counseling and advising that actually help students overcome the bureaucratic, academic, and personal challenges that are part of college life.
There will be parties and parades for the winner of the NCAA tournament — and probably an uptick in student applications. And there will be T-shirts and hats emblazoned with "2018 NCAA Champion." Indeed, if things had worked out differently in the First Four, we could easily imagine UCLA engaging in all those festivities and swag. Yet, though defeated in the NCAA competition, UCLA wins in the far more important mobility bracket, with a mobility score of 5.6. We look forward to a time when we will see students sporting T-shirts emblazoned with "UCLA — 2018 Income Mobility Champion."
Jorge Klor de Alva is president of the Nexus Research and Policy Center. He was previously a senior executive at Apollo Education Group, a professor at Princeton University, and the Class of 1940 Professor at the University of California at Berkeley.
Mark Schneider is a vice president and institute fellow at the American Institutes for Research and president of College Measures. He served as the U.S. commissioner of education statistics from 2005 to 2008 and is a distinguished professor emeritus of political science at the State University of New York, Stony Brook.
Support The 74's year-end campaign. Make a tax-exempt donation now.