Open Letter: To Build an Empowered, STEM-Capable Society, We Need to Look to Promote Learning Beyond the Classroom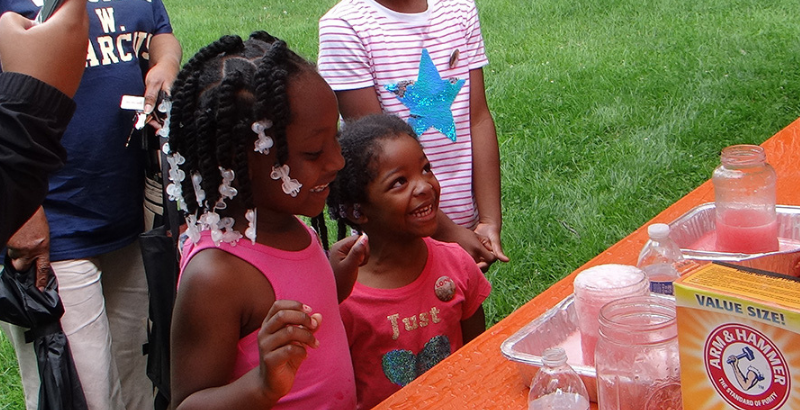 Get stories like these delivered straight to your inbox. Sign up for The 74 Newsletter
Despite generations of effort and substantial investment, our country continues to miss the mark when it comes to fostering greater equity and inclusion across science, technology, engineering and mathematics (STEM) programs and careers. Perhaps the solution has been hidden in plain sight all along. The time children spend out of school, after school and during the summer may hold the key in exciting a wider universe of kids to pursue STEM opportunities.
No matter a child's background or zip code, after-school and summer programs are to be found in their neighborhoods and backyards. Tapping into these networks, which have been a lifeline for kids and families during more than a year of disrupted learning, is essential in breaking down barriers to accessing these critical opportunities. In this way, those who have been left behind can rebuild skills and confidence, and become an empowered cadre of diverse STEM-capable leaders.
The pandemic blurred the lines between the time kids spend in and out of school. Collectively, parents, teachers, policymakers, and district leaders now more fully appreciate that a child's healthy intellectual and social-emotional development depends on the learning happening in the classroom as well as beyond it. School districts and after-school program providers have long worked together to support the needs of the whole child, but investment in these informal learning spaces is often lacking. While public attention, policy and funding understandably have zeroed in on public education and racial equity, we also need conversations about better supporting and expanding the rich learning experiences of after-school STEM programs.
When Aja, a high school student from Illinois, overheard a group of girls watching a robotics competition claim they could never do anything like this, she asked them why. She recalled their answer: "No one here looks like us." If young women of color do not see scientists and engineers who look like them, why would they consider a future in STEM? In that moment, Aja says she understood how representation affects our dreams and aspirations. To pay forward the mentorship Aja received at her local 4-H STEM program, she used her personal story to inspire girls in her community to pursue their own STEM journeys.
Aja's experience — and the published data — shows that creating STEM learning opportunities beyond the walls of the classroom not only increases a child's likelihood of pursuing higher-paying, in-demand STEM careers later in life, but also builds their overall confidence and helps them master the kinds of skills we all need to thrive. According to research from the Partnerships in Education and Resilience Institute (PEAR), skills such as critical thinking, collaboration, creativity and communication are developed and enhanced when students participate in after-school STEM learning. Even those who ultimately choose not to pursue STEM careers still gain lifelong benefits from these experiences.
For Eman, a high school student from Alameda County, Calif., participating in Girls Inc. of the Island City's STEM programming gave her the confidence to envision herself as a leader. She says she learned to try new things, take risks and value her own capabilities. This confidence, Eman says, then also opened her mind to possibilities she would not have imagined otherwise. Eman became a member of the Girls Inc. Teen Advocacy Council, stepped up to found the Muslim Students Association (MSA) at her high school and was selected as a U.S. delegate for the International Congress of Youth Voices.
Like Eman, all students can reap the benefits STEM programs offer. But unfortunately access to meaningful opportunities continues to be a barrier — especially for low-income students. If we want to change this reality to build equity and effectively recover COVID learning losses, we need to focus on creating and promoting STEM learning opportunities beyond the classroom.
The flexibility of informal education allows for out-of-the-box partnerships that help kids develop life skills beyond the core K-12 STEM curriculum. For Hector and Victor, two teens from Portland, this meant the opportunity to attend a free, online coding course through a partnership with their local Boys & Girls Club. While the program taught them to code, the experience also reinforced important communication and problem-solving skills which will help them throughout their future careers, whether in STEM or another field. After finishing the program, both students completed STEM-related internships where they were able to apply their new skills in real time.
Also positioned in the space between the traditional K-12 system and after-school time are innovators like Imagine Science — a collaborative composed of Boys & Girls Clubs of America, Girls Inc., YMCA, 4-H and STEM Next Opportunity Fund. Imagine Science engages underserved students with culturally and socially relevant STEM curriculum in their after-school programs using hands-on projects on everything from robotics to environmental science. Relying on a shared curriculum for students and professional development for facilitators, Imagine Science puts kids' learning first, bringing organizations together in collaboration, not competition. Through investment and scaling of models like Imagine Science, we can create real impact and equity in STEM in every community.
As we look to the future, we can and should think differently about students and STEM learning. We can start by expanding our investments in learning to extend beyond the walls of a classroom. We need buy-in and a demand for innovation from parents, K-12 school leaders, educators, funders, and community changemakers. By investing in and expanding quality, after-school STEM learning experiences, we have the potential to foster greater equity in our school systems and across our workforce.
There are millions of Ajas, Emans, Hectors and Victors waiting for their 'STEM spark,' and we owe it to them — and ourselves — to make that happen.
16 Under 16 in STEM — Nominate a Student! We are looking for 16 of the most passionate students 16 years of age or younger who have shown extraordinary achievement in science, technology, engineering and math. Nominate a student here.
Stephanie Hull is the president and CEO of Girls Inc. and the former EVP and COO at the Woodrow Wilson National Fellowship Foundation. Jim Clark is the president and CEO of Boy & Girls Clubs of America and the former president and CEO of Boys & Girls Clubs of Greater Milwaukee. Jennifer Sirangelo is the president and CEO of the National 4-H Council, partner to America's Cooperative Extension System. Suzanne McCormick is the president and CEO of YMCA. Ron Ottinger is the executive director of the STEM Next Opportunity Fund and the former executive director of the Noyce Foundation. The Imagine Science Collaborative is a collaboration of four leading national youth organizations formed to bridge the STEM gap by connecting historically under-represented youth with STEM learning opportunities.
Get stories like these delivered straight to your inbox. Sign up for The 74 Newsletter