Only One Fourth-Grader at a California School Can Read at Grade Level. A New Lawsuit Claims the State Is Violating Students' 'Constitutional Right to Literacy'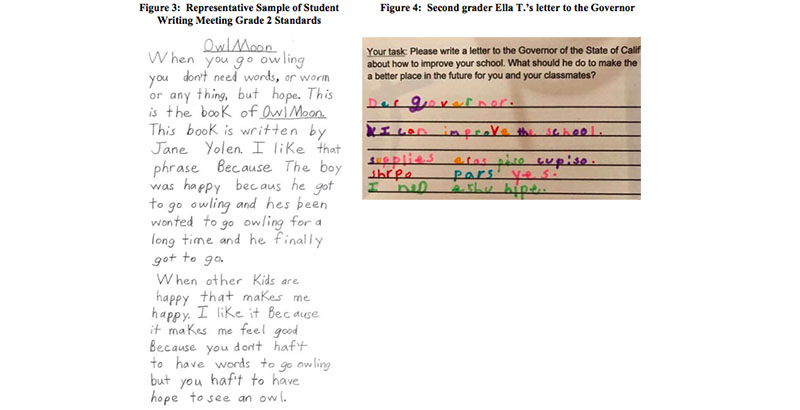 This article was produced in partnership with LA School Report
Is a school in California where only one fourth-grader is able to read at grade level violating students' constitutional guarantee to a basic education?
A new lawsuit could get the green light within days to move forward with this claim, that the state's Department of Education is depriving low-income students of equal access to learning to read and write.
The suit claims to be the first in the United States to seek recognition of the constitutional right to literacy.
Superior Court Judge Yvette Palazuelos will rule within days on the state's petition to dismiss the lawsuit. She heard both parties' arguments last week in Los Angeles.
A similar suit in Michigan was dismissed earlier this month by a federal judge who ruled that access to literacy is not a fundamental right.
That class-action lawsuit, Gary B. v. Snyder, claimed that literacy is a right guaranteed by the U.S. Constitution. The suit represented seven students attending Detroit public schools and sought literacy reforms in Detroit's school system on instruction and intervention. It was filed by the same Los Angeles–based law firm that is behind the California case, Public Counsel, which said this week that it plans to appeal the Michigan ruling.
What is the California lawsuit about and who does it represent?
Ella T. v. State of California was filed in Los Angeles in December 2017 on behalf of 10 students — mostly low-income and students of color — attending three schools in three districts: LA Unified's La Salle Avenue Elementary, Van Buren Elementary School in the Stockton Unified School District, and Children of Promise Preparatory Academy, a charter school authorized by Inglewood Unified.
Two advocacy organizations are also plaintiffs: Los Angeles–based CADRE, a community-based organization in South Los Angeles led by African-American and Latino parents of children attending LA Unified schools, and Fathers & Families of San Joaquin in Stockton. The lawsuit, filed by Public Counsel and the law firm of Morrison & Foerster, alleges that the state has violated the students' fundamental right to a basic education and demands that "the State of California ensure that all California students receive evidence-based literacy instruction at the elementary and secondary level."
The lawsuit names as defendants the State of California, the State Board of Education, the California Department of Education, and state Superintendent of Public Instruction Tom Torlakson.
Why was this lawsuit filed?
"This is a case about access to literacy, and what we found in those three schools is that the schools are not able to teach children how to read and this ends up harming children for a long time," Alisa Hartz, a Public Counsel attorney, said this week.
The lawsuit states that in the 2016-17 school year, only 4 percent of students attending La Salle Avenue Elementary scored proficient on state tests in English language arts, meaning only 8 out of the 179 students who took the test could read and write at grade level. In the fourth grade at Van Buren Elementary in Stockton, only one student scored proficient.
Among the 200 largest school districts in the country, California has 11 of the 26 lowest-performing districts on measures of literacy and basic education, according to the lawsuit. Stockton Unified School District is the third-lowest-performing district on that list.
Why is the state seeking to dismiss the lawsuit?
The state filed a petition to dismiss the case in May arguing that "the fact that some students do not read at grade level is not a constitutional violation."
The petition says that even though the state had developed a literacy plan in 2011-12 to submit to the federal government, the plan was not funded and the state was not required to adopt such a plan. It also points to the state's "extraordinary efforts" to "provide millions of dollars to local school districts to address their students' educational needs" through the Local Control Funding Formula, California's mechanism for determining how much money school districts get.
In its petition to dismiss the case, the state maintains that a statewide literacy plan is neither constitutionally or statutorily required.
In the 2012 plan, the state Board of Education identified "a literacy crisis" in California's school system. The "Striving Readers Comprehensive Literacy Plan," by the state's own literacy experts, concluded that the evidence supported a sense of urgency for the state to implement a literacy plan.
The Ella lawsuit argues that the state never implemented the plan, "nor did it implement any other targeted literacy remediation plan or take any other steps to ensure that school districts were offering students access to literacy."
The California Department of Education did not respond to requests for comment. A spokesman for the department previously has said the state will not comment on the case.
"The court appears inclined to agree with the parents that California is violating the rights of its low-income students," Bill Lucia, president and CEO of the advocacy organization EdVoice, said in an email this week. "Our state Constitution guarantees every child the right to be taught to read. When 3 million of California's 6.2 million public school students can't read at grade level, there's no question that the state is ignoring the systematic failure of its public education system to honor students' rights. It's shameful to see Sacramento bureaucrats arguing in court that there should be no trial, when they should instead be taking responsibility for their negligence. While we await the court's final ruling on whether to go to trial, parents simply want their neighborhood schools to work and want the state to take action."
What happens next?
Hartz, the Public Counsel lawyer, said that if the judge decides favorably, they will go into preparation for trial set to take place in October 2019. "There will be a lot happening before then in terms of discovery, preparing documents, taking depositions, everything in preparation for the trial," she said.
Hartz said last week's hearing was "over an hour long, and the judge was very engaged and well prepared and asked a lot of good questions to both sides. I don't want to speculate on what will happen, but we feel like we had a very fair hearing, and we're eager to see what the ruling is."
If the court rules in favor of the plaintiffs, what would the state be forced to do?
The lawsuit demands that the state of California ensure that:
● students have enough trained teachers who can teach the curriculum and be able to provide individualized intervention when necessary;
● teachers get the classroom resources and professional development they need so they can deliver meaningful literacy instruction;
● parents are included in their children's literacy education and schools communicate with them and give them the tools they need to help their children; and
● schools provide conditions that allow for learning, such as social-emotional support.
How would the case impact California families?
Hartz said, "Where you live shouldn't affect whether you learn how to read or not. You should be able to go to your neighborhood school and learn how to read, and it is the state's responsibility to make that happen. When you can't read, you can't read your history textbooks, you can't do math problems, and when you're older you are not able to be an informed citizen and participate in the democratic process and have a productive future."
One Stockton resident said his schools' failure to teach him to read put him on a path to prison.
Raymond Aguilar, a member of Fathers & Families of San Joaquin, said in a news release when the suit was filed that at age 16 he was reading at a fifth-grade level.
"A fifth-grade reading level does not let you read your high school history textbook or write an essay or read the instructions for a chemistry experiment. I couldn't do any of those things as a 16-year-old should and instead was forced down a path that led to incarceration," he said.
"I learned to read not in California's schools but California's prison system. Unfortunately, I am realizing that not much has changed and many children and youth are forced down this same path of despair and hopelessness."
Get stories like these delivered straight to your inbox. Sign up for The 74 Newsletter