One-Way Hallways, See-Through Partitions, Handwashing Stations & Lunch in Class — Architects' Models for Socially Distanced Schools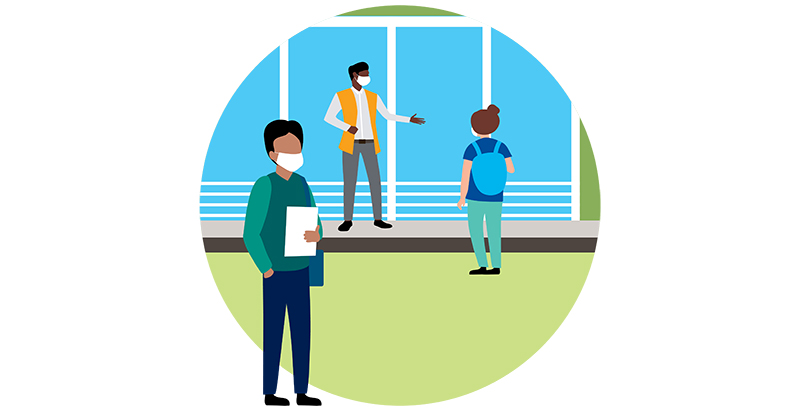 The uncertainty surrounding what in-building learning may look like come the new school year is posing daunting challenges across the United States. And while we can largely rule out cafeteria salad bars and tightly packed events — at least for now — question marks about how to do school in a socially distanced age has led architects to help districts plan for a variety of scenarios.
No matter what a school chooses, whether it's planning for social distancing, changing food deliveries, shifting the way students move — or don't move — through buildings or even adding physical barriers, short-term fixes may not accommodate long-term goals.
"My one fear is, as we start space planning for school districts, we don't revert back to kids in rows," says architect Jim French, DLR Group senior principal and the firm's global K-12 education studio leader. "That is one way of a teaching modality that works, but isn't what schools should be. We have worked really hard with educators to get kids out of rows and do more collaborative and hands-on learning."
But in the near term, social distancing will make group and hands-on work tricky. So architects are being asked to model a variety of distanced scenarios, concepts that can shift and mold with the needs of individual schools.
"The idea of returning to school could be very challenging and maybe even traumatic," says CannonDesign education-focused architect Stuart Brodsky. "Coming up with ways to be received back under one roof has a lot of complexity and community-, family- and student-related things that need to be considered."
For example, many schools are discussing hybrid schedules, which would bring groups of students into the building on an alternating basis, with the other students learning from home. Brodsky's firm is developing tools to study that capacity to help schools understand how to fit students in their buildings. There wouldn't be a single solution, as some schools may choose to provide six feet of distance between students while others may want to accommodate additional personal space. Either way, a typical classroom that used to have 25 to 30 students won't be able to fit more than half that number.
So expect libraries, cafeterias and gymnasiums to convert into classroom spaces, using dividers for visual separation between groups of students to make the large spaces appear smaller. Brodsky says schools don't want to "give up things that make school experiences," like art or music, that help students feel comfortable and safe. But rather than having, say, a dedicated music room, a music teacher could move from class to class, freeing up another area for students to distance in. "We will definitely be repurposing space in a building," Brodsky says.
Schools with open floor plans and learning environments are better than those that have traditional designs featuring corridors and classrooms, says French, because an open learning area allows students to spread out in breakout spaces or small-group areas outside the classroom, but still within eyesight of the teacher. In the classic room-and-hallway style, if only 12 kids fit in a classroom, the other 12 will need to go to the gym or cafeteria, where the teacher can't see them. "That doesn't mean it can't occur; it just makes teaching more disconnected for the teacher," French says.
When possible, educators may embrace new spaces within a building to hold lessons and opportunities to move students outside, says Emily Froese, a planner with DLR Group who is a former educator and campus administrator.
While French sees installing physical barriers, such as plexiglass-like dividers in classrooms, as a possibility, he believes the cost will likely be prohibitive. Froese says school districts surveyed by DLR Group, mainly in Chicago, in Los Angeles and across the Midwest, want as much face-to-face interaction for students as possible, instead of virtual schooling, and will likely wait until the government recommends a course of action before making drastic changes. Brodsky, however, says transparent physical barriers could work as well as masks and other personal protective equipment, while enabling students and teachers to see each other's faces. That approach might even be better than asking young students to try to wear masks for an entire day. "The more barriers and PPE you have on, the closer and tighter the spacing can potentially be," he says. "There might be some benefits to considering those. It may allow greater capacity."
Also expect a new focus on personal hygiene and cleanliness. "Everyone needs to wash their hands," Froese says. "That is just going to be part of education here on out." With that, plan for handwashing stations to proliferate, likely most prominently at a school's front door.
Helping students move through the building through signs and graphics will play a major role as well. Dots and tape on the floor have become commonplace in grocery stores to keep people physically apart or moving in certain directions, and French expects school hallways will likely turn into one-way streets.
"We have always used visual cues to keep us safe," Brodsky says. "Inside a building, we think it will be really important to have signage and communication to remind students to remain six feet apart. We think visual cues can be really important to help navigate this instead of constantly having to remember another set of rules."
One area where schools may need to spend money right away is on ventilation, Brodsky says, increasing airflow in buildings to add more outside air to the mix and boost the rate of air exchange. Also, enhancing filtration — passing air through a filter or ultraviolet light — can help remove viruses. As schools grapple with how to sanitize classrooms and high-traffic areas, expect to see an increased interest in using ultraviolet light to sterilize instead of relying on cleaning solutions.
The cafeteria as we know it is in for some particularly dramatic changes. If a school chooses a hybrid model, food service workers will need to get meals to students learning at home as well as to those who are physically in the building. But cafeteria space may have been commandeered for classrooms, and open areas around food won't fit in with new safety plans.
"In the short term, I don't think salad bars will be something we see," French says. "More packaged goods will be boxed up and brought to the students … in the classroom."
And while French questions the benefit of keeping students inside one room for an entire day — "I can't imagine how that will make school great for kids," he says — staying in the same room for lunch may prove an easy-to-implement solution.
"One of the things we learned [in a survey]: Students miss their friends and teachers, the relationships and face-to-face aspect of learning," French says. "While virtual learning is an important piece, I don't see social learning or face-to-face ever going away. This has reinforced the need for that, from a health standpoint."
Get stories like these delivered straight to your inbox. Sign up for The 74 Newsletter