One Day at a Time: How a Miami School Psychologist Helped Puerto Rico Educators Prepare for Student Trauma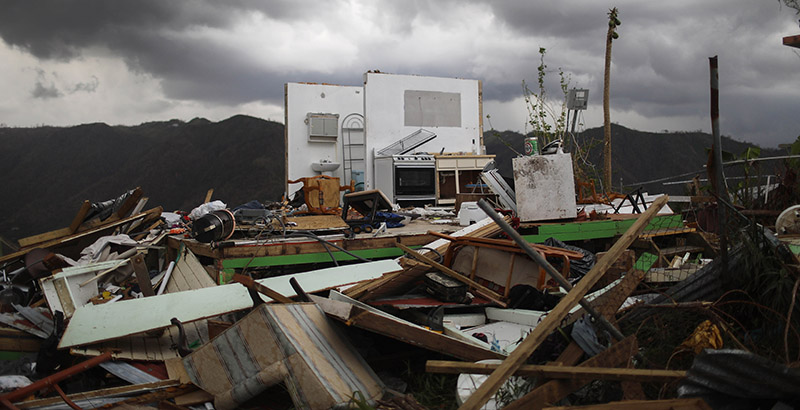 Frank Zenere knows disasters. Over the past two decades, he's visited 41 states and nine countries to help locals respond to tragedy, from the Pulse nightclub shooting in Orlando to the most recent hurricane in Haiti, to school shootings and student suicides.
Less than 24 hours after Puerto Rico Education Secretary Julia Keleher requested his help, the school psychologist and head of the crisis management program at Miami-Dade County Public Schools boarded a plane, ready to help educators in the U.S. territory address a mental health crisis brewing among their students since Hurricane Maria devastated the island Sept. 20.
In recent years, researchers have increasingly linked the effects of natural disasters and other traumatic events to students' emotional health and, in turn, their ability to achieve in school. Zenere guides school leaders, teachers, and mental health professionals in responding to tragedy, as Puerto Ricans are now doing as the island's schools slowly begin to reopen.
"You're talking about an island where, in the schools, 90 percent of the families they serve are of low socioeconomic backgrounds with limited resources to begin with," Zenere told The 74. "What we know well is, after a disaster, those that were struggling and underserved before are typically going to be the ones that are going to struggle and be underserved in the future."
After scrambling to tailor his resources and presentations for Puerto Rico's specific challenges, Zenere touched down Oct. 2 in San Juan, where he stayed until late Sunday — struggling to contact educators on an island where most people still lack running water and electricity. He held training sessions at schools in two cities — Mayagüez, on Puerto Rico's west coast, and Caguas, just south of San Juan — but at first he was uncertain about turnout.
Several AM radio stations were up and running, he said, so they put out a call to action for school counselors, social workers, and psychologists. It worked. Between the two locations, about 200 educators showed up for guidance.
Some had themselves lost their homes, yet they traveled several hours to attend the four-hour sessions. They came prepared with questions: "When is life going to return to normal?" "Where will we be this time next year?" "How do I help a child who is anxious or fearful?"
"It was certainly heartwarming to know that, despite their losses, they were there to learn about how to help the kids who are going to be hurting as they return to school," Zenere said.
For people who experience a traumatic event, children and adults alike, Zenere said recovery occurs gradually, with the help of family, friends, and faith. Most affected will be those who experienced the greatest hardship, such as losing their homes or a loved one, or having endured a previous trauma.
As schools begin to reopen, the structure and normalcy that classes provide will also benefit the children, he said.
"The schools represent a significant step of reconstruction; just like you rebuild the home a block at a time, you have to rebuild the social-emotional fabric of a land that's been disrupted this way a day at a time," Zenere said. "This is the way we take that on, again by returning to that routine and structure and formality of the day-to-day existence in the school building."
After surviving hurricanes, students sometimes hide under their desks during thunderstorms or if the wind picks up outside. Therefore, he said, teachers must be nurturing, speak with a calm voice, and reassure children of their safety.
Beyond meeting with those who work in classrooms, Zenere also offered advice to officials at the Puerto Rico education department, elected leaders, and directors of local nonprofits. In the months and years to come, he said, after the tragedy disappears from the headlines and the international community moves on, efforts by local officials must persist.
Even after the water recedes and the lights come back on, he stressed, the emotional toll will remain with the island's children for years. But slowly, he told educators there, things will get better.
"You look at a lot of those trees that were just stripped bare of leaves, and now you're starting to see little green sprouts coming out," he said. "So I tried to make connections that nature comes back, people come back, communities come back, but it all starts a day at a time and you have to build off of that success and carry it forward."
Research has shown that traumatic events, like natural disasters and community violence, have a tremendous effect on students — especially in low-income communities and those without a coherent recovery strategy. Often, those effects last years. A study following the 2014 police shooting death of Michael Brown in Ferguson, Missouri, found that the civil unrest that followed negatively affected school attendance and student achievement.
But for many, things do get better. One report found that symptoms of post-traumatic stress and depression improved for most students several years after Hurricane Katrina devastated New Orleans in 2005. About a third of the children showed no signs of progress, however, and required ongoing support.
As all Puerto Ricans strive to rebound from the disaster, Zenere said, attention should extend beyond the needs of children — his crisis management plan also focuses on caring for the caregivers. In previous disaster relief experiences, he said, he has observed school officials returning to the classroom at the neglect of their own mental health.
"Months later, it has a rebound effect where you start to see absenteeism from the job, you start to see increases in substance use among employees, domestic violence issues, child abuse," he said. "All these things start to show their ugly head in a manner that is somewhat predictable if you're looking at it from this angle and from previous experience to say, 'Yeah, if you don't deal with your own emotional well-being, you're not going to be of much use to other people, nor yourself.' "
Support The 74's year-end campaign. Make a tax-exempt donation now.