On Leadership: Camden Principal Timothy Jenkins Making Sure His Students Seize Every Opportunity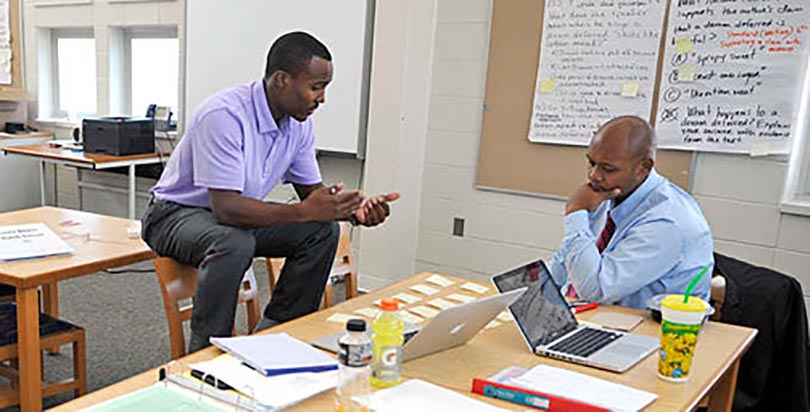 This is second in a three-part series The Seventy Four is publishing this week recognizing extraordinary school leaders to mark the end of National Principal's Month. This Q&A has been edited for style and length.
Last Friday, for a school fundraiser, MetEast High School Principal Timothy Jenkins took 12 cream pies to the face from his students. That's the kind of school leader he is: willing to do whatever it takes.
"They see if Mr. Jenkins can do it, it's OK to do it," he says, referring to staying in the game even when it gets messy and uncomfortable. "That's part of my drive: continuously influence my students and teachers…and as many people as I can."
For the 160 teenage students at MetEast in Camden, New Jersey, a city which President Obama recently called "a symbol of promise for the nation" for its renewed efforts to pull itself out of deep impoverishment, Jenkins is also a symbol.
Born and raised on the same city blocks from which where his students hail, he's not just principal, but role model. Leading MetEast over the past 10 years, Jenkins has brought energy and focus to his work to raise the bar for students and get them not only college-ready but "life-ready."
There have been setbacks. Jenkins' efforts were thrown for a loop last year when an application he submitted to
convert the high school to a public charter
— the principal wanted even more autonomy — was turned down. MetEast still "needs improvement" according to state data reports. But Jenkins' determination hasn't waivered. He's committed to seeing even greater improvements over the next 10 years.
However many pies it takes.
What's your story? How did you get to where you are today?
I am a product of Camden and the school system here. Growing up, playing football as a young man, you're surrounded by mentors and coaches who instill the sense that it's your responsibility — our responsibility — to help shape the community. When I graduated from high school and went on to Rutgers, I left with the intention of going to college to become a teacher. I wasn't exactly sure what type of teacher I wanted to be … but I knew when I left high school I wanted to be a teacher.
I'm doing the work I'm supposed to be doing. It's kind of as simple as that. I don't know what else I would be doing if I wasn't a principal.
What does a good day at work look like?
This may be corny, but literally, today was a good day. We have days like this quite often when you can really, truly see students progress. Yesterday one of our students stood up at a meeting and she said, "I want to do a breast cancer walk. Can you guys help me? My aunt has breast cancer and another relative died from it," she said, "so there's a strong likelihood that I'll have it. So I want to learn about it and help people be more aware."
So we listened to her … Today, the whole school took a three-mile walk through the community. They passed out literature about breast cancer. And I personally took 12 pies to the face for charity … Not only was the day important to her — she saw that the school was supporting her — but these are the hard and soft lessons that we try to teach. Of course, I'm going to take whatever number of pies in the face.
When you see students really take advantage of the opportunities they have, and they embrace the lessons that you try to teach and impart to them, that validates what you do everyday. It lets you know the school is working. That your efforts are working. Though every student may not get the same lesson at the same time, your efforts are never in vain.
That's a pretty amazing day. What about the bad days?
It pains me when students don't take advantage of their opportunities. That's sometimes the fault of the student — work ethic is poor — and sometimes it's family challenges that get in the way; but there literally isn't much a student can't accomplish if they focus their efforts on their goals …We don't give up on anybody.
That's why the school works so well, I think, because we're able to isolate — in a good way — each student individually. To look at the context surrounding a student and whatever's required to move that student forward, we're able to do that, using a big picture learning philosophy.
You mentioned "big picture learning," which is the school model you use at MetEast. What is that in your own words?
It's really what drives me and how I govern myself and how I oversee the school. It's doing everything one student at a time and one staff member at a time.
Here is a place where students and their ideas, visions, and passions can truly come to life if they have really good supervision, guidance, and support.
And the staff too: I take that same approach with staff. Every staff member is different, every staff member is unique. My job is to make sure that I eliminate as many barriers as possible for them. Allow them and give them the autonomy and flexibility that they need to impact their students.
What advice would you give to your younger self?
Always be prepared to take advantage of the opportunities that are presented. I use that everyday. In whatever it is. I could not have been a principal when the opportunity was presented if I didn't have my credentials. That's just being ready. Being ready for whatever comes. This vision that I have, you know, I don't know when somebody's going to present an opportunity to me. I really do live by that. Be ready and take advantage of opportunities.
You grew up here in Camden. You work here. It doesn't seem like you're leaving.
Camden is a city that's plagued with a a lot of challenges. But the dynamics of the city have changed …The education system has changed. When I was in high school, there was only two educational options for high school students. There were just the large comprehensive high schools, whereas now students have five options. When I was in high school, I went to school based on my address. That's a major difference.
Support The 74's year-end campaign. Make a tax-exempt donation now.