On His Way to Top HBCU, Former Problem Student and 'Distinguished Gentleman' Lost Major Milestone Celebration to Coronavirus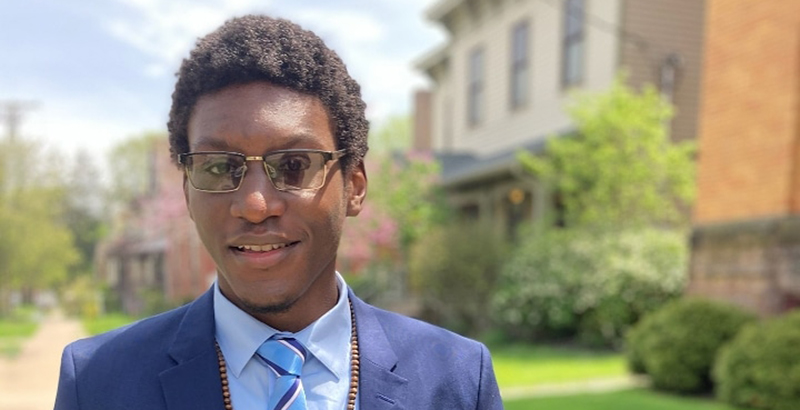 This is one of eight profiles in Displaced: The Faces of American Education, a package from The 74 following the stories of the diverse characters who are a part of the American education system, and how the COVID-19 crisis has upended their lives in a few short weeks. Meet the others, from around the country, here.
Caillou Allen will miss walking the stage for his diploma at his high school graduation next month.
He'll miss taking the stage more.
For the past three years, the senior at Cleveland's Early College High School has been part of The Distinguished Gentlemen of Spoken Word, a troupe of African-American teens who perform dramatic interpretations of poetry and inspirational essays, and who have become a core cultural component of the Cleveland community. The Gentlemen have a tradition of performing at the graduations of each member, with the graduate giving a short speech or solo performance between group acts of poems by writers like Langston Hughes or Paul Laurence Dunbar.
"I am not going to be able to do none of that," said Allen, 17, who's headed to Morehouse College in the fall.
That can't happen this year because COVID-19 shut down more than 20 Distinguished Gentlemen performances this spring and has forced the Cleveland school district to skip traditional graduations for a "drive-through" ceremony.
Just graduating at all is an accomplishment for Allen, whose disciplinary record during his elementary school years had him bouncing from school to school. He was even expelled in the fourth grade, he said, for making a bomb threat, which forced him to repeat the year.
Being bored in class, he said, made him act out, which made teachers write him off as a lost cause. The cycle of bad behavior repeated, he said, and had his family seeking new schools for him over and over. But by sixth grade, he was placed in accelerated classes that appealed to him and his high test scores let him jump ahead to eighth grade.
He was now a year ahead of schedule after repeating one year and leaping forward by two.
Allen then landed at Cleveland Early College High School, which pushed him academically — just not too hard, he said — and let him start accumulating college credit. Finishing classes during the pandemic was easy, he said, since seniors at his high school take courses at Cleveland State University, which moved its classes online after it had to cancel in-person gatherings.
He now wants to be a criminal defense lawyer to help the black community escape persecution.
He remembers clearly when he first saw the Distinguished Gentlemen perform at his school three years ago.
"At the time, I ain't heard nothing like it," he remembers. "They was all in sync and performing. It was like the Temptations. You know how they used to perform? It was together. They were all sharp. Dressed up."
He was hooked and decided to join. Quickly welcomed, he loved the group's performances and its focus on brotherhood and leadership. Founded in 2003 by Honey Bell-Bey, the poet laureate of Cuyahoga County, the Distinguished Gentlemen have also performed at the 50th anniversary of the March on Washington and at a celebration in France commemorating Dr. Martin Luther King Jr.
Bell-Bey — or "Miss Honey," as members call her — also gave them essays and articles to read about social justice and the black experience.
"The Distinguished Gentlemen is a real tightly knit brotherhood. Everybody is for each other. I just loved it," Allen said. "And we embraced our blackness."
The pandemic has limited the group, shutting down performances for several weeks including through National Poetry Month in April, which Bell-Bey said is "our month, our holiday."
Group practices have been moved to Zoom twice a week.
"You aren't never going to get the same effect with technology that you do in person," Allen said.
With graduation plans altered, Bell-Bey staged her own graduation ceremony for Allen on May 16 and posted it on the group's Facebook page, along with video of a drive-by salute from a motorcycle club and congratulations from executives from the Cleveland Clinic and the Cleveland Cavaliers.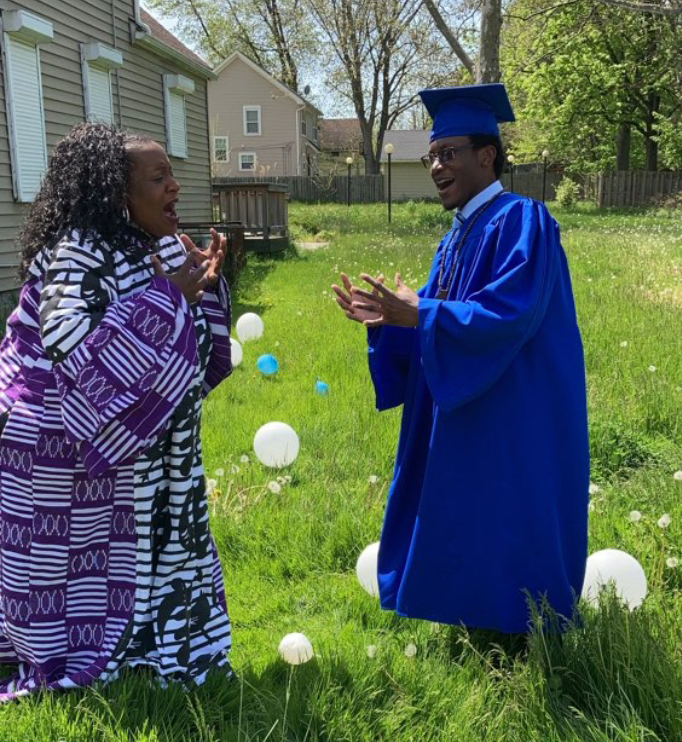 After Bell-Bey opened with Marianne Williamson's "Our Deepest Fear," one of the Distinguished Gentlemen's standby performances, she let Allen, wearing a blue cap and gown, and his mother speak, before closing with a performance of Dunbar's "We Wear the Mask" with Bell-Bey and another member.
While not the same as performing at a traditional graduation, Allen said, the gesture mattered to him. In his speech, he said he hopes his Class of 2020 won't be an afterthought because of the pandemic.
"It is important that we celebrate our graduates as much as possible, for they've done a great thing, only to have its acknowledgment cut away," he said in the speech. "Let us say that we filled the gap. We gave them something better; a People's Graduation, where a man is recognized for his merit by his entire village."
Support The 74's year-end campaign. Make a tax-exempt donation now.