Ohio's Urgent Push to Open Classrooms During the Pandemic: New Policy Drops COVID Quarantine Rule if Students Wear Masks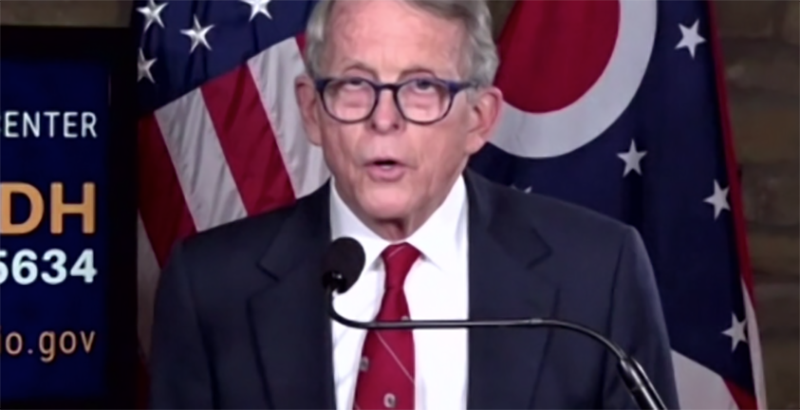 Momentum is building for thousands of Ohio students to return to classrooms in March, with the release of a state study showing low risk at school of COVID-19 spread between students; and Gov. Mike DeWine designating school staff next in line for vaccinations.
Though about a third of Ohio's 610 school districts are closed and classes are remote only, DeWine has painted schools for weeks as a safe place for students, so long as health precautions are in place.
Even as COVID cases have skyrocketed across the state, DeWine has joined President-elect Joe Biden in advocating for schools to reopen by March.
The study DeWine has pointed to paints schools as safe for students. While Ohio's two teachers unions are cautious about risks at school, they are accepting the study's results.
DeWine expects to release a plan within days for vaccinating teachers and other staff at schools that plan to open classrooms to students this spring. He also eased quarantine rules last week for schools that have students test positive for the virus, breaking from quarantine guidelines from the Centers for Disease Control.
DeWine pointed to a new study by the Ohio State University and other researchers that joined the growing attempts nationally and internationally to determine how school affects the spread of COVID.
Unlike recent studies that look at whether schools add to community spread, Ohio's study tried to answer a more limited question: Does "close contact" — within six feet of a COVID-positive person for 15 minutes — lead to infections at school while both students are wearing masks?
The Centers for Disease Control recommends quarantining for 10 days, recently reduced from 14 days, after "close contact." But those rules do not account for wearing masks, as required in Ohio schools.
Preliminary results of the "pilot" study, whose full results will come out late this month, found that students having "close contact" contracted COVID at virtually the same rate as other students in the classroom or school, as long the contact occurred while students were wearing masks.
"Their results support what we are seeing and hearing anecdotally in our schools,"DeWine said. "As long as students in the classroom wear a mask, as long as they are mask compliant and do the best they can to socially distance, they do not have an increased risk of catching COVID 19 from a student who may have had it."
Citing the study and another recent report out of Mississippi, DeWine declared last week that it is no longer necessary for Ohio to quarantine students who have had contact with COVID-positive students if all students wore masks. That includes close contact only in classroom settings, but not in athletic or extracurricular activities.
It also does not include students having "close contact" outside of school, which DeWine and the Mississippi report say are causing most student COVID cases.
Ohio's guidelines were already lower than in some districts, like New York City, where a single positive case can close a classroom and put all students in quarantine for 14 days and two cases can close a school. But others, including Utah Gov. Gary Herbert, have also dropped quarantine requirements if safety precautions are followed.
And districts nationally are adjusting their quarantine requirements after the CDC lowered its quarantine guideline from 14 to 10 days last month. That can be lowered to seven days with a negative test.
Heads of Ohio's two large teachers unions said that some teachers are worried that the state isn't following CDC standards, but that they are willing to go along with the study's findings.
"We're always concerned when a recommendation goes against the CDC guidelines," said Melissa Cropper, president of the Ohio Federation of Teachers. "But we're also saying we want to follow science and follow the facts, so we need to look at them and not dismiss them."
Cropper said schools, however, can't use this as a reason to relax other precautions.
"If we lessen restrictions in one area, people have a tendency to slack in others," she said.
Scott DiMauro, head of the Ohio Education Association, was also willing to accept the findings, so long as quarantines return if COVID spread increases.
"We've got some members who are upset about it understandably, because anything that seems to lessen the safety protocols is concerning," DiMauro said. "But if you're following all of the other protocols, this shouldn't have that much of an impact."
How many students have had to quarantine this fall because of "close contact" with infected students was not available. Though Ohio tracks COVID cases by district and charter school, it does not report quarantines. The Ohio Department of Health and Department of Education did not respond to requests for data on quarantines.
Teachers also had mixed feelings about DeWine's vaccination plan. Both Cropper and DiMauro welcomed teachers being given priority for vaccinations so they could return to classrooms, but don't want teachers to be pressured into taking vaccinations.
Both said it makes sense to only give the limited vaccines to teachers who will return to class, but do not want teachers to have to return if they don't want them or before they can get them. That timing of receiving the shots could be a challenge. DeWine conceded this week that the low number of doses he expects to receive could make it take months to vaccinate teachers and for people 65 and older that are prioritized in the next round of vaccinations.
Support The 74's year-end campaign. Make a tax-exempt donation now.