Ohio Public Safety Advocates Push Against SRO Money, Ask for More Discretion
Legal experts and juvenile justice advocates called on the legislature to make changes to the use of $388 million for school resource officers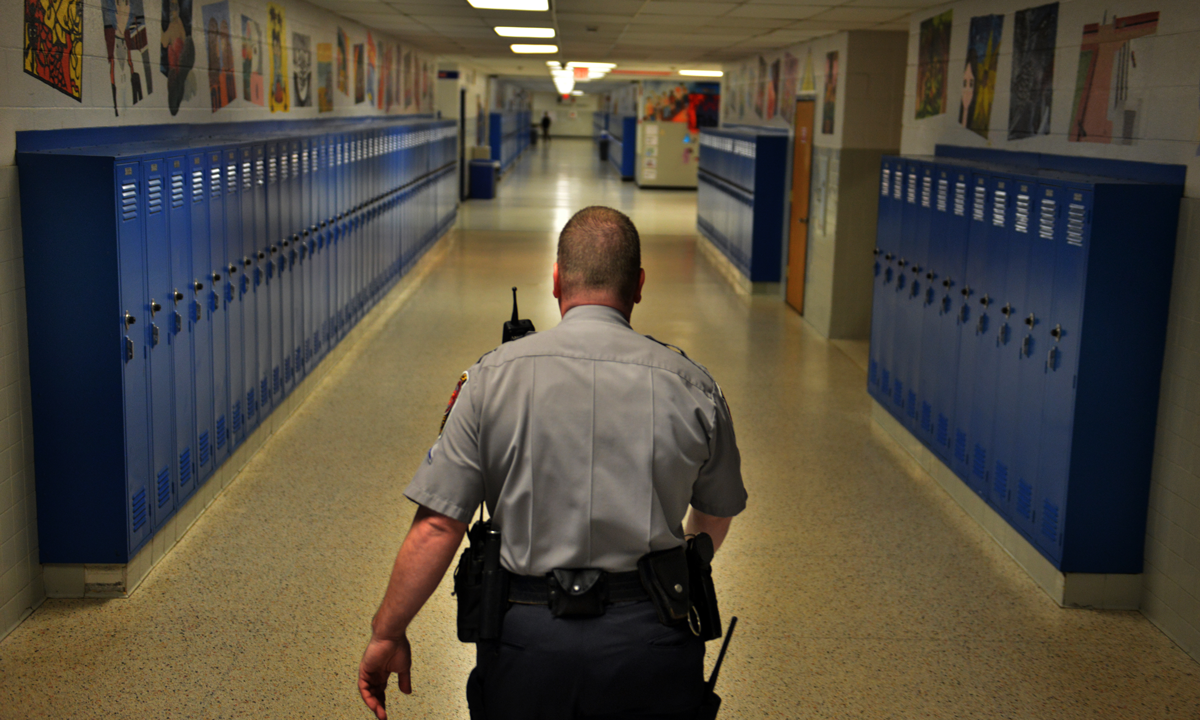 Support The 74's year-end campaign. Make a tax-exempt donation now.
Legal experts and juvenile justice advocates want to see more discretion given to school districts when it comes to public safety dollars, rather than a giant check going directly to law enforcement.
In a joint call, the Juvenile Justice Coalition, the Ohio Poverty Law Center, the Children's Defense Fund-Ohio and others called on the legislature to make changes to Gov. Mike DeWine's budget recommendations, specifically the use of $388 million to place school resource officers in schools.
"If we're going to be putting all of this brand new money out there, there should be some basic questions around school safety that we're able to answer, that I just don't think that we're able to do right now," said Timothy Johnson, senior policy advocate for the Ohio Poverty Law Center.
With nearly $200 million per fiscal year coming from the state for this use, basic state-level data about the amount of school resource officers there are, the interactions those officers have with students and the disciplinary records of those officers should be easily accessed, Johnson argued.
While some studies have been done, including an ACLU study that showed Black students in Cincinnati Public Schools were five times more likely to face exclusionary discipline than their white peers, statewide data isn't kept.
Jay Carey, spokesperson for the Ohio Department of Public Safety, confirmed to the OCJ that, by Ohio law, schools are not required to "report the type of physical security they have in place, whether it is school resource officers, private security or other security services."
"For this reason, there is not a comprehensive list or number (of SROs) available," Carey told the OCJ.
He said the department does know that some schools "have requested additional security services due to the national rise of school-based incidents."
Before a budget can be approved with the funding for SROs, Dr. Tanisha Pruitt of Policy Matters Ohio said this information must be a part of the public record, to ensure transparency and accountability, along with qualifications and training of the police going into schools.
Training for school resource officers involved the typical 40 hours of basic training required of all police officers, along with another 40 hours of SRO training in the first year.
But gaps still exist in that training, according to TaKasha Smith, executive director of Ohio's Juvenile Justice Coalition.
While those supporting more SROs in schools are thinking of catastrophic incidents, like the recent shooting at a private school in Nashville, the funding should also be there for the daily needs of students as well.
"What they're not thinking about is the every day situations that our children face, and the every day consequences of interacting … with police to deal with those," Smith said.
There should be guardrails in place to require accountability from those law enforcement officers, Smith said, along with further training to address mental health, suicide prevention designed for adolescents, crisis intervention, conflict resolution, trauma-informed communication strategies and explicit bias training.
Because being around students means dealing with many more issues than just criminality, the policy advocates want to see schools make the decisions about what their unmet needs are.
Alison Paxson, senior policy associate at Children's Defense Fund-Ohio said adding flexibility to the dollars would allow for targeted absenteeism intervention, for example, and access to school counselors and social workers, to address needs before they reach the crisis point.
"We're really asking that the state budget allow schools to make the right choice for their students, and not force them to leave money on the table," Paxson said.
Ohio Capital Journal is part of States Newsroom, a network of news bureaus supported by grants and a coalition of donors as a 501c(3) public charity. Ohio Capital Journal maintains editorial independence. Contact Editor David DeWitt for questions: info@ohiocapitaljournal.com. Follow Ohio Capital Journal on Facebook and Twitter.
Support The 74's year-end campaign. Make a tax-exempt donation now.