Ohio Elementary School Teacher's Lesson in Fire Safety Saves First-Grader's Life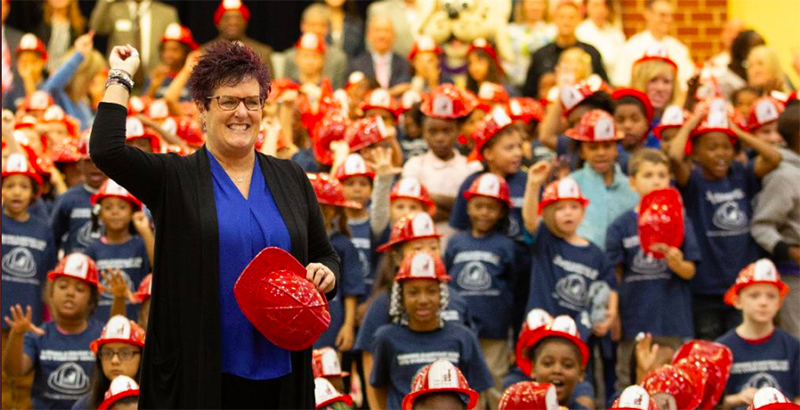 This article is one in a series at The 74 that profiles the heroes, victories, success stories and random acts of kindness found at schools all across America. Read more of our recent inspiring profiles at The74Million.org/series/inspiring.
Barb Fisher has been teaching elementary school in Ohio for 12 years, so she knows a good lesson when she sees one.
Still, until this year, she had never delivered a lesson that literally saved a child's life.
First-grader Zhiouli Wilson, 6, became trapped in a basement during a fire in her family's Akron home in May. If not for Fisher, the little girl might never have made it out.
Akron teacher honored for fire safety lessons that saved student's life. https://t.co/oOLARva3y0

— Bridgette Pacholka (@BridgetteWEWS) October 14, 2019
"We had just done our fire safety not two weeks before that, so it was all so fresh in her mind," Fisher told News5Cleveland. "The firefighter that rescued her said that she saved herself by what she had learned, what we had taught."
As flames raged and smoke billowed around her, Zhiouli remembered to stay low to the ground and cover herself with a blanket. It is what she had just been taught in the Junior Fire Marshal program, which was developed by The Hartford insurance company 72 years ago and has been taught in schools to 111 million kids nationwide.
This month, firefighters from the Akron Fire Department and executives from The Hartford came to Seiberling Community Learning Center to honor Fisher and Zhiouli.
@shelbyolive look an Akron teacher saved students life
Akron teacher honored for fire safety lessons that saved student's life https://t.co/o32JBagWIY

— Corey Dreamer (@CoreyDreamer) October 14, 2019
"We are here to see a very special teacher," AnnMarie LaBreck, spokeswoman for The Hartford, said, according to the Akron Beacon Journal.
But Fisher said it's Zhiouli who deserves the accolades.
"She is the bravest person I know," Fisher told the paper.
The girl has recovered from serious injuries and returned to school, where she frequently gets hugs from her teacher.
She missed class the day of the award ceremony, but the assembly included a fire-safety lesson for the rest of the school, complete with red plastic helmets and a simulated blaze.
"It was the teachable moment," Fisher told the Beacon Journal. "It kept the attention of 28 first-graders for two hours."
Get stories like these delivered straight to your inbox. Sign up for The 74 Newsletter