Obama's Now-Revoked 2014 Discipline Guidance: Necessary Federal Oversight or Inappropriate, Top-Down Intervention?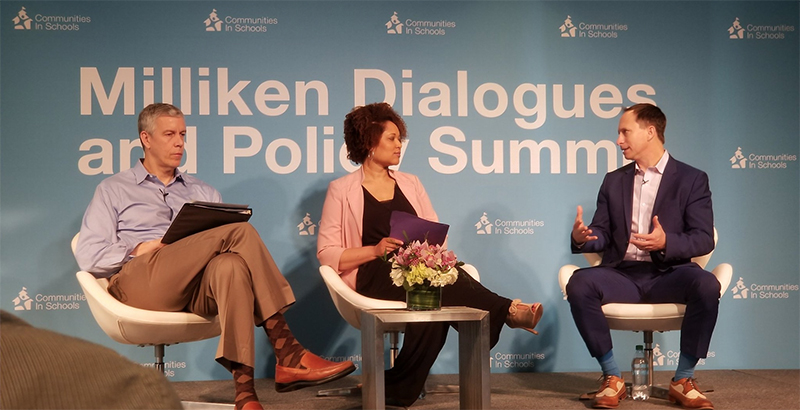 Washington, D.C.
It's no longer federal policy, but the now-withdrawn Obama-era discipline guidance is still getting plenty of air time — at least in D.C. ed policy circles.
On Wednesday, it was the subject of debate between former education secretary Arne Duncan, who cast it as a necessary federal oversight in a country with a checkered civil rights history, and Mike Petrilli, a conservative think tank president and detractor of the guidance, for whom it was a top-down intervention that disregarded the needs of students who don't misbehave.
The 2014 document encouraged districts to reduce reliance on suspensions and expulsions, and to look at whether students of different races were being disciplined at different rates. The Obama administration and progressive advocates said it was an important step in addressing the fact that students of color, particularly boys and those with disabilities, face harsher discipline for the same offenses than their white peers.
Duncan and Petrilli's discussion was part of a morning-long event hosted by the nonprofit Communities in Schools focused on school discipline. The group also released new Gallup polling data that found that the public believes teachers are largely unprepared to deal with discipline issues in the classroom, and that interventions like mental health supports and training for school personnel are more effective than stricter disciplinary practices.
There is an appropriate federal role in ensuring civil rights in school discipline: the long-standing complaint, investigation and enforcement process through the department's Office for Civil Rights, and it was the right call to revoke the guidance, said Petrilli, the president of the Thomas B. Fordham Institute.
Policymakers' top concern, he said, should be the appropriately behaved peers whose safety is threatened and classes are disrupted by behavior problems.
"Our No. 1 job as adults in this system has got to be that every child who shows up to school can learn feeling safe, being safe, in an environment that's orderly. If we can't meet that, we've got a real problem on our hands. We've got to keep those kids front and center as well," he said.
There shouldn't be a "top-down" approach like the one laid out in the 2014 guidance, Petrilli said.
"We need to not get so much in this mindset that there's one way [to conduct discipline], that the one way is restorative justice, the one way is keeping suspensions to an absolute minimum," he said.
Duncan disagreed, arguing that punishing schools after the discriminatory act, as Petrilli recommended, rather than preventing it in the first place, isn't enough. Ensuring equity is one of the core responsibilities of the U.S. Department of Education, Duncan said, and given America's history with race relations and civil rights, a federal role in discipline reform is essential, he said.
Important advances in civil rights, from the end of slavery to the passage of the Individuals with Disabilities Education Act and Title IX "didn't happen bottom-up," Duncan said.
"Our country's history is not one, across the board, of bottom-up success … To somehow act like we are post-that era is not reality," he said.
Mental health supports and teacher training might ultimately be a better solution to discipline problems than fixes like metal detectors and school resources officers, he said.
"When students act out, when they're disruptive, do we deal with that symptom and that behavior, or do we deal with the root cause?" Duncan asked.
The Trump administration officially withdrew the guidance late last year, after the issue was put on the agenda of the federal School Safety Commission looking at mass shootings in schools.
Even beyond the decision to overturn the 2014 discipline guidance, advocates shouldn't expect the Trump administration to intervene in civil rights the same way the Obama administration did, Duncan said.
"I think the current administration overtly practices racism. To expect the current administration to care about black and brown kids, I think we're fooling ourselves," he said.
A department spokeswoman called Duncan's statement "fundamentally false and offensive."
"This administration is committed to upholding civil rights protections for all students and ensuring each child has access to an education that meets their unique needs in an environment that is safe, nurturing and free from discrimination," Press Secretary Liz Hill said in an email.
Disclosure: The Chan Zuckerberg Initiative provides financial support to Communities in Schools and The 74.
Get stories like these delivered straight to your inbox. Sign up for The 74 Newsletter