Obama's Final DNC Speech: Why 2016 Politics Prevent Him from Touting His Education Legacy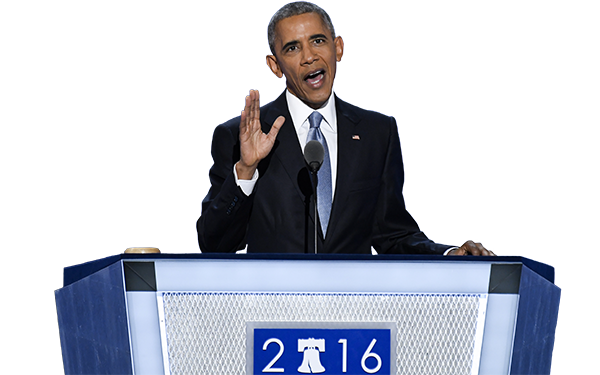 W
ednesday night marked the final time Barack Obama will speak at the Democratic National Convention as President. His speech was less policy-centric than it may have been with a Republican nominee more interested in debating substantive ideological differences and solutions than Donald Trump. But President Obama still used the opportunity to
defend his legacy
and make the case that Hillary Clinton is the right person to carry it forward.
One part of that legacy, though, was conspicuously absent.
Here's what Obama did cover: he touted economic plans that helped the country fight its way back from the recession. He talked about the recovery of the auto industry after the historic bailout. And universal healthcare was a part of his talking points, of course.
But when it came to education, Obama spent just half of one sentence mentioning
policies his administration put in place to help students with loans. That was it.
As predicted after the first night of the DNC
, there was no mention of his groundbreaking legacy in K-12 education.
Why not? Obama should be as proud of the strides his administration made in K-12 as he is in any other policy area. Under his watch, school choice was expanded, many states adopted higher standards, teachers began being evaluated on rigorous metrics, and schools and districts were held accountable for the results of their neediest students. Moreover, through incentive programs, the Obama Administration got states and districts
moving quickly
on K-12 policy, an issue in dire need of change after more than a decade of stagnation.
But the sticky politics of K-12 education within the Democratic Party forced Obama to be silent about these accomplishments Wednesday night. More specifically, Obama's K-12 education policies represent a splinter between two major Democratic Party constituencies: civil rights groups and teachers unions. The Democratic Party is traditionally aligned with the interests of the less-fortunate, but it's also aligned with unions. And teachers unions have been less supportive of the administration's accountability policies and school choice efforts, which aim to strengthen the education system for low-income, minority students.
Obama was able to buck traditional party-aligned K-12 education policies during his administration because he had a less warm relationship with teachers unions than any other Democratic President in modern time. At one point, it got so heated that the National Education Association called for Secretary of Education Arne Duncan's
resignation
. This is in stark contrast to Hillary Clinton's relationship with the nation's two largest teachers' unions, both of which were some of the first groups to endorse her presidential candidacy (and
made appearances
at the DNC on Monday night). So in a speech that was partly about this legacy and partly about electing Hillary Clinton, President Obama was put between a rock and a hard place on K-12 education.
What K-12 education will look like in a post-Obama world is anyone's guess. The newly-minted rewrite of the Elementary and Secondary Education Act, the Every Student Succeeds Act (ESSA), puts states in the driver's seat and does not require many of Obama's signature policy initiatives
— like teacher evaluation tied to student achievement. And the new Democratic Platform released this week
abandons many core party values
, causing an
uproar
from groups like Democrats for Education Reform.
Perhaps strategically, Clinton has
avoided speaking publicly
on the specifics of her K-12 education platform, so it's hard to know what her detailed plan may look like. Sure, she is aligned with teachers unions, but her track record on education
hasn't always been in alignment
with them.
Regardless, one thing that is probably true is that when Obama says he's "ready to pass the baton" to Clinton: K-12 is an area where he must feel a little less secure that his legacy will continue.
Disclosure: Bellwether's team has a variety of views on education, and has consulted for Democrats for Education Reform.
Support The 74's year-end campaign. Make a tax-exempt donation now.