NYC's Mayoral Control Hearing Still Not Set; Testy Issue May Hinge on Lifting Charter Cap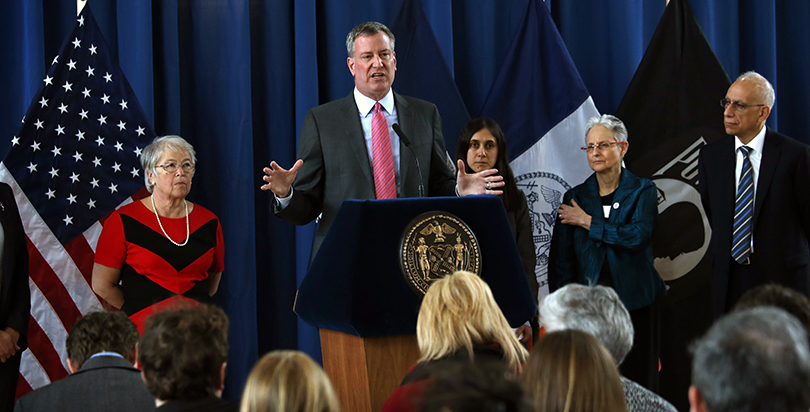 New York City
A year ago today, New York state lawmakers had just wrapped the second and final hours-long hearing that presaged their decision to extend Mayor Bill de Blasio's control over New York City schools by just one year rather than the lengthier term he wanted.
Those 12 months are up June 30, and the mayor is once again seeking a "multi-year" extension, a de Blasio spokeswoman said. As of Thursday, though, no hearings for this year's mayoral control bout had been scheduled, but the stage is set for another grating battle that is likely to dominate the final frantic month of the legislative session, which ends June 21.
Lawmakers in the Republican-led Senate have been loath to grant de Blasio anything more than a one-year renewal for the past two years.
The wide-ranging 2016 hearings took place in Albany on May 4 and New York City on May 19, with de Blasio skipping the latter one, prompting criticism from senators and pro–charter school advocates.
The debate stands to be even more complicated because powerbrokers in the state Senate have linked it to another point of disagreement with de Blasio: the cap currently limiting the number of charter schools permitted in New York City.
Both issues were expected to be included in the state budget but were left out of the final deal approved in April. Not long afterward, Senate Majority Leader John Flanagan, Republican of Suffolk, announced that there would be no mayoral control extension without loosening the limit on charter schools, the Queens Chronicle reported.
"One of the things the city continues to do is flout the law and make sure the charter schools [face] unbelievable difficulty to secure space," Flanagan told reporters in early May, Newsday reported. "I'd rather stop playing around."
City Schools Chancellor Carmen Fariña appeared before the legislature at the end of April to praise the administration's chief accomplishments: the rollout of free, universal pre-kindergarten for 4-year-olds; raising high school graduation rates; and lowering the dropout rate.
Meanwhile, the top Republican legislators who have led the hearings in past years are keeping quiet about when — or if, for that matter — they expect to hear a formal education progress report from the Democratic mayor himself, who is seeking re-election with no obvious viable challenger in sight.
Flanagan's office did not respond to a request for comment Thursday.
De Blasio said in January that he saw no reason to lift the cap, and his aides have sharply pushed back on the attempt to tie that issue to renewal of mayoral control.
"Mayoral control is a proven governance model that stands on its own, and we will not allow it to be held hostage," spokeswoman Freddi Goldstein said, adding that "we cannot afford to go back" from the gains produced under de Blasio's stewardship of New York City's 1,800 public schools and 1.1 million students.
Assembly Speaker Carl Heastie, Democrat of the Bronx, said much the same, Newsday reported: "We're not interested in adding any other criteria to extend the governance of schools."
In 2015, de Blasio initially sought a seven-year extension but, in a rebuke from Senate Republicans, received only one additional year. Michael Bloomberg was the first mayor to gain control over the schools, in 2002, not long after he assumed office, and it was renewed in 2009 for six years.
Support The 74's year-end campaign. Make a tax-exempt donation now.