Where Have De Blasio's Grand Education Plans Gone? NYC Students All But Absent from Annual Speech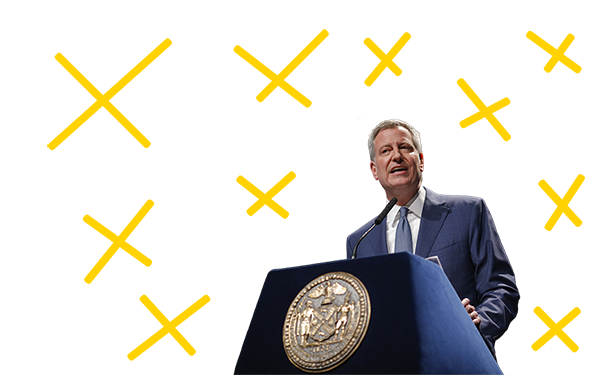 Mayor Bill de Blasio, elected on a signature campaign promise to radically transform educational opportunity for New York City's youngest learners, proclaimed Thursday night that his administration is "shaking the very foundations of public education" inside the country's largest school system — but offered little evidence of the impact of such bold actions during his annual State of the City speech.
Instead, addressing an invitation-only audience at the 2,300-seat Lehman Center for the Performing Arts in the Bronx, de Blasio offered a speech heavy on facts and figures about several new transportation, housing and quality-of-life initiatives. He also spent much of his 75 minutes on the stage touting the accomplishments of his first two years in office — some big and some small — but with plenty of specifics attached.
On education, however, noticeably absent were any new school-related plans, much less any tangible results on the city's $400 million Renewal school improvement program — arguably one of the initiatives most crucial to the future success of New York's 1.1 million students and to the city as a whole.
The Renewal Schools program is intended to turn around 94 city schools that are among the lowest-performing in the state by bolstering school leaders with training and resources, extending the school day and expanding community partnerships. Each school is expected to work with city education officials to assess school needs and craft an improvement plan. But the program has sluggishly taken shape and has recently
come under fire
from principals, in addition to facing criticism from pro-charter groups and state officials. It took repeated pressure from Chalkbeat New York, an education news website, and questions from the state's schools chancellor, before the de Blasio administration
released in December the education targets
that schools in the Renewal program are supposed to meet.
The head of the city's 6,000-member school administrators union, Ernest Logan, in January described the program as "inefficient and top-heavy, a tool used to micromanage principals through compliance documents and meetings rather than support them," Chalkbeat reported.
De Blasio initially abandoned former Mayor Michael Bloomberg's strategy of moving swiftly to close failing schools in favor of the Renewal approach and a three-year wait-and-see attitude. However,
recent research
confirmed that shuttering those schools under Bloomberg improved academic outcomes for future students and de Blasio in December
reversed course
and said he would close three chronically underperforming schools by the end of this school year.
(The 74's Cynthia Tucker Haynes asks: Is de Blasio listening to proof of what helps kids in failing schools?)
---
Watch: How Closing NYC's Failing Schools Helped Students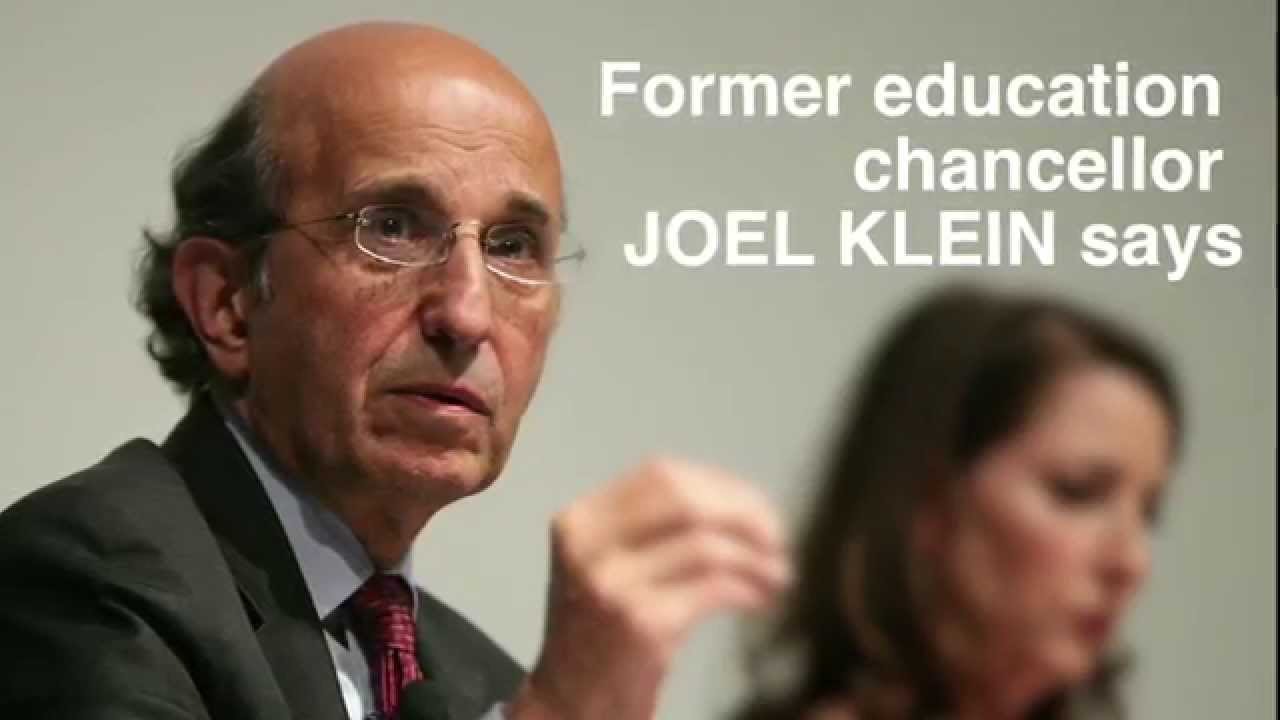 ---
In Thursday's speech, the program received but a passing mention when the mayor said the Renewal schools are "graduating more kids and seeing higher test scores through new approaches and new leadership." Again, he shared no numbers.
Four Renewal schools
saw enough progress
on their state test scores or graduation rates in 2014 and 2015 to be removed from state watch lists in 2015, but would remain in the program, Chalkbeat reported in June.
A footnote on de Blasio's ambitious universal pre-kindergarten program — the centerpiece of his successful election campaign — was tossed in the speech among a list of other accomplishments including paid sick leave for city workers, paid parental leave, a $15 minimum wage and citywide ID cards.
"These are the kinds of changes that move a family from struggle to strength. (I could also mention 68,500 kids in free, full-day Pre-K … but you've heard me talk about it enough.)," he told the chuckling crowd at the Lehman Center.
He touted the expansion of computer science and algebra classes, and a new mentoring program that were all first outlined in a
September speech on education
but skimmed over specific policy and cost proposals.
There was no talk of another promise outlined in September that all entering third-graders would read fluently at grade level by 2026, with the help of an infusion of 700 new reading specialists.
Observers noted the disconnect.
"After two years of offering students nothing but empty rhetoric, tonight Bill de Blasio didn't even offer that much," StudentsFirstNY Executive Director Jenny Sedlis said. "For a mayor who wants permanent control of city schools, it seems odd that Mayor de Blasio did not offer one new education proposal. New York City schoolchildren deserve a mayor who believes their needs are worth focusing on. Mayor de Blasio needs to stop horsing around and focus on getting our kids the quality education they deserve."
The state Legislature will vote on whether to extend de Blasio's one-year term over the schools by the end of this year's session, in June.
(The 74's co-founder and Editor-in-Chief Campbell Brown explains why the failures of Chancellor Carmen Farina could cost de Blasio mayoral control)
In line with the speech's overall theme of creating a safer, cleaner, more livable city, de Blasio did offer a single statistic on schools: Since the 2011-2012 school year, crime in city schools has gone down 29 percent and suspensions 36 percent, he said.
"Safe streets, clean streets, fair streets — these are the things that make our city great, and that we focus on every day," he said, later in the speech.
But seemingly lost in the rhetoric was a real sense of urgency that high-performing schools also are necessary to make the city great.
Among the speech's many non-education highlights:
A $2.5 billion proposal to build a 16-mile streetcar line along the East River, connecting Brooklyn and Queens.
Plans to build a research and business innovation hub on a revitalized Governor's Island (no price tag listed).
The city will open 300 beds in dedicated youth shelters for homeless kids.
2,000 additional police officers will be patrolling city streets by the end of the year.
The city will soon launch a free Wi-Fi and phone kiosk system to replace old payphones; around 500 kiosks could open by July, with the ultimate goal 7,500 citywide.
Drivers will soon be able to use an app on their Smartphones to pay for municipal parking, rather than running out to feed the meter.
The city filled almost 1 million potholes and repaved 2,200 lane miles of road.
The city began work to replace leaky roofs at 67 New York City Housing Authority buildings with use of $300 million.
Crime has gone down 5.8 percent in two years, with murders down 45 percent and shootings down 34 percent compared to the same month last year.
The city has gained 220,000 jobs in two years, part of an unprecedented 4.2 million total.
City officials apparently took great pains to ensure the speech's invitation-only crowd would be receptive to the mayor's agenda. An aide to the mayor told officials at city agencies in an email "that they should be careful to keep anyone out of the event who might protest or voice opposition to the mayor's agenda,"
The Wall Street Journal reported
on Feb. 3, citing an internal email viewed by the paper.
Several protesters gathered outside. One major complaint was that the affordable housing the mayor plans to build will
not be affordable enough
; they also cited a lack of community input in the process.
The carefully choreographed event, which was held in the evening for the first time in an effort to allow more New Yorkers to tune in on a live stream, ended up being squeezed between two unscheduled events on a tough day for the mayor. First, his long-term effort to pass a controversial bill restricting the city's horse-drawn carriages was rejected by the City Council.
Later in the evening, as de Blasio was speaking and unknown to him until moments after he stepped off the stage, two police officers were
shot while on patrol
in a housing development in the Bronx, just a few miles away. The shootings occurred even as Blasio emphasized in his speech that city crime is on the decline and heaped praise by name on a host of police officers and emergency responders for acts of heroism.
The two officers were in good condition late Thursday night and expected to recover, de Blasio told reporters at a press conference at Lincoln Hospital.
Get stories like these delivered straight to your inbox. Sign up for The 74 Newsletter