NYC Releases Racial Breakdown for In-Person Student Learning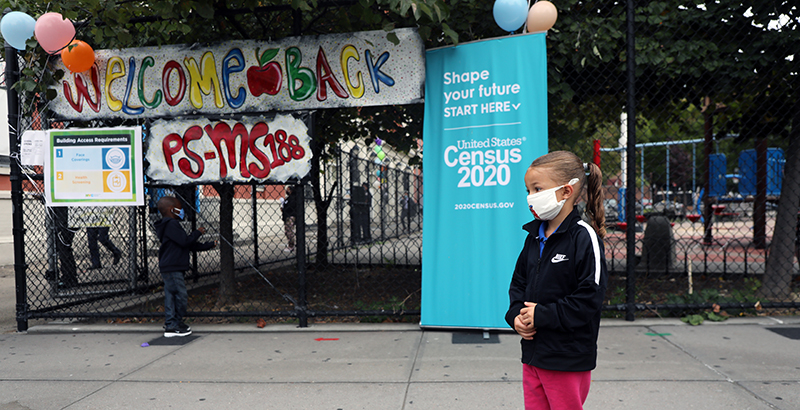 As New Yorkers debated which parent groups most influenced Mayor Bill de Blasio's decision this week to partially reopen New York City schools — and who would most likely benefit from that turnaround — the city released long-awaited data showing the racial breakdown of students who had been learning in-person.
The numbers both confirm and contradict what some had suspected about which New York City families had chosen to send their kids back into school buildings in September several days a week and which would participate when schools reopen next week to elementary and special needs students.
The data describe about 161,000 students in grades 3-K through 5 and those in District 75 schools, which serve students with profound special needs, and show that white students were overrepresented at nearly 25 percent of in-person learners vs. the 16 percent they account for in the district's total enrollment. But it also shows that Hispanic students, who make up 41 percent of total enrollment, were slightly overrepresented at nearly 43 percent. Black students accounted for 17.6 percent of in-person learners vs. 22 percent of total enrollment while Asian students were the most underrepresented at 11.5 percent of in-person learners vs. 18 percent of total enrollment.
The numbers don't include the roughly 35,000 families who started out the school year learning fully remotely but decided to opt in to a combination of in-person and remote learning during a Nov. 2 to Nov. 15 window. The racial breakdown in those enrollment numbers show white students to be only slightly overrepresented, Hispanic students to be overrepresented by the greatest margin, Asian students underrepresented by the largest margin and Black students exactly mirroring their districtwide enrollment.
Together these two groups —those that chose blended learning at the start of the year and those that opted in when given a hard deadline — will make up the student population receiving in-person instruction when 3-K to grade 5 elementary schools and District 75 schools reopen for the first time next week since the Nov. 19 closure.
When asked earlier this week about potential racial disparities between those students and the vast majority of New York City's 1.1 million students who have been and will continue to receive full-time virtual instruction, de Blasio leaned into parental choice.
"Whatever [parents] want to do is what we will support. And we've made that open opportunity available from the beginning and obviously with the most recent opt-in period" he said. "And I think everyone who cares about disparity also has to respect the individual choices of parents who know what's best for themselves and their kids."
The mayor came under intense pressure from some parent groups to reopen schools, which he ordered shut two weeks ago after the city passed a now-defunct 3 percent threshold of new virus cases over a seven-day period. Parents argued that the 3 percent trigger was outdated given more recent information about virus transmission and young children. They also said that it was unjust for the city to allow bars and restaurants to remain open while shutting down schools.
But not every parent felt heard in the ongoing turmoil over how to best reach and teach students in the country's largest school district.
"I absolutely believe he is listening to certain folks," said Farah Despeignes, a former teacher and president of District 8's Community Education Council in the Bronx, "Because those people have more access to him than we do …In the Bronx or Brooklyn or Queens, getting to de Blasio's gonna take a whole lot longer. Unfortunately, in America, if you don't have an in, you're not respected. In this particular instance, what can we do?"
Jean Hahn, the parent of a fourth-grader in Queens, was part of the #KeepNYCSchoolsOpen parent movement and acknowledged that organizers were politically savvy about where they applied pressure.
"[They] were very smart about it," Hahn said. "They figured out which elected officials could have an impact. I do think that's what propelled this issue to the top of the radar."
But Hahn described the group as diverse racially and said it tends to skew more working- and middle-class. She also is not happy with how the reopening has played out, having enrolled her daughter in blended learning in September, only to move her to fully remote learning a month later.
She thinks there should be another opt-in period — which de Blasio has said could happen later in the year once a vaccine becomes available — and noted that the group intends to rally again Sunday to push for "immediate reopening of NYC middle and high schools."
City Councilman Mark Treyger, who had been pressing City Hall to release the blended learning demographic data, does see the influence of certain parent groups at work in the decision to reopen schools.
"There is substance there," he said, adding that it reminded him of the start of the pandemic, when he had to lobby City Hall to put mask distribution sites in his district in Coney Island, not just in more affluent Prospect Park.
Treyger also believes the reopening, which is attempting to do away with the blended learning model in favor of offering five-day-a-week in-person instruction, is too limited. It should be open to all younger students and those with special needs, he said, not just those who have already opted in.
Despeignes says that most of the parents in her Bronx neighborhood have kept their children home to learn remotely from the start.
"Parents voted by keeping their kids home," she said. "Even when [City Hall] was trying to say low-income families and essential workers want this, the numbers proved it wasn't so. I don't think our parents were rushing to the mayor or the chancellor, saying, 'Here are our kids, take care of them for us, and I trust you're going to stop community spread," she said.
Both Treyger and Despeignes highlighted issues that City Hall has yet to tackle around remote learning: students lacking devices and internet access, teachers seeking professional development about how best to engage kids online, families waiting — sometimes for days — for someone at 311 to help them support their children through distance learning.
When schools do reopen next week, 20 percent of students will be randomly tested once a week, as opposed to the earlier plan of once a month, with the exception of preschoolers and kindergarteners. Any parent who wants their child to set foot in school will need to submit a testing consent form.
It's not entirely clear how many of the district's roughly 1,800 schools will reopen. When asked at a press conference Monday for that number, de Blasio said it was forthcoming, potentially sometime this week.

Support The 74's year-end campaign. Make a tax-exempt donation now.