NYC Parents, Advocates Rally to Demand That City Address Its 'Middle School Deserts'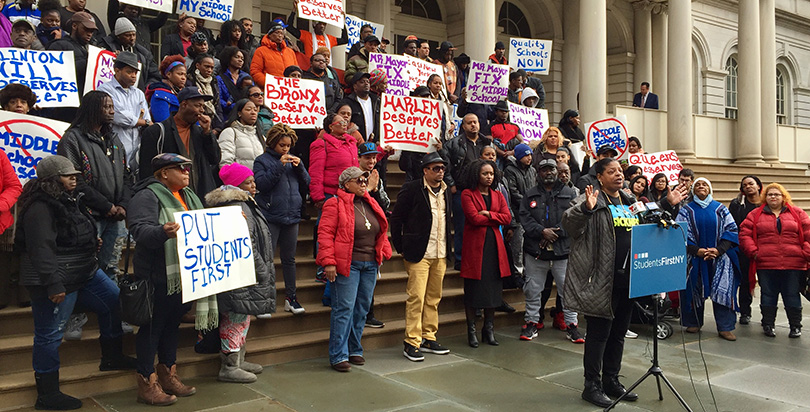 New York City
American middle schools were once described by the education policymaker
Cheri Yecke
as "where academic achievement goes to die."
In New York City on Thursday, a group of about 100 residents and advocates who appeared to agree with Yecke's assessment rallied at City Hall, demanding that Mayor Bill de Blasio make middle school improvement a priority, specifically in eight low-performing districts they dubbed "middle school deserts."
The rally was organized by StudentsFirstNY, the pro-charter-school organization that advocates loosening teacher tenure protections, among other policies, and has been highly critical of de Blasio.
Several parents of current or soon-to-be middle schoolers said they face a tough choice: send their children to underperforming neighborhood schools or travel, in one case from an hour away, to attend schools in better districts.
"I don't have the option to move my grandkids to a school where there are high standards," said Anyta Brown, who lives in Brooklyn's East New York neighborhood. "I am forced to stay in my community. Why can't you build up our community schools so that we can get the quality teachers to produce quality education so we can have a quality future?"
Speaking at a microphone in front of a scattering of reporters, Brown invited de Blasio to "come and break bread with us" so he could personally hear the concerns of parents.
StudentsFirstNY released a report Thursday asserting that eight districts across the city — in Harlem, the Bronx and eastern Brooklyn — lack zoned middle schools that met the citywide proficiency averages for English Language Arts and math, based on 2016 New York State test results.
During the past couple of months — as families raced to meet application deadlines for enrollment in the 2017–18 school year — concerns about quality middle schools reached "a fever pitch," Executive Director Jenny Sedlis said in an interview.
"Middle school is where things start to go south quickly, and so I think, for the parents who send their children to middle school, they're feeling the pain of this right now, and for the parents who are about to send their children to middle school, we want to fix this problem before their kids are subjected to it," she said.
(The 74: De Blasio's Education Push: Big Headlines for Computer Science, but Likely Bigger Impact With Reading Help)
As they have in the past, StudentsFirstNY advocates called on de Blasio to embrace charters as part of the solution, citing data that charter middle schools in those eight "desert" districts outperformed their neighboring district middle schools.
Citywide, district schools have made small but steady gains, according to DOE data: proficiency rates for students in grades 3–8 who took state ELA and math tests have ticked up each year since 2013.
But test score data alone don't tell the whole story, a spokesman for the Department of Education said.
"This [StudentsFirstNY] report is riddled with inaccuracies, contradictions, and a fundamental misunderstanding of where students attend middle school, and it also ignores the unprecedented investments and progress we've made in improving middle schools citywide," DOE spokesman Will Mantell said in an email.
Middle school improvement initiatives are operating in several of the districts highlighted by StudentsFirstNY, a DOE spokesperson said, with plans to expand around the city. A sampling: algebra classes for eighth-graders; the Single Shepherd program that pairs students with a dedicated counselor or social worker to keep them on track toward graduation; and a program to send middle schoolers on college visits, according to the DOE.
Get stories like these delivered straight to your inbox. Sign up for The 74 Newsletter