Nunes: The Pros and Cons of Homeschooling a Child With Special Needs — and Some Resources That Can Help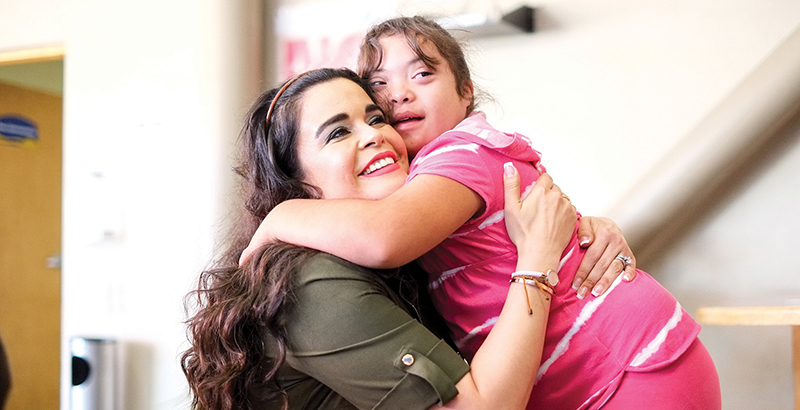 If you have a child with special needs, chances are you've experienced battle fatigue. By necessity, sometimes even before our kids are properly diagnosed, we become warriors and advocates; grizzly bears protecting our cubs. We fight doctors. We fight insurance companies. And once our kids reach a certain age, we fight school systems.
Although some school districts do a good job of accommodating kids with physical, intellectual, emotional, developmental, and sensory disabilities — helping them reach their full potential — they are the exception rather than the rule. Most public schools in the U.S. are underfunded, understaffed, and constantly struggling to do more with less. The emphasis on standardized testing and increased security often siphons resources from other programs, including special education. Too often, students with disabilities get lost in the shuffle.
If you're weary of battling to get proper attention and support for your child in a traditional classroom setting, homeschooling might be a good alternative. There are a lot of advantages, especially being able to give your child one-on-one attention and tailor instruction to his or her needs and preferred learning style. But like all things in life, there are drawbacks, too. Here are some of the pros and cons of homeschooling, and tips to fill the gaps if you decide to teach your child at home.
The Advantages
● Focusing on Strengths: Public schools typically teach children through lectures, standardized testing, written reports, and homework. That doesn't work for many kids with special needs. Homeschooling allows you to teach in the ways that are best for your child, building on his or her strengths, preferences, and interests. For example, your child may find it easier to learn through hands-on activities and visual examples than by rote memorization. If your child is obsessed with dinosaurs or trucks, you can work that into your lessons. With homeschooling, you can choose the curriculum, go at your own speed, and discover the best ways to help your child grasp and retain new knowledge.
● Flexible Scheduling: It's important to have a routine and provide some structure for your child's days. But as a homeschooling parent, you have the freedom to take breaks as needed and change the plan if your child is having an "off" day. It's also much easier to work around doctor or dentist appointments.
● Positive Social Experiences: One fear that all special-needs parents share is that our children will be bullied or rejected. We desperately want our kids to have friends who accept them as they are, but we know they are at increased risk of being picked on because of their differences. Homeschooling eliminates a lot of that worry, giving you control over your child's social interactions — at least in the early years. Whether it's field trips with other homeschool families or playdates with nice kids, you can create a positive setting that helps your child develop confidence and a strong sense of self-worth.
● Decreased Anxiety: Children with special needs often suffer from sensory or anxiety disorders that make learning difficult in a public school setting. The sights, sounds, and chaos of public schools can be overwhelming and disorienting. With homeschooling, you can create a nurturing and inspiring space in your home for learning. Instead of a desk and hard chair, you can outfit your home classroom with a rug and large pillows for lying on the floor, a yoga ball or swing for sitting, and soothing music, colors, or lighting.
The Disadvantages
● Lack of School Professionals: Although they may be spread thin, speech therapists, reading specialists, special education professionals, and school psychologists generally work together in public school districts to help children with special needs. Depending on where you live, you might lose access to these resources if you decide to homeschool. Public school systems also perform free testing for students with special needs that can helpful identify your child's strengths and weaknesses. Be sure to learn what your local school district offers to homeschooling families. If you feel you are being denied services unfairly, you might want to contact a lawyer to find out what your rights are.
● Self-Care: Homeschooling is a lot of work. In a traditional school, the effort is distributed among teachers, aides, paraprofessionals, coaches, therapists, librarians, and counselors. If you homeschool, you're likely to wear all those hats yourself. If you don't have outside support, it can be mentally exhausting. You also might miss out on the variety of approaches and techniques that having a different teacher every year provides.
● Lack of Specialized Facilities and Extracurricular Activities: Schools usually have science labs, sports fields, gymnasiums, auditoriums, art and music rooms, and more. Students can participate in clubs, play sports, perform in plays or concerts, go on field trips, and participate in other group activities. When you homeschool, it can be difficult to re-create all those opportunities.
● Lack of Daily Structure: Distractions at home usually prevent the same level of structure and predictability that students receive in public school. Many children on the autism spectrum do better with rigid routines.
Overcoming Homeschooling Challenges
In spite of the disadvantages, homeschooling is a rewarding and often perfect solution for teaching a child with special needs. There are ways to make up for many of the things you give up by leaving a formal school.
● Create Your Own Individualized Education Plan: An IEP is not just a tool used by public school systems. There are many resources available to help you create your own homeschool IEP and use it to monitor your child's progress throughout the year. This document makes it easier to plan your curriculum and helps you stay on track with scheduling month by month.
● Sign Up for Enrichment Activities: Check with your local YMCA, Little League, or Special Olympics for organized sports, and seek out karate, gymnastics, or dance classes. Inquire about art, drama, and music programs in your community. Most public libraries offer reading times and book clubs, so your child can socialize with kids his or her own age. Speak to your child's physician about a speech pathologist and any other additional services you may need. Look for homeschool groups near you to get involved in field trips and other collaborative learning activities.
● Get Training: Unless you previously worked as a teacher, you might be feeling a bit daunted by the prospect of homeschooling. You can take some comfort in the fact that studies have found most parents do very well homeschooling their special-needs kids. You might not be an expert on educational strategies, but you are an expert on your child. Still, it's a good idea to take advantage of online teaching resources and support. Look for workshops and conferences in your area, and think about getting certified in first aid and CPR, which is a requirement for most child care workers, teachers, and coaches.
● Take Time for Yourself: Hire a babysitter, ask for help from family, and schedule playdates with other homeschoolers. Include time in your schedule for date nights with your spouse and socializing with other adults. Taking care of your own needs reduces the risk of emotional exhaustion and ultimately benefits your child.
Homeschooling a child with special needs is a rewarding experience. You can enjoy watching your child learn and grow at his or her own pace, with fewer frustrations. But be sure to plan ahead and take everything into consideration before making the switch to ensure a smooth transition for both you and your child.
Jackie Nunes is a former pediatric nurse who is now a full-time homeschool educator and co-founder of Wondermoms.org. She and her husband have three children, all of whom are taught at home. Their middle child, an 11-year-old daughter, is hearing impaired and developmentally disabled and uses a wheelchair.
Get stories like these delivered straight to your inbox. Sign up for The 74 Newsletter