When Can Schools Drop Mask Rules? Educators in North Carolina Take First Steps Towards Ending Mandates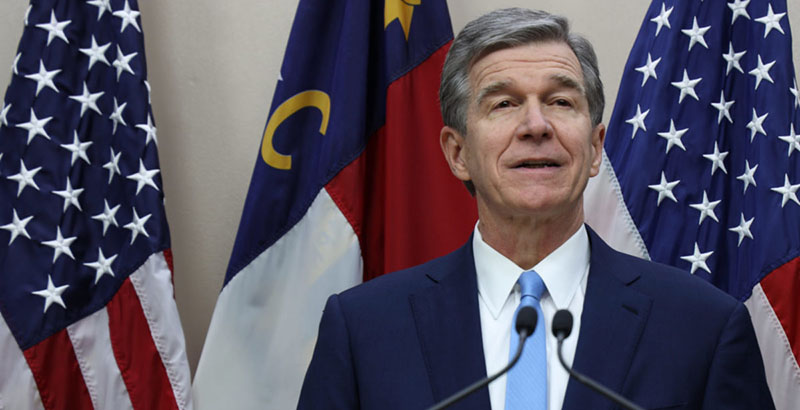 Support The 74's year-end campaign. Make a tax-exempt donation now.
Policymakers in Raleigh took steps toward lifting mask mandates in schools last week.
Citing falling case numbers, Gov. Roy Cooper announced that he is encouraging school boards to lift mask mandates at a Feb. 17 press conference.
He said masking and gathering limits were the best tools available at the beginning of the pandemic, but they aren't the only options anymore with PPE, testing, and vaccinations widely available.
This doesn't necessarily change much — local school boards have had the authority to set their own masking rules since Cooper lifted his executive order last spring. However, at the same time that Cooper made this announcement, the state legislature passed a bill that would go even further.
The bill, Senate Bill 173, would allow parents to opt out of local mask mandates for their children.
They wouldn't have to give an explanation, and the bill also says unmasked students should not be treated differently. The bill does not apply to school staff.
Cooper did not say whether he would sign this bill. He emphasized that local control is important and has concerns that the bill is "unwise and irresponsible."
"Are we going to let people pick and choose what public health rules they're going to follow?" he asked. "I'll review it, but I certainly have concerns about what I've heard."
The bill is an updated version of last summer's Free the Smiles Act, which was a measure to allow local education boards to make their own mask rules.
Now that schools are in the third year of this pandemic, N.C. House Speaker Tim Moore, R-Cleveland, and other Republican lawmakers said parents should have the ultimate authority to decide if their child wears a mask in school.
"But most importantly," Moore told the House K-12 Education Committee on last week, "[this bill] is going to reaffirm the absolute right that parents should be the one making these decisions for their children and not the government."
Almost every leader who spoke on Feb. 17 recognized that the pandemic has been difficult for parents, educators, and students. Where they differed was on whether it was time to act now.
Moore said that it doesn't make sense for North Carolina to continue allowing mandates when other states are lifting them.
He said he has heard from school districts that they want to back off on their mask mandates but feel state health guidance has not allowed them to do so.
Up until as recently as last week, the N.C. Department of Health and Human Services (DHHS) toolkit for schools recommended the use of masks. The Centers for Disease Control and Prevention (CDC) also recommends universal indoor masking, particularly in areas with substantial community spread.
At least eight states recently announced that they would let their mask mandates expire, while others have banned them altogether, including neighboring Tennessee and South Carolina.
However, some states that have lifted statewide mandates have kept them for schools.
Several Democratic lawmakers pushed back during debate, saying SB 173 is unnecessary or could confuse parents more.
"You just said that you want these decisions to be made based on science, not political science," Rep. Graig Meyer, D-Caswell, Orange, said to Moore. "Unfortunately, our discussion of masks in this country has become more political science than science. I think you would agree on that. And if we have a public health provision in place, like a mask mandate, wouldn't the ability of parents to opt out of that be driven just as much by political science as science?"
Rep. Rachel Hunt, D-Mecklenburg, said lawmakers should also evaluate the lack of school nurses, psychologists, and social workers in school in this conversation about students' well-being.
"We the legislature can fund these positions, and I strongly urge that we do that," she said.
According to DHHS data, school-age children have collectively made up 17% of cases since March 2020. Those numbers experienced a spike when students returned to school in January 2022.
Children aged 5-17 are now able to receive the Pfizer vaccine, but only 21% of 5- to 11-year-olds and 44% of 12- to 17-year-olds are fully vaccinated.
Following the introduction of the bill, the N.C. Association of Educators (NCAE) released a statement saying it supports the use of masks to protect the health of students and staff.
"We join everyone in hoping for the day when health officials say that students no longer need to wear masks," NCAE President Tamika Walker Kelly said in a statement. "Yet, the proposed legislation undermines local decision-making and prioritizes partisan politics over public health and safety."
Cooper and DHHS Secretary Kody Kinsley said people now know how to gauge their risk levels and encouraged those who are high risk or have been exposed to wear masks.
"We are taking a positive step on mask requirements to help us move safely toward a more normal day-to-day life," Cooper said. "It's time to focus on getting our children a good education and improving our schools, no matter how you feel about masks."
This article first appeared on EducationNC and is republished here under a Creative Commons license.
Support The 74's year-end campaign. Make a tax-exempt donation now.