Normandy High, By the Numbers: Inside Michael Brown's School, a Snapshot of Staggering Inequality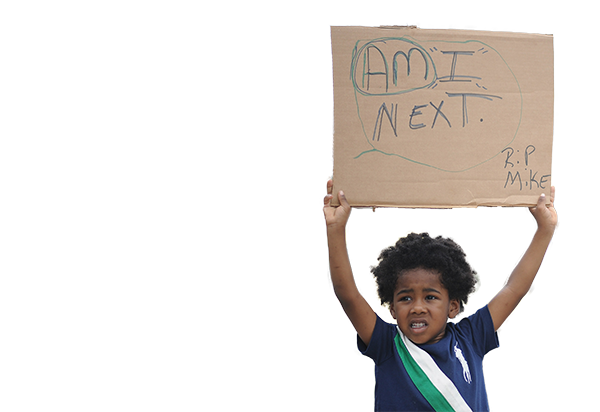 Michael Brown attended and graduated from Normandy High School, which is part of the recently renamed
Normandy Schools Collaborative
. Missouri has long identified Brown's district in northern St. Louis county as struggling, so much so that the state revoked its accreditation in 2012.
A close look at Missouri Department of Education data — the facts and figures comparing Normandy schools to the rest of the state — paint a disturbing picture of societal inequity that carries over to the classroom.
Normandy schools are heavily segregated by race and income. Compared to the state as a whole, students there are much more likely to face out-of-school suspensions, and much less likely to attend school consistently. They have significantly lower ACT scores and high school graduation rates; of those who do graduate, fewer Normandy students attend four-year colleges than students elsewhere in the state.
In short, the numbers starkly show the lost educational opportunity for students who attend Normandy schools.
---
---
Normandy is intensely segregated both racially and economically, as is much of the
St. Louis metro area
. Research suggests that such segregation has a slew of negative effects, including
poorer health
and weaker
academic achievement
.
---
---
When looking at key classroom factors in Normandy, two things stand out. First, until recently, the district had noticeably higher student–teacher ratios than the rest of the state. In 2013, the average student-teacher ratio in Normandy was 17-to-1 while in the rest of Missouri it was 13-to-1. Second, the district's teachers tended to be more experienced than the average Missouri teacher — a notable discovery, given that most
research
points to high-poverty districts having significantly less experienced teachers than affluent districts.
An important and hotly disputed question is how much experience matters for teachers. Most studies show that time on the job pays off significantly in a teacher's first few years, and some
research
finds continued benefits to experience throughout a teacher's career. It's always important keep in mind, however, that there is significant
variation
within experience levels, meaning that there are many excellent novices and struggling veterans.
Notably, Normandy schools pay teachers significantly more than other Missouri school districts do. In 2014 for example, the average Normandy teacher made more than $59,000 compared to the nearly $48,000 statewide average. This difference likely reflects the greater experience levels of Normandy teachers, as well the higher cost of living in the St. Louis area compared to the rest of Missouri.
---
---
Normandy has a much lower high-school attendance rate than the rest of the state, though it has made and sustained steady progress since 2009. In 2014, the 9th–12th grade attendance rate on a given day in Normandy schools was about 85%, well below the state average. Student attendance is
closely
tied
to better grades and graduation rates.
---
---
The graph above isolates discipline incidents that led to medium- or long-term student suspensions. These include drug use and violence, but the most common infraction by far — accounting for 80 percent of all suspensions in 2014 — is identified as "other." This likely accounts for general defiance and classroom disruption.
Research
suggests that black students are more likely to be suspended for more subjective offenses like defiance and disruption. Such high-incident and suspension rates may contribute to the
school-to-prison pipeline
.
---
---
Normandy significantly lags behind the rest of the state in college-entrance exam scores. At 5 points, the score gap is
extremely large
, statistically speaking. Perhaps most breathtaking is that in 2014, just 6 percent of all Normandy grads — eight students in total — were at or above the national average ACT score, compared to 38% of graduates statewide.
---
---
Normandy's graduation rate is significantly below the rest of the state and those who do graduate are much less likely to enroll in four-year colleges. Although the data isn't available, we can guess from other
research
that those Normandy students who do enroll in four-year colleges will be less likely to graduate college.
—
These numbers only tell so much. They don't show the underlying causes of poverty, racism, and segregation that keep so many Normandy students lagging behind their Missouri peers by multiple measures.
But what they do show is that attending the Normandy schools for many ends up being a continuation of — not an opportunity to overcome — this deep disadvantage.
Photo by Getty Images
Support The 74's year-end campaign. Make a tax-exempt donation now.