Nonprofit Launches Bold Initiative to Give 160,000 Low-Income Kids in L.A. Access to Better Schools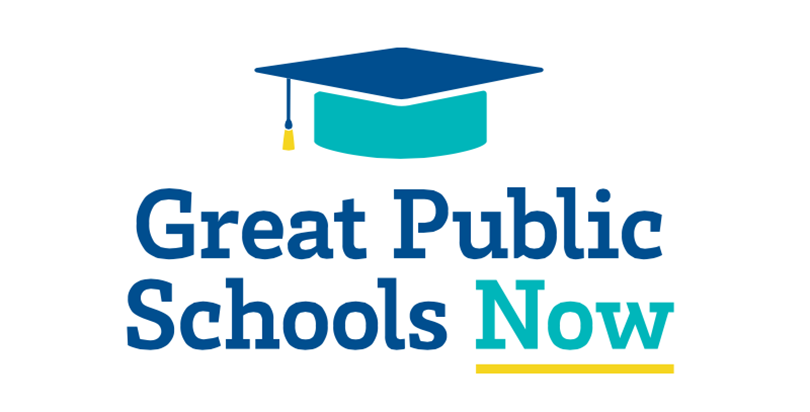 An ambitious proposal to increase access to high-quality education for tens of thousands of low-income students in Los Angeles is
being revealed today
in a long-awaited plan from Great Public Schools Now, a well-funded nonprofit organization formed last year.
The goal is to expand access for 160,000 students GPSN has identified as attending failing schools in 10 low-income Los Angeles neighborhoods to successful schools it wants to help replicate or expand. The neighborhoods are in South LA, East LA and the northeast San Fernando Valley, chosen because they have "chronically underperforming schools and few high-quality school choices for struggling families," the plan states.
GPSN will provide funding and support to high-performing schools no matter what type of school — charter, traditional, pilot, magnet or partnership — so they can be replicated and expanded. It will also support proposed schools with the potential to be high quality. This widening focus is a shift from an preliminary plan released last year before GPSN was formed to expand charter schools in LA.
"This is a different kind of initiative, very different than has been attempted in Los Angeles before," said Myrna Castrejon, GPSN's executive director. "I am particularly excited about the opportunity to really work across sectors to really strengthen all of public education."
The other notable change from the draft plan is the dearth of details. The new plan does not list a specific dollar amount the organization aims at raising, it does not give a timeframe for getting the 160,000 students at the struggling schools enrolled in successful ones, it does not list potential donors, and it does not name any specific school — charter, magnet or otherwise — as a model it wants to replicate.
Yolie Flores, a GPSN board member and former member of the LA Unified school board, said more details will be released during a news conference on Thursday where several early grant winners will be announced. But she also said the board is newly formed and still ironing out the details.
"I think you are going to hear some details on Thursday about the work," she said. "Part of it is the board just came together. We have a lot of work to do to shape the plan. We want an opportunity to shape that plan."
The strategy to fund the "whole school" rather than a specific program also represents a shift in education reform efforts in LA, so that all resources, and not just one program, within a school are aligned with the mission of student success.
Castrejon calls it the "within these four walls" strategy.
"It really comes down to really healthy and robust school cultures that have the ability to envision what the work for kids will be, and have the sufficient, if you will, autonomy and responsibility and accountability to each other and to their community to be able to execute on that," she said.
While the GPSN plan shifts away from last summer's charter-focused plan, the success of independent charter schools in LA laid the foundation for the latest evolution of education reform in the city, several board members said.
Bill Siart, GPSN's chairman, said the track record that some schools have had over the last decade in improving outcomes for students in low-income neighborhoods means that replicating success is now possible in a way that wasn't before.
"The real key is this is different than most of the reform efforts that I've actually been involved with and seen," said Siart, who is also chairman of
ExED
, a nonprofit that provides business and support services to charter schools. "Fortunately we have had enough time with a number of schools that we have really well performing schools in poor areas. Historically, frankly there wasn't enough examples of that. But now it's clearly possible and it's not just one or two — it's dozens."
Castrejon said it is one lesson learned from charter schools that have developed strong school cultures where all resources within the school are aligned to a mission of student success. "What's exciting about this is we have an opportunity to extend that theory of action, if you will, into the district," she said. "I think that's a major, major difference of how school reform efforts have taken shape in Los Angeles and something that will, hopefully, be able to orient our work to great impact at an accelerated pace."
And there is a demand from parents for successful schools.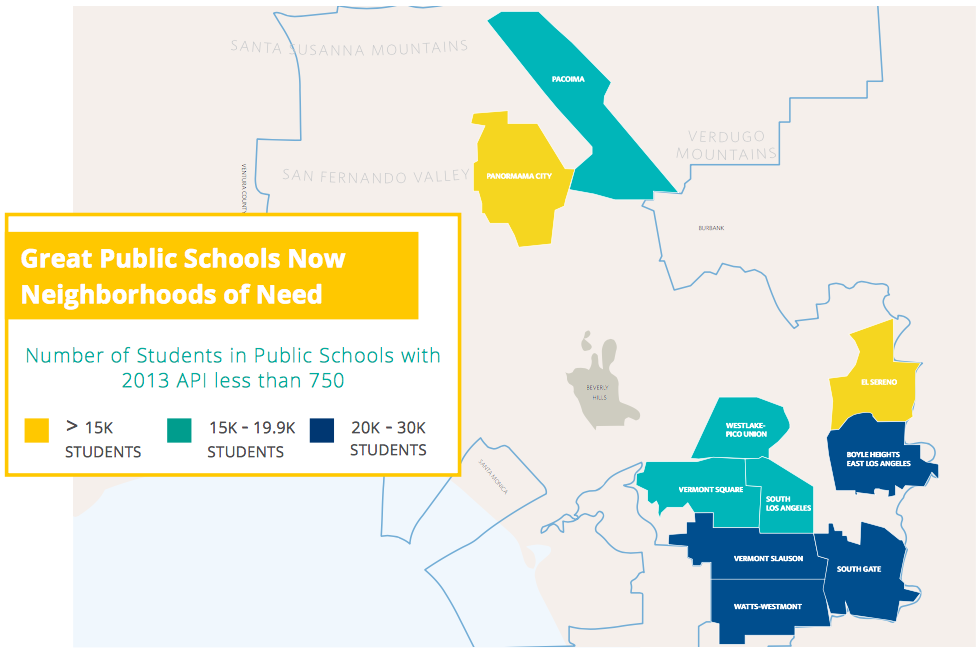 In its report, GPSN said there are more than 40,000 students who are on waiting lists for charter schools and "thousands more" attempt to enroll in the district's popular magnet school programs.
Castrejon said she has already met with LA Unified Superintendent Michelle King two or three times and plans on more meetings this summer and fall to hash out the details of their work as it relates to district schools. She estimated the first results of some of the implementation will be seen in about a year.
The 74 and its west coast bureau,
LA School Report,
received a copy of the official plan in advance under the stipulation that it not share or discuss it. (Visit LA School Report throughout this week for
reactions to the plan
from key players in Los Angeles education.)
Last summer's early plan, published in the Los Angeles Times in August, outlined a bold initiative to fund a massive expansion of independent charter schools. It was very specific in its goal, which was to enroll half of all LA Unified's students into charter schools within eight years by raising close to a half billion dollars. It listed specific donors it wanted to court and also listed specific charter organizations it held up as models to expand, including several large charter management organizations in LA Unified such as
KIPP Public Charter Schools
,
Alliance College-Ready Public Schools
and
Green Dot Public Schools
.
That plan was heavily criticized by UTLA, the LA teachers union, and several board members, including President Steve Zimmer and Scott Schmerelson, who characterized it as a plan that could bankrupt the district and wipe out the union due to the massive per-pupil funding the district could lose. The board also passed a
unanimous resolution
in January stating its opposition to the plan.
Independent charters are publicly financed but privately run schools that receive their funding directly, so every time a student leaves a traditional LA Unified school, state and federal funding follows the student. LA Unified already has 101,000 out of its roughly 650,000 students enrolled in independent charters, the most of any district in the country, and is facing
major budget shortfalls
in the coming years, in part due to a continued loss of enrollment to charters.
At the time of the early plan's publication in the Times — several GPSN board member characterized its publication as a leak — it was still connected with the Broad Foundation, a major funder of charter schools in Los Angeles. Since then, GPSN was formed and took over the plan from the Broad Foundation and has been working to distance itself from the draft plan ever since. In November, GPSN
announced
its funding would not just be for charters, but also for district-run schools. Siart and several other board members also told LA School Report no one on the current board had anything to do with the draft plan.
With the board made up of people connected to several major funders of charter schools, such as the Walton Family Foundation and the W.M. Keck Foundation, and the current plan not being detailed about how much money will go to charters vs. district schools, it is not clear if the official plan today will curb the criticism and skepticism last year's draft received.
Siart and other board members repeatedly stressed that last year's draft did not reflect GPSN's current intentions. Siart also said members of GPSN had met with Superintendent King and she expressed support.
"We sat down with the new superintendent and conceptually talked about what we were trying to do, and about how this is better schools for kids, which she is supportive of. I don't know how she couldn't be supportive. And we said it's not just for charters, which is what the other plan was focused on. It could be for magnets or traditional schools."
King was promoted to superintendent in January after serving as deputy to the previous two superintendents, John Deasy and Ramon Cortines. In March, when asked at a town hall meeting about the district's perceived bias toward charter schools, she
said
, "It is unfortunate we have labels, saying that this one is better than that one. It's not us versus them."
"I definitely think the fact that you're hearing similar things from both of us is quite intentional," Castrejon said. "It does represent a new way for the district to pursue amplifying the impact of what they're doing. My conversation with the superintendent has been focused on talking generally about how do we see this playing out. Certainly the district's interest in expanding the reach of magnets and other innovative programs that are delivering results for kids, we're very much aligned in that."
Although it wasn't included in today's released plan, Roberts said GPSN may also fund schools in the LA area that are not part of LA Unified, including Compton Unified and Inglewood Unified. Roberts also stressed that the plan is about funding all kinds of schools that are successful.
"We are taking a different approach now and saying our goal is to create schools for kids who have been underserved. And we will create those schools wherever we find them and whoever wants to make them work. So it's not about expanding charter schools. The focus is on kids," Roberts said.
The money for the schools it wants to replicate will fund four areas: community outreach and engagement, teacher preparation programs, securing adequate facilities and school replication grants.
"The people running the charter or the magnet would have to want to replicate. If they are happy and satisfied with what they are doing we are very excited about that, but that's not something we would fund," Siart said.
Siart said GPSN is waiting until the fall when a possible accountability plan is released by the state, which will help GPSN define what the bar is for a successful school the group wants to help expand or replicate. He also explained that in order to receive grants, a school must have a proven track record of helping poor students achieve academic success and have a desire to expand or replicate its operations.
Disclosure: The 74 is funded in part by the Walton Family Foundation.
Support The 74's year-end campaign. Make a tax-exempt donation now.