NOLA's 4.0 Incubator Will Nurture 1,000 School Innovations This Year: Here Are Three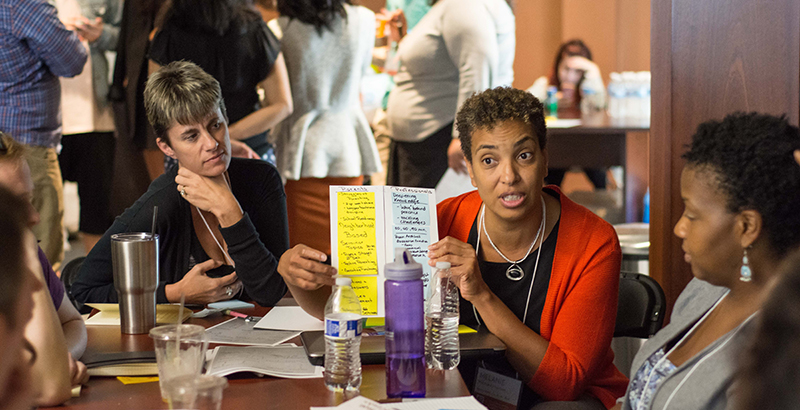 Six months after Hurricane Katrina, Matt Candler flew to New Orleans to take part in a discussion about what the city's reconstructed education landscape could look like. Under one title or another, helping create new school models had been Candler's work for a while.
He served as the first CEO of New Schools for New Orleans, which does exactly what its name implies, and as chair of the Louisiana Association of Public Charter Schools. Schools opened and the quality of the education in their classrooms improved at a pace that was astonishingly quick.
Candler's an idea guy, though. In 2010, he left his job and started an education idea incubator, 4.0 Schools.
"It was based on the idea we've stabilized NOLA but there's a long way to go," he says. "Let's create a dedicated school launch engine for New Orleans."
There are national and regional programs for educators who dream of opening innovative public charter schools, but Candler wanted to try something different. School-creation programs typically support their fellows for three years — a year learning about leadership, a year coming up with a school concept and securing permission to operate, and a planning year.
Three costly years. Which is great if the new school attracts families and delivers for their kids.
But what if it doesn't? What if it can't attract enough parents willing to risk throwing their lot in with a startup before it even opens? Or if it opens and then strands dozens of families by foundering out of the gate?
Around him New Orleans was bustling with new cultural icons, many of them chefs eager to be part of the New South food movement. In particular, the mastermind behind Stein's Market & Deli, a Lower Garden District institution, was generous with his equipment and his space.
If you had an idea, you could try it there. Just like on Top Chef, you could stage a pop-up restaurant and try out your concept and its execution on a hungry public. If you acquired a buzz, great. If food came back uneaten, you had some more noodling to do.
As Candler indulged on the fruits of all of this creative genius, he realized he envied the chefs. With the exception of an hour here and there, teachers work alone.
"As a teacher, I was very much fascinated," he says. "I was so isolated."
The pop-up concept would translate to his own work, he imagined: "Every charter school application in the land is predicated on the idea you can convey your school on a stack of paper. But you've never actually tested whether people would like it."
Et voilà, 4.0 Schools was born with the goal of supporting people who wanted to build not even necessarily a school, but something for parents or students. And not necessarily in New Orleans.
Fleshed out, some of the ideas would become new school models. Others would support educational attainment by addressing unmet learning needs outside of the school day, providing extracurricular activities in short supply in schools, or creating something that solves a problem.
4.0's Essentials Fellowship includes a weekend of design-thinking with other fellows, a $300 grant, and help deciding whether an initial pop-up is promising. Would-be innovators can go on to the Tiny Fellowship, which comes with $10,000 to test an idea more extensively — as an after-school program, perhaps, or a recurring community pop-up.
"We try to give really loving feedback about taking the idea out of their heads and getting it in front of families and kids," Candler says. "You can be here as long as you want to be here, until you're ready to say, 'OK, here's what's not working.' "
By the end of the calendar year, 4.0 will have worked with 1,000 education entrepreneurs who are connected in a network that ensures the intel gleaned from every pop-up and pilot informs new fellows.
Bricolage Academy of New Orleans is the incubator's most visible brick-and-mortar success story, but there are others. Here are the stories of four fellows who brought three out-of-the-box projects to life:
A creative writing club where kids heal from trauma.
A high school where every student will graduate with both a college acceptance letter and the skills to snare a high-paying job in New Orleans's "Silicon Bayou."
A drop-in space where parents learn from their toddlers' play.
Support The 74's year-end campaign. Make a tax-exempt donation now.