No Warrant, No Way In: NYC to Prevent ICE Agents From Entering Schools Without Warrants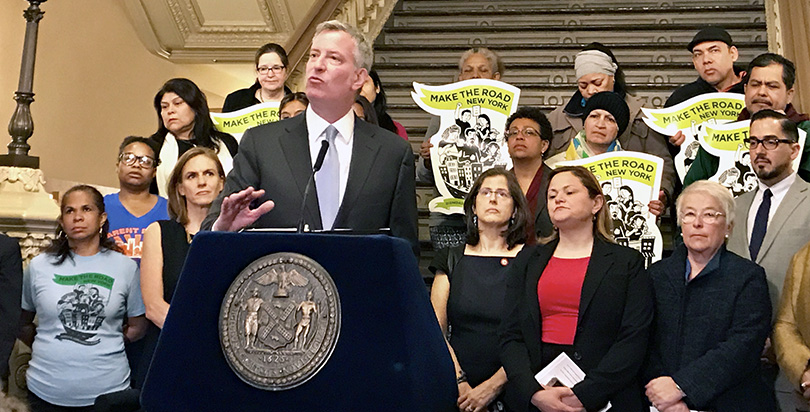 New York City
With school districts around the country responding to the Trump administration's immigration crackdown by declaring themselves "sanctuaries" for undocumented students, New York officials reassured the city's large immigrant population yesterday that they are ready to do everything in their power to protect students should federal agents move to apprehend students in schools.
For many New Yorkers, the most important government function is providing safe public schools for their children, Mayor Bill de Blasio told a large gathering of reporters at a somber press conference at Department of Education headquarters.
"I want you to know this is your city. Your city will stand by you. Your city will protect you. Your city will help you to know your rights and to make sure your rights are protected," de Blasio said, surrounded by roughly a dozen parents and advocates along with city employees from the Mayor's Office of Immigrant Affairs, the School Safety Division of the New York Police Department, education officials, and others.
Officials outlined the city's updated protocol describing how school leaders are expected to interact with federal agents in the event of an enforcement action at a school, noting that agents can't enter a school without a warrant and must wait outside the building while staff consults with Department of Education attorneys to verify the warrant. If a warrant is validated, it may be executed off-site if possible to avoid disruption. If not, agents will be monitored while inside the school to ensure they enter only areas allowed under the warrant.
In addition, education officials said, the department does not track the immigration status of students and will not release student information unless required by law.
Asked whether Immigration and Customs Enforcement agents had already gone to a school to apprehend a student, de Blasio said no. But although schools are considered "sensitive locations" that ICE has avoided in the past, city and school officials are seriously preparing for the possibility that will change, the mayor said.
"We're obviously living in a political climate where fear, uncertainty, and hate are plaguing our communities. Every day we wake up to news of families, law-abiding families, that are being ripped apart and separated from their loved ones," City Council Speaker Melissa Mark-Viverito said.
The event was part of a "Day of Immigration Action" recognized in more than 60 cities throughout the country.
Dozens of districts have adopted "sanctuary school" resolutions that promise to shield students' personal information from immigration enforcement agents and to block federal officers' access to school property unless they present a warrant. While New York City education officials haven't explicitly adopted such a resolution, the city's description of its approach is much the same.
School safety officers will be trained on how to interact with federal agents starting this week, officials said. And principals are urging families to update their emergency contact information in the event that a parent is arrested while their child is at school, Schools Chancellor Carmen Fariña said.
More than 100 "Know Your Rights" workshops will be offered citywide for students, parents, and faculty to help with immigration questions, the mayor said. New Yorkers can also access free legal assistance for immigration-related issues by calling 311.
Though schools haven't reported significant changes in attendance, fewer immigrant parents are attending school-related meetings, Fariña said.
The protocol laid out Tuesday was a more detailed version of what city officials have communicated in the past couple of months.
Fariña sent
a letter
to families in January assuring them the public school system "will do everything in our power" to ensure students are safe.
Speaking in support of the administration's policies, Rocio Espadas, a Mexican immigrant and Brooklyn mother of four, said through a translator that while her kids are lucky to be citizens, she doesn't want them to have to witness their friends being "torn away from their families."
With the new protocol in place, she said, "now our children can focus 100 percent on what they should be doing — learning."
---
---
Get stories like these delivered straight to your inbox. Sign up for The 74 Newsletter