No Passing: 7 Things You Need to Know About America's Ailing School Bus System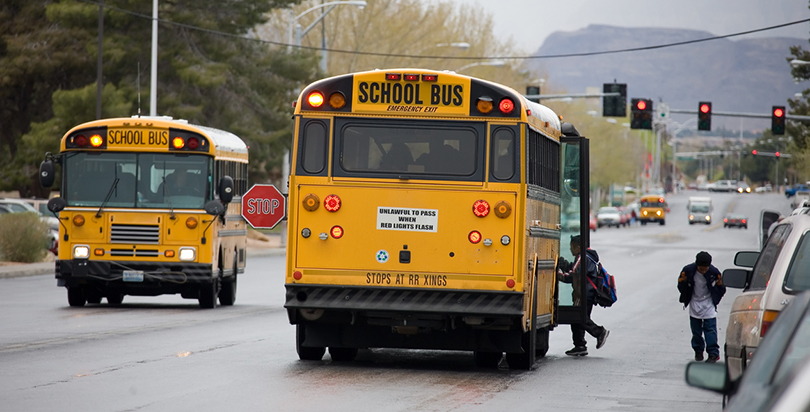 You've most likely ridden on one, and there's a good chance you've waited in your car, foot on the brake pedal, as one stopped in front of you to let students climb in or out.
America's ubiquitous yellow school buses have been providing the crucial service of ferrying children to and from school for decades. But unlike the broader transportation sector's rapid transformation thanks to the prevalence of GPS technology, hybrid and self-driving vehicles, and on-demand car services like Uber and Lyft, the school bus system has evolved at a glacial pace, a new report by Bellwether Education Partners, a Washington, D.C., education consulting firm, finds.
At the same time, rising costs and major structural shifts within the education sector, such as enrollment policies that allow students to attend schools of choice outside their neighborhood, and the growth of charter schools, are creating critical new challenges for school transportation systems.
In their May 2 report "
Miles to Go: Bringing School Transportation Into the 21st Century
," Bellwether's Phillip Burgoyne-Allen and Jennifer O'Neal Schiess analyze the bus system through three lenses — efficiency, educational equity, and environmental impact — to assess whether it's meeting the needs of students, families, and schools.
Their findings, in a word, are "grim."
Here are seven top takeaways from the 72-page report.
Taken as a whole, America's school bus fleet is bigger than all other national mass transit systems — combined.
About 480,000 school buses traverse highways, county roads, and suburban streets each day to transport 25 million kids to and from school. (That ridership figure counts for about 55 percent of the country's K-12 student population.) Altogether, the fleet of yellow buses is more than twice the size of all other forms of mass transit combined, including bus, rail, and airline transportation, according to the report.
Costs have risen, but not much else has changed in the almost 80 years that school buses have been around.
The average annual cost per student transported ($961, according to the
latest available data
) has increased by more than 75 percent since 1980, Bellwether reports, which is due in part to a steady decline in ridership. As a result, districts have fewer resources to invest in upgrading their buses and other transportation infrastructure, so vehicles in use tend to be older. Roughly half of the school buses on the road were manufactured prior to 2007, when the Environmental Protection Agency's stricter diesel emissions regulations took effect.
Though important, policies designed to serve the academic, health, and safety needs of special populations, such as students with disabilities and homeless students, often burden districts financially and have adverse environmental impacts.
The study's authors cite an example in Georgia, which in 2013 had one of the highest state populations of homeless students (38,000) in the country. About 10,000 of those students attended the Atlanta Public Schools or districts in six surrounding counties, and APS was responsible for transportation of all homeless students living within its boundaries, even if they didn't attend APS schools. Under the state's school transportation law, students can only be transported on school buses; other types of vehicles are not permitted. The result? APS regularly deployed buses beyond county lines that were carrying only small groups, or even individual students, according to the report.
In total, 29 states prohibit the use of passenger vans to transport public school students. Eleven states allow vans to be used for school-related activities like field trips and sporting events only, and eight states allow the use of vans for these activities in addition to daily transport to and from school.
The growing school choice movement has already challenged — and will continue to challenge — traditional school transportation models that were built around neighborhood schools.
Unlike most traditional public schools, enrollment in charter schools isn't limited to a geographically defined attendance zone. The 6,000 charter schools in the U.S. enroll nearly 3 million students, and while that's a small proportion of the overall national student population, charter school enrollment represents a significant share of the public school population in some communities, like Washington, D.C., and New Orleans.
Requirements for transporting charter school students and private school students vary from state to state, the report found. Connecticut, Delaware, Florida, Idaho, Iowa, Louisiana, and Ohio are among the "handful" of states requiring charter student transportation, the report found. New York City, the largest public school system in the country, with some 1.1 million students, provides transportation to district, charter, and private schools. It's also one of the many cities that rely on public transportation to supplement its services.
More and better data on student transportation are desperately needed.
Tracking ridership and expanding the use of GPS technology and routing software are two basic steps that districts should take to improve efficiency and curb costs, the authors assert. It's easy to take GPS for granted when even second-graders are toting smartphones to school, but stunningly few school transportation operations — just a third — use GPS to track their buses, according to a 2015 survey cited in the report.
"Parents and students have adopted tech and understand tech to a much better degree than the busing industry. Why can I easily call an Uber and see where it is, but I can't see where my [school] bus is?" Doug Martin, vice president of Transportation Sector Consultants (TSC), told Bellwether.
In addition to beefing up data collection and analysis, two more recommendations for policymakers:
—Increase policy flexibility at federal and state levels so districts can make decisions that are responsive to the needs of students and families and the local school system.
—Change state funding structures to incentivize efficiency.
The authors offer a final and perhaps radical idea for consideration: Maybe school districts are not the best ones to manage student transportation after all.
Policymakers and the education sector would do well to "take a hard look at whether it makes sense for school districts to continue as the central administrators of school transportation services, particularly in larger metropolitan areas," analysts said.
"Given how much has changed in school systems even in the last 30 years with the growth of choice options, it may be time to consider shifting … away from schools themselves to a regional entity that may be better equipped to design transportation for a system of schools less beholden to neighborhood or even district boundaries."
Get stories like these delivered straight to your inbox. Sign up for The 74 Newsletter