No More Magnet Boards: Abl Scheduler Is Dynamic, Personalized Tool for Managing School Day to Day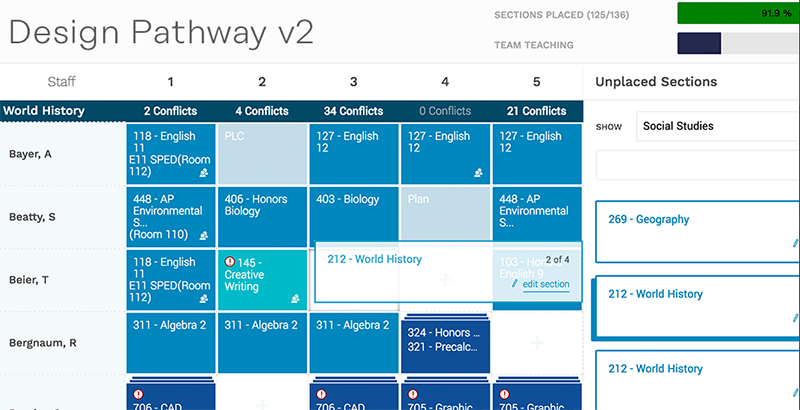 Giant magnetic boards filling the walls of principals' offices, peppered with course offerings, available teachers, and open classrooms, present a common spring-through-summer scheduling strategy. Now, a San Francisco–based ed tech startup called Abl is looking to change all that with digital master scheduling tools that "solve the complexity of the schedule and leverage scheduling into a strategic aspect in secondary schools," says Chris Walsh, head of impact for the company.
The drag-and-drop system lets students input their course requests through a mobile app and creates class sections based on student choices and schools' preset preferences for student/teacher ratios, gender balance, and other student demographics. An analytics function provides data on consequences of a schedule, such as teacher load and prep time needed.
After a season of testing in over a dozen schools across the nation, Abl is rolling out its Master Scheduler, in plenty of time for the peak scheduling season from late winter and early spring into summer.
In the typical middle or high school, scheduling can take about six months and involves spreadsheets, magnet boards, and sticky notes. "None of those [ways] are bad, but they are very inefficient," Walsh says. "We are increasing access, transparency, and with the digital tools they can create many different versions that can be wildly different. If they are tracking, they can see the impact of different decisions."
Amy Filsinger, a former principal now working with Abl, says the chief problem with the traditional scheduling method is an inability to see the impact of decisions across the entire master schedule. Abl has built-in alerts so that as teams collaborate on building a schedule, the system can let them know the impact of each decision, whether schoolwide or for individual students.
"If we place a section, we can see all of the students impacted by that decision — maybe how it makes it challenging for them to take other courses," Filsinger says. "We can make changes on the fly and in real time and see the impact of all our decisions as we go on, instead of praying it is all going to work out."
Abl, Walsh says, also enables a more robust focus on personalized learning. Principals can assign a single student or a cohort of students — special education, special pathways, etc. — to move through the day together. "You can start to assign those at a very early stage, even if you haven't figured out the rest of the information," he says. "Our system gives them that depth and flexibility to personalize the experience of teachers and students."
This goes beyond the increasingly common practice of using flex blocks — placing students in enrichment classes or tutoring sessions based on their personal needs — to allowing teachers and administrators to understand the impact of scheduling these blocks on different days and for different lengths of time. Then, Walsh says, they can track individual students in those sessions to better guide pedagogical decisions.
Abl also can point out inequities in scheduling. For example, maybe 80 percent of students in the honors program got all their first choices of classes, but only 40 percent of English language learners received their first choices. "It is incredibly powerful data to surface, and it is not present in any current software," Filsinger says. "We can make changes on the fly to push kids who are ready but didn't know to request a course."
The traditional model of scheduling, Filsinger says, doesn't lend itself well to input from various sources, whereas the digital tool opens access and input to a wide range of voices. It also creates a welcome environment for experimentation with unlimited versions of a schedule. "That is not a feature available with magnet boards," she says. "That versioning capability was something that has been simple and surprisingly powerful."
"The master schedule is, in many ways, the blueprint of a school — but a Rubik's Cube of programs, people, and events can make the scheduling process overwhelming and time-consuming for school leaders," says Adam Pisoni, Abl founder and CEO, who previously served as chief technology officer and co-founder of Yammer. "We spent over a year learning about this challenge for school leaders and then developing a solution that digitizes their workflow and gives unprecedented visibility into student course needs and resource allocation throughout the school day."
Get stories like these delivered straight to your inbox. Sign up for The 74 Newsletter