No Excuses on Transgender Student Rights: DOE Doubles Down, Warns IL District It Could Lose Funds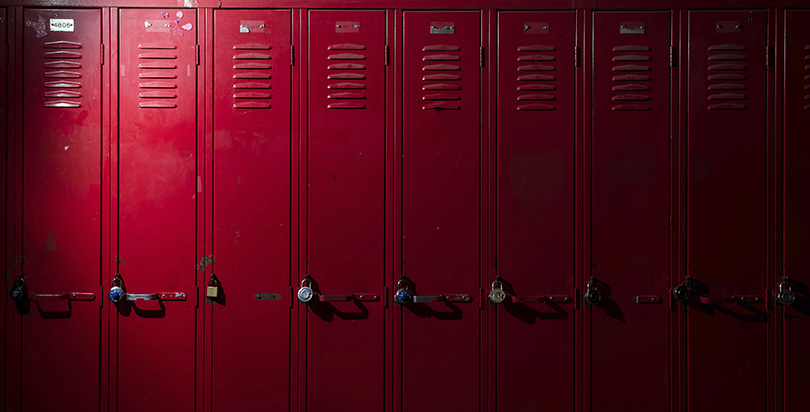 In a landmark ruling, U.S. Department of Education officials declared that a suburban Chicago school district must allow a transgender student who identifies as a woman to use female locker rooms or face the consequences.
No more excuses.
In a Nov. 2 letter to Township High School District 211 in Palatine, Illinois, the DOE's Office for Civil Rights said school officials must stop discriminating against a female student by making her change for gym and sports in a separate restroom and not in the women's locker room. Such singling out on the basis of gender is a violation of Title IX, which prohibits sex discrimination in education. The ruling is the culmination of an investigation spanning nearly two years.
Harper Jean Tobin, director of policy at the National Center for Transgender Equality, said the department's findings are consistent with the Obama administration's previous rulings on equal rights for transgender Americans. But because school districts generally alter their policies to accommodate transgender students voluntarily, federal directives of this sort are usually unnecessary.
"This is an emerging area, and there is a lot of misunderstanding, and there are school districts that need more of a nudge than others to get to the right place," Tobin said. "We certainly hope that this case can be voluntarily resolved, too."
As recently as October, the school district indicated otherwise. Superintendent Daniel Cates said in a
newsletter
that the school "will continue to provide private accommodations for transgender students to ensure a respectful school environment and will not allow unrestricted access to its locker rooms" as directed by the Education Department.
The U.S. Education Department, meanwhile, is giving school officials one month to comply with orders to allow the student full access to her school's locker rooms or put its Title IX funding in jeopardy. Last year, the Palatine district received about $6 million in federal funding.
"The Department of Education's decision makes clear that what my school did was wrong," the student said in a news release. "It is a good day for all students, but especially those who are transgender."
The teenager, who has not been identified to protect her privacy, is being represented by the American Civil Liberties Union of Illinois.
A heated debate has been brewing for years around transgender American's rights to use restroom facilities that match their gender identity. And many of these conversations have played out in and around schools.
States and city governments across the country have created policies that prohibit discrimination against transgender people. In schools, a handful of states have adopted policies to ensure transgender students have equal access to school facilities that correspond to their identified gender. New York, for example,
released guidelines
earlier this year that say school districts should provide students with "unisex" bathrooms or private changing facilities, but transgender students should not be required to use them.
In the Illinois case, the student transitioned to living full-time as a young woman during her middle school years. She presented a female appearance, legally changed her name, and obtained a passport reflecting a gender change. She also received a medical diagnosis and began treatment for gender dysphoria, and commenced hormone therapy.
The school district has treated the student consistent with her gender identity as a girl, according to the Education Department letter, except with respect to locker room access. She is allowed to use the restroom designed for women, wear the women's uniform during physical education class and sports, but is unable to use the women's locker room when changing. Instead, she was told to use the separate restroom.
"The district's position is wrong as a matter of science and harmful to all the students of District 211," John Knight, director of the LBGT & HIV Project of the ACLU of Illinois, said in a statement. "Trying to misinform students and tell them that discrimination is acceptable isn't the kind of conduct we expect from school administrators — and isn't a message that students are likely to accept."
This is the first time the U.S. Education Department has used this direct approach to ensure equality for transgender students, incorporating legal briefs and policy statements from the federal government's interpretation of federal laws that prohibit discrimination.
"There is still a great deal of misunderstanding and bias and a great deal of barriers for transgender students, so every time the government stands up clearly for transgender students, that helps move the needle in the direction of equal opportunity for all," Tobin said. "It is applying established legal principles, but it's certainly welcome any time."
On Oct. 28, the U.S. Departments of Education and Justice
submitted a friend of the court brief
backing a Virginia teenager suing for access to the boys' restrooms at his high school, arguing that preventing transgender students from using the facilities that correspond with their gender identities violates federal Title IX.
The issue surrounding transgender Americans and bathroom access remains highly contentious. On Thursday, Republican presidential candidate Ben Carson
said
there should be separate bathrooms for transgender people: "It's not fair for them to make everybody else uncomfortable," he said.
Noting that litigation and enforcement action — including the loss of federal funds — could result from its stance, Cates, the Palantine superintendent, said the Education Department's mandate does not consider the interests of other students and their families.
"The goal of the district in this matter is to protect the privacy rights of all students when changing clothes or showering before or after physical education and after-school activities," he continued, "while also providing reasonable accommodations to meet the unique needs of individual students."
Get stories like these delivered straight to your inbox. Sign up for The 74 Newsletter