No iPhone? Slow Wi-Fi? Arkansas Schools Build Texting App to Help Rural Students with College Search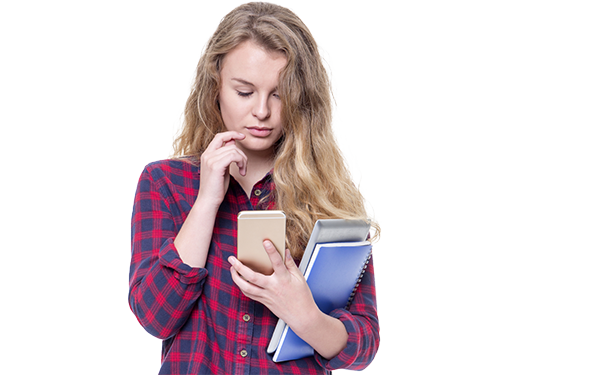 Every year news outlets are flooded with buzzy stories about the hot new app or popular new website that promises to revolutionize, and simplify, the onerous college admissions process. But for low-income students with limited Internet access or older phones with limited data plans, these cutting-edge resources often remain out of reach.
Now, a KIPP (Knowledge Is Power Program) charter network in rural Arkansas has won funding to tackle the problem in decidedly retro fashion.
KIPP Delta, the group overseeing the network's Arkansas schools, won a $200,000 grant from the national KIPP foundation earlier this year to develop an SMS (Short Message Service) application that will allow them to send information to high school students and alumni about the college admissions and financial aid process through texts.
"We were struggling with getting our families high-quality information about education," said Amy Charpentier, the KIPP Through College director in Delta, Arkansas. "Our families aren't sending (their children) to schools that have the highest graduation rates or highest financial aid packages."
While KIPP Delta started in Helena, Arkansas, many of its students live outside the city in Lee and St. Francis counties where only half of the area is able to access reliable WiFi, said Charpentier. "Most of it is both rural and remote," she said. "There is not great Internet coverage."
It was a local community's response to a water crisis that first led school administrators to begin mulling the idea of a texting app. Earlier this year, a water main break in Helena prompted city officials to issue an urgent boil water advisory. But KIPP administrators were stumped about how to best get the message to area families. The city's newspaper is only delivered twice a week; spotty Internet service means spotty access to e-mail and the mobile web.
It was ultimately Charpentier who thought of using simple text messages via cell service to get the word out. "We had a 30 percent open rate on our emails," she said. "(But) we know our families check our text messages."
The success of the boil-your-water SMS campaign lead Charpentier and colleagues to brainstorm other applications. At the top of their list: College admissions. The KIPP Delta crew detailed that very admissions texting concept last August at KIPP's annual summit, going up against groups from other KIPP regions in a rapid-fire pitch context modeled after TV's "Shark Tank."
---
---
Thanks to the grant, KIPP Delta now plans to spend about $150,000 on tech development and implementation; the remaining $50,000 will be set aside for the creation of relevant content to distribute via texts. Some SMS messages will be composed of standalone content, while others will serve as prompts for parents to engage with richer material. Organizers say part of the plan will be the production of 10 educational videos, ranging in topics from college research to financial aid resources, that will be distributed via text links to parents who will ideally consume via their mobile device.
KIPP Delta administrators also envision pushing reminders about key dates to families, about when federal financial aid forms are due or when college counselors are available to meet to discuss their student's post-high school plans. The aim is consistent, persistent reminders that empower families to manage their college application process.
The charter network hopes to test the application this summer and rush it into practice for the 2016-17 school year, Charpentier said.
The app is based, in part, on UNICEF's rapid SMS program in the developing world, where aid workers do everything from record births to distribute important health care information via text message.
Why texting? Because there are now more active mobile devices in the world than human beings (GSMA Intelligence put the number of devices at 7.22 billion in 2014, versus 7.19 billion humans), and in poor and rural communities residents are far more likely to have a phone than a desktop computer.
KIPP organizers said they focused on developing a SMS texting application, versus a smartphone app one would typically find in an online store like the iTunes App Store, because a significant percentage of their students use older or cheaper cell phones that don't necessarily have the required processing power, operating systems or data plans. Another benefit of SMS: Charpentier said families can continue accessing these forms of text messages even if they have depleted their data plans and find themselves unable to buy more gigabytes for the month.
"Lots of our families use tablets, data connections," she said. "A very small percentage of our kids have computers with regular Internet access."
KIPP is developing the app at a time when the majority of students are completing their college information search via web and mobile outlets. In a 2015 survey of more than 3,000 students who signed up for the online college admission preparation program mycollegeoptions.org, 87 percent said that Internet-connected phones were a key part of the process.
"Access to information about the process is critically important. Every year one of the biggest barriers in students persisting in their college plans is quite simply the knowledge of what to do next," said Ryan Munce, vice president for content and strategy for mycollegeoptions.org.
But Munce added that access to high-speed Internet and newer mobile devices are unevenly distributed among students with differing economic backgrounds, which can affect their ability to finish their homework or look up information about college. "It's kind of an invisible gap," he said. "Most Americans who have broadband Internet have smart phones and don't quite remember what it's like not to have that at a moment's notice."
Since pitching the idea, KIPP Delta administrators said they have received dozens of calls from administrators both in and outside the KIPP network about how they could make use of the app. Once developed, Charpentier said they are eager to share the technology with other schools and organizations seeking to expand access to information on college admissions.
"Any way we can support folks doing something similar would be what we would want to do," she said. "This will allow us to not just teach kids about college but teach families…about what it takes (to get there.)"
(The Seventy Four's Editor-in-Chief Campbell Brown was a judge for the KIPP contest last August. She had no role in the reporting or editing of this story.)
Support The 74's year-end campaign. Make a tax-exempt donation now.