NM district turns to gun-detection AI in effort to prevent school shootings
The $345K security measure was paid for using federal pandemic relief funds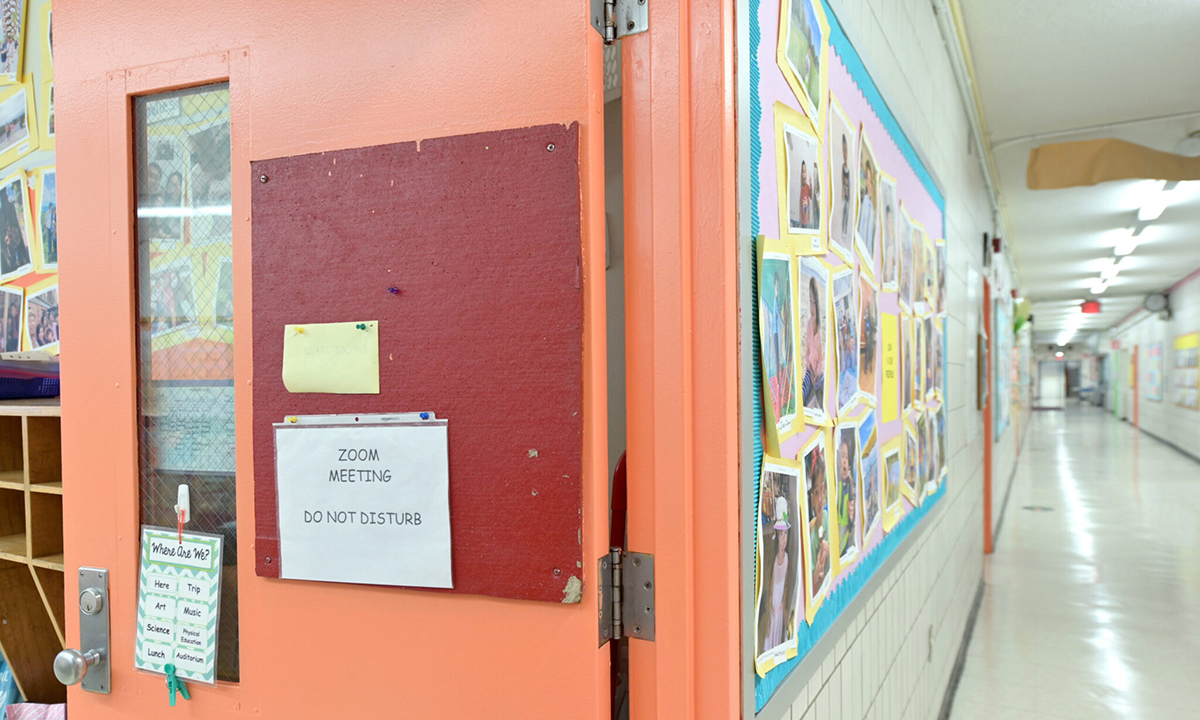 Support The 74's year-end campaign. Make a tax-exempt donation now.
Clovis Municipal School District recently began using artificial intelligence technology designed to detect guns and potential shooters on school campuses. The software can even alert law enforcement before a single shot is fired.
The AI technology is designed by ZeroEyes, a Philadelphia-based company founded by a group of former Navy SEALs. The company's software installs in line with the district's existing camera systems and operates in the background, constantly analyzing every frame of video as it searches for signs of a firearm. If a gun is detected, the software sends still images to a human who will determine if the gun is real and if lives are in danger.
That human review of a perceived gun is often completed within five seconds, ZeroEyes' co-founder and Chief Revenue Officer Sam Alaimo said. And if the gun is determined to be real, district officials can be notified within seconds through a number of methods, and ZeroEyes even has the capability to contact law enforcement directly through RapidSOS, a platform that sends data to 911 call centers.
Along with fast notification, the software can also relay the exact location of the potential shooter to police to help officers locate and stop a gunman.
"Schools are complex. Kids that go there often don't know their way around them. If you call law enforcement and say, 'There's a shooting in my school,' where are (first responders) going to show up?" Alaimo said. " If we can get them to where the shooter is, they can stop the killing as soon as humanly possible and then take care of anybody who may have been injured in the process. Every second in those situations counts. Every second literally could mean a life."
Clovis Municipal Schools has signed a four-year, $345,000 agreement for a subscription to the ZeroEyes software and its monitoring services, Loran Hill, the district's senior director of operations said. The district has funded the technology with money from the coronavirus aid bill, a $2.2 trillion federal pandemic recovery package.
Hill isn't aware of any shooting in the history of Clovis schools but said the district was looking for ways to prevent one from ever happening. The district took proposals from several companies with detection and prevention technologies, and ultimately, ZeroEyes was selected by a review committee.
District officials were drawn to ZeroEyes for its ability to potentially prevent tragedy, and because of its human-staffed operation centers. These facilities, which ZeroEyes calls ZOCs — are staffed by former military and law enforcement members who await notification of potential threats. When the AI detects a possible gun, the software takes a screenshot of the video and outlines the perceived gun with a brightly colored box to aid the human that will review the image in finding the possible gun.
Within three to five seconds, a human in the ZOC determines if there's a threat or not. If law enforcement is contacted, those in the ZOC are able to relay directly to local law enforcement what type of firearm the person is armed with. The company currently has two ZOCs, one near Philadelphia, and one in Hawaii.
ZeroEyes also maintains a green screen lab at its Philadelphia headquarters where any type of scenario can be created to mimic any physical environment, from a classroom to a school hallway, and any location outdoors. The software is also trained to recognize a variety of stock and modified firearms from the smallest pistols to the longest rifles or shotguns.
The software constantly searches for any sign of a firearm, from a gun being pulled out of a backpack to a gun being pointed at someone. In one instance, Alaimo said someone was wearing a T-shirt with an Uzi submachine gun printed on it and the software detected the gun as a possible threat. A still image of the shirt was sent to an operation center for analysis where a human was able to determine that no real gun was in the image.
Since the software works with a school district's existing camera systems, it will search for a gun anywhere within view of the camera systems. And the software works with the same certainty as having a human watching for guns on campus.
"If a gun's in front of that camera, it'll pick it up," Alaimo said. "If the human eye can tell it's a gun, the camera will tell it's a gun. We learned this early on: You can't just train an algorithm to detect a gun being held as if it's about to shoot somebody. You have to be able to detect a gun in any circumstance to make sure you never miss a true positive."
Hill with Clovis Municipal Schools said one thing that drew district officials to ZeroEyes was how the software can detect things that a human might miss.
"Artificial intelligence is able to look all day, every day," he said. "We appreciate our (student resource) officers, but ZeroEyes is going to cover much more ground than an officer is able to."
As with the use of most technology in schools, some may be concerned about student privacy. Alaimo said ZeroEyes only receives images from cameras placed in schools when the software detects a possible threat, and the company does not have the ability to access a live feed of any given school district's cameras.
"We're very stringent with our data protection privacy rights," Alaimo said. "We cannot recognize faces, we can't store biometric data and we don't want to do those things. It's literally just: Is there a gun, yes or no? That is our primary focus."
Racial bias is also a concern when it comes to determining whether someone might commit a crime — like carrying out a mass shooting. And while software may not hold any bias while making a threat determination, a human who reviews the images sent by the software might. Alaimo understands those concerns, but he said those in the command center that review the images are solely focused on the gun.
"The algorithm makes it very apparent — the situation makes it apparent," he said. "Is it a gun or not a gun? Race does not come into it."
Hill said the district researched ZeroEyes prior to adopting its technology and district officials feel confident that student's privacy is protected because the company isn't monitoring or keeping the district's data. He said he's confident that race will not be a determining factor in whether law enforcement is called or not because in the demonstrations of the software the district has seen. And because the process of determining a threat happens so quickly, the district doesn't feel there's much time for the human reviewer to determine the race of the potential shooter.
Founded in 2018, ZeroEyes is currently in use in 30 states, and Alaimo estimates ZeroEyes will be in use in all 50 states by the end of the year. The company's AI technology is also used in Mexico and England. And while the technology can be found in locations like casinos and shopping malls, Alaimo said it was developed for use in schools with the goal of keeping kids safe from mass shootings.
"What often happens in these circumstances is that people talk about mental health, and then they argue about gun laws, and then everybody offers thoughts and prayers," he said. "We wanted to build something that could work right now. We wanted a solution that could actually make a dent right now, and save the lives of kids."
Source New Mexico is part of States Newsroom, a network of news bureaus supported by grants and a coalition of donors as a 501c(3) public charity. Source New Mexico maintains editorial independence. Contact Editor Shaun Griswold for questions: info@sourcenm.com. Follow Source New Mexico on Facebook and Twitter.
Support The 74's year-end campaign. Make a tax-exempt donation now.