Next Round of Indiana School Safety Grants Could Help Prevent School Shootings
A national school safety expert says the extra funding can be effective if efforts are long-term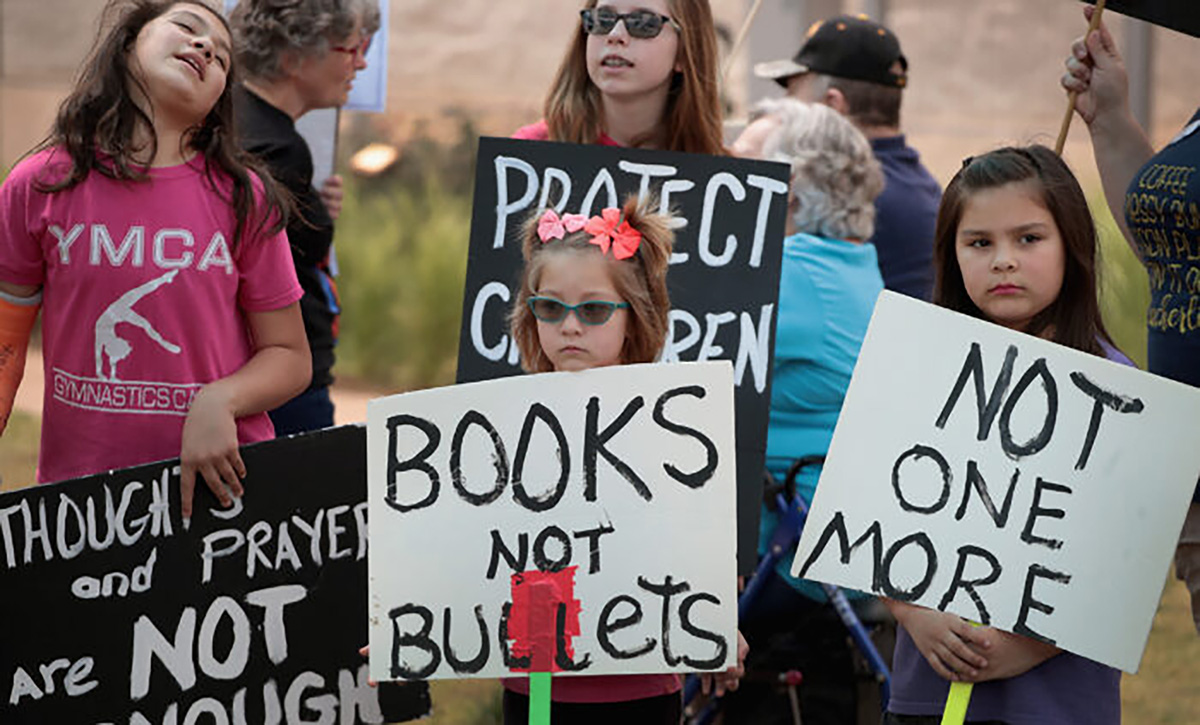 Get stories like these delivered straight to your inbox. Sign up for The 74 Newsletter
Hundreds of Indiana schools will soon see funding from the latest round of school safety grants intended to help prevent security crises, like the latest elementary school shooting in Uvalde, Texas.
A national school safety expert says the extra funding can be an effective tool for schools — especially as administrators evaluate safety strategies amid the nation's record-high rise in school shootings — as long as they are committed to maintaining those efforts long-term.
Grant applications submitted for the new fiscal year are being evaluated now, said David Hosick, a spokesperson for Indiana Department of Homeland, which manages the fund.
Schools should hear back in August about the grant dollars — much of which is spent on school resource officers and safety equipment.
Since it was signed into law in 2013, the Indiana Secured School Safety Grant Program has awarded more than $110 million in matching grants to Indiana school districts across the state to address potential safety threats.
Public school corporations, accredited non-public schools, and charter schools all qualify for matching grants up to $100,000 each year.
The budget passed during the 2021 legislative session allocated $19 million to the program for school grants and administrative costs for each of the 2022 and 2023 fiscal years.
That was after lawmakers carved out similar appropriations in the previous biennium state budget in 2019.
"Far too many schools still want to do school safety on the cheap, and that's a concern," said Kenneth Trump, president of National School Safety and Security Services, a consulting firm. "If these grants can help schools make broader investments — starting with security assessments, and then ensuring they're serious about putting money towards the recommendations of security experts moving forward — of course it will make schools safer."
How schools are using the money
Last year, 392 Hoosier school organizations were awarded $19 million in grant money.
The grants can be used for various school safety needs, including:
Employing school resource or law enforcement officers
Conducting threat assessments of school properties
Purchasing safety equipment and technology
Providing firearms training or self-defense training
Supporting the implementation of a student and parent support services program for at-risk students
Start-up costs for installing an active alert warning system
In Indianapolis, Wayne Township has used previous rounds of grant funding to help fund two school resource officers at Ben Davis High School.
Perry Township Schools additionally used its $100,000 2021 grant to help fund the salaries for four of the school district's 13 police officers. Township spokesperson Elizabeth Choi said that has enabled officers to have a consistent presence in 25 different school buildings.
In the nearby Franklin Township Community School Corporation, Kent Pettet, a chief communications officer, said $100,000 received from the grant program is helping to further secure the front entries of school buildings and increasing communication resources.
"We appreciate the school safety grants and do plan to always apply for them," Pettet said. "Any additional funding that allows us to secure our buildings further and provide more safety for our students and staff is always appreciated."
Similar to many other districts around the state, Muncie Community Schools applied funds towards hiring school resource officers, too, which schools spokesperson Andy Klotz said has increased security on school grounds.
The east central Indiana school district applied for the grant again this year, Klotz said. If awarded, those dollars will also help fund additional officers.
Trump, the school safety consultant, said hiring additional officers and ensuring they receive specialized training for school settings "can prevent so many things."
"The number one way we find out about weapons in school is from kids who come forward and tell an adult that they trust," he said.
South of Indianapolis, the Center Grove Community School Corporation received $100,000, which school administrators earmarked towards the Centegix Crisis Alert system which was installed in every building in the corporation.
The system includes wearable badges with an emergency button, according to Center Grove's website. With the press of a button, audio and visual notifications are sent facility-wide using colored strobe lights, desktop alerts and building intercoms. That allows the entire building to instantly go on lockdown.
Trump said those systems can be beneficial when proper assessments are done beforehand to ensure the technology is a right fit for the school. But without proper funding for ongoing upkeep and repairs, the systems can go defunct after several years.
"You don't want to create this security theater, with all the increased hardware and access control and single points of entry, but yet your front office staff hasn't been trained on what to do if they don't feel comfortable buzzing somebody in," he said, referring broadly to such technology.
"If you're not training people, too, that becomes a problem. That means focusing a lot of training on situational awareness, on pattern recognition, noticing how to notice abnormalities in your day to day routine of bus drop off and pickup, and in the hallways and lunch areas and outside of the building, which is not something educators are generally trained to do."
Effectiveness of the grants
Since 2014, the Indiana Secured School Grant Board has approved 2,707 grant requests, records show. An additional 73 grant requests were denied during that period, according to the Indiana Department of Homeland Security. And many of the grants are less than schools sought.
Schools and their public safety partners should "always be reviewing" their plans, procedures, training, equipment and technology to make sure "they're working together to protect the students and staff in the building," said Holly Lawson, a spokesperson for the Indiana Department of Education.
Trump said that's easier and more effectively accomplished with adequate funding. Convincing taxpayers and lawmakers to make those dollars available to schools can be a challenge, however.
"It's easier for schools to do the visible tangible things that they can point to — the hardware, the equipment — than it is to reassure parents about the importance of investing in professional development training," Trump said. "But it's much more effective than the cameras that you put up, when a year later, they're not working because you don't have the budget or it's not a priority to repair and replace."
Trump pointed to lawmakers, who he said could enact additional legislation to ensure that schools aren't just getting "one time, shot-in-the-arm, funding," but rather "are being obligated to sustainability with safety protocols over a long term."
"When you look at all these recent (school shooting) cases, while the facts and merits of every case vary, they involve allegations of failures of policies, procedures, human factors — not allegations of failures of security products and equipment," he said. "That's why this needs to be a big part of the conversation."
Indiana Capital Chronicle is part of States Newsroom, a network of news bureaus supported by grants and a coalition of donors as a 501c(3) public charity. Indiana Capital Chronicle maintains editorial independence. Contact Editor Niki Kelly for questions: info@indianacapitalchronicle.com. Follow Indiana Capital Chronicle on Facebook and Twitter.
Get stories like these delivered straight to your inbox. Sign up for The 74 Newsletter