New York's New Ed Chief Talks Testing, Standards, Teacher Feedback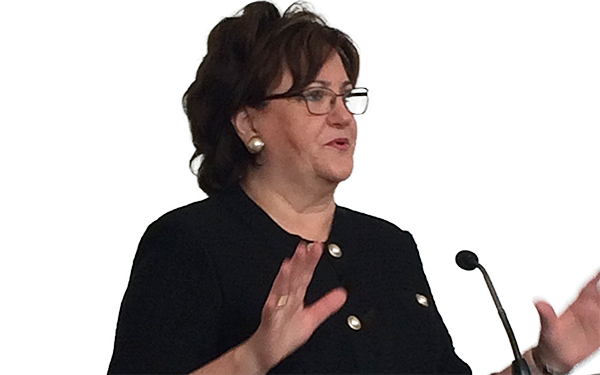 New York City
New York's new education commissioner called for a review of the Common Core and the standardized tests based on the more rigorous standards — tests that brought a revolt from parents and teachers across the state this spring.
Commissioner MaryEllen Elia, speaking at a professional development conference at Fordham University School of Law, said Tuesday the review was needed so that New York could meet the needs of all its students. Elia said teachers should be more involved in crafting the tests and that she will welcome their feedback as she did in Florida, where she led the Hillsborough school district for 10 years.
"We've got to put a little stop, and slow down for a little bit, just so we know that we can all move forward and we're on a page that's supporting students, higher standards and greater success," she said.
Elia made the remarks at a gathering of about 125 principals and teachers from throughout the state during one of her first public events since starting the job July 6. Her comments about the state's move away from mandatory stand-alone field tests, which try out test questions on students but aren't counted toward grades or teacher evaluations, brought applause from the room.
Her visit to Manhattan followed an eventful first week. The Education Department's choice last week of Questar Assessment Inc. — replacing testing giant Pearson to develop the state's English and math tests for grades 3-8 — will play a key role in the anticipated changes Elia has in the works.
Under the $44 million, five-year contract with Questar, the state will move toward computer-based tests for all students and expects results to be available more quickly, Elia said. One of the biggest complaints about the current testing system has been that students' grades aren't returned in time to use them to make placement decisions for the next school year.
The department is assessing bandwidth needs and computer access district-by-district to ensure students can take advantage of the changes, she said.
Elia's remarks seemed to be a welcoming overture to teachers — New York State United Teachers, the state's largest teachers union,
aggressively campaigned to have parents opt their children out
of the tests this year. At the same time, she said maintaining high standards for student achievement and teacher effectiveness is paramount.
"I am totally committed to raising standards for every kid. It's the only way we will get our kids where they need to be to be successful," she said.
She stressed the importance of collaboration between parents, students and administrators to ensure progress in districts. Equitable support for low-income students and those who don't speak English is crucial, she said.
"I'm very convinced that all of us together can make the kind of shifts that will put the New York system that has come so far – it will take it to the next level."
Last week, Elia made visits to Cooperstown and the Sweet Home school district in Amherst – where she began her teaching career — to promote her plans.
The 66-year-old western New York native returned to her home state to succeed John King Jr., who left in December 2014 to work for the U.S. Department of Education. His tenure was marked by vitriol over the state's roll-out of the Common Core Learning Standards and the tests tied to them. During the height of the controversy, he canceled a series of statewide community forums, claiming they'd been co-opted by "special interests." In Florida, Elia is the state's Superintendent of the Year for 2015 and was a finalist for National Superintendent of the Year, also in 2015.
On Tuesday, Elia sought to affirm the work that's been done in New York the last few years amid the contentious Common Core implementation and the ongoing controversy over evaluating teachers by placing greater weight on student scores. She noted slight gains in graduation rates as evidence of the state's progress despite the controversies.
"The good work should not be overshadowed by people, who rightfully so, have questions over how we got here," she said.
Get stories like these delivered straight to your inbox. Sign up for The 74 Newsletter