New York City's Summer Training Chasm: 2 Teachers, 2 Vastly Different First Weeks at School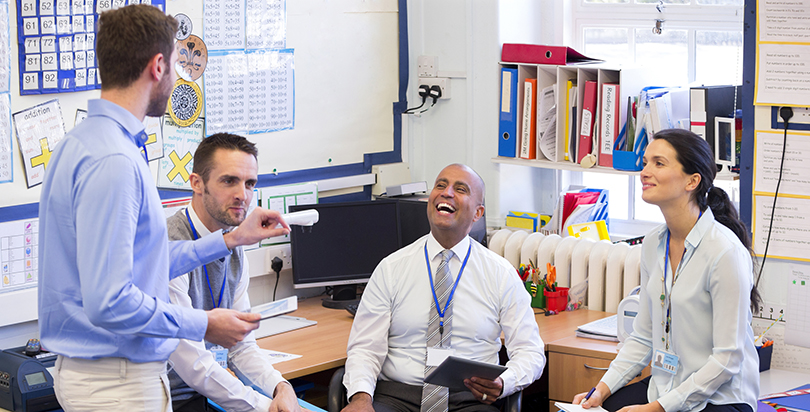 New York City
On their first day of class, Mike Loeb's seventh-grade science students heard a lesson the teacher had used some of his summer vacation to prepare: How to make observations and inferences using boiled and raw eggs.
The egg epiphany was among the things Loeb focused on when he went into his school, the Urban Institute of Mathematics in the Bronx, this summer. Other tasks he tackled in August and September included ordering new class materials, setting up his room, taking inventory of his classroom supplies and testing out his new interactive whiteboard. One summer Monday, he was joined by nearly all of his fellow teachers, who volunteered to attend a presentation on the school's new online grading system.
Before the day was done, the school's principal thanked them and said she would pay them for the time.
But paying teachers at public schools in New York City to come in early during the summer months to prepare for the beginning of the school year is a rarity. Under their current union contract, city teachers were required to start work the Tuesday after Labor Day, or two days before students arrive. Instructors at some well-known charter school networks in the city, however, are required to come in weeks before the year begins for professional development and lesson planning and to create a healthy working relationship with their colleagues.
Loeb is one educator who believes there should be more built-in prep time at traditional public schools as well.
"I think it's always a very helpful thing to come into the classroom in advance," he said. "What happens if you have veteran teachers but a bunch of them are new to the school and you want to build some chemistry?"
Amanda Xavier, a sixth-grade English teacher at Ditmas Junior High School in Brooklyn, said that after teaching for more than 15 years, including a decade at her current school, she doesn't need a lengthy summer training program. Each summer, she says, she prepares for the school year on her own time by making classroom posters and reading books she plans to use with her students.
"I would not purposely be in school for three weeks," Xavier said. "I know what I am doing now."
Uncommon Schools, which operates more than 20 schools in the city, brings teachers in during the first week of August for professional development before their students arrive at the end of the month, according to the network. Likewise, at Success Academy Charter Schools, teachers come in on Aug. 15 for about two weeks before the school year begins for "T School," an organization-wide professional development program.
Achievement First operates a similar program for teachers from Aug. 1 through the start of school on Aug. 17. Teachers spend time at their own schools to review shared expectations for student behavior and set up their classrooms. They also participate in a network-wide professional development program, said Cristina Tokeshi, the network's vice president of academic operations and strategy.
(The 74: Absurd Policy Allows NYC Teachers to Earn Raises Via Tests That Have Nothing to Do With Their Job)
An average day of training might include directing teachers to plan and practice a math lesson for their third day of school while school leaders give feedback. Or they might study a video of a strong classroom teacher and talk about how that educator was able to effectively challenge students. By the end of the program, teachers should have a clear idea of what the first six weeks of the year are going to accomplish, Tokeshi said.
"The first six weeks are critical," she said. "It's the time when you set the foundation of your classroom culture. One of the things we want to make sure of is that all our classrooms are places where kids can learn."
Tokeshi, who was a founding teacher at Achievement First Bushwick Elementary, said that although she had studied education in school, she appreciated the opportunity to learn from veteran educators during the summer before starting her first teaching job. As she grew more proficient in teaching, she said, she used the time to lesson-plan for the beginning of the year, allowing her to keep her summers mostly free of work.
"I felt really supported," she said. "I felt really set up for the start of the year."
The research on the effectiveness of professional development varies, but there are some common traits in the most successful efforts.
The programs that produce better results often include training on how students learn specific areas of content. In other words, math teachers don't just review how to add fractions but also learn the stumbling blocks that students frequently run into when learning that skill.
Successful professional development also often makes sure teachers are actively participating, collaborating together, and that the material fits the culture and curriculum of the school, according to Stanford University education professor Hilda Borko.
"If schools have a strong sense of community within the school, it's much easier for professional development to work because some of the groundwork is already done," she said.
Borko recommends that teachers have at least 20 hours of professional development a year, including a week at the beginning of the summer.
Loeb said there should be more opportunities during the summer for professional development and community building among teachers in the district but that time should be paid, flexible and optional.
"Teachers work very hard. There is a reason there is two months off," said Loeb. "There would be many [teachers] that would be happy to use that time to better their practice."
Get stories like these delivered straight to your inbox. Sign up for The 74 Newsletter