New York City's First-Ever LGBT Student Liaison Aims To Set National Example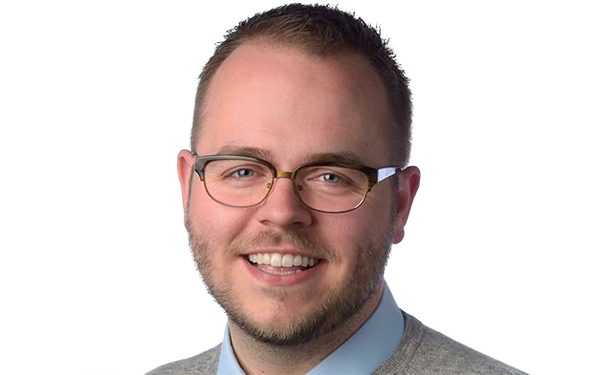 New York City
Jared Fox remembers breaking into tears when, in ninth-grade, a classmate called him a "fag."
Just a few months into his high school career, Fox was hoping to make a fresh start at an inner city public school in Cleveland after transferring from a Catholic school where he was mercilessly bullied.
The incident happened during a social studies class and the teacher, Chad Meyers, responded by leading the students in a group mediation — an effort to make everyone understand why the insult was harmful.
It was a crucial moment, the now-29-year-old Fox recalls. The teacher's intervention helped him assimilate into his new school where he was, at the time, one of the few openly gay students.
"People learned to respect me as an individual, not as an identity," Fox told The 74, and he went on to found the school's first Gay-Straight Alliance.
Meyers' inclusive teaching — acknowledging the role of lesbian, gay, bisexual and transgender black activists during the civil rights movement, for example — also made an impact on the teenaged Fox.
"He wasn't gay but he allowed me to see myself in the curriculum," Fox said.
It's these sorts of lessons that Fox is now striving to impart to educators, students and parents in the nation's largest public school system as the New York City Department of Education's first liaison for the LGBT community.
Fox's main mission is training educators to cultivate safe, inclusive learning environments for LGBT students and staff while promoting tolerance throughout the 1.1 million-student district. LGBT students are often bullied and brutalized in school — driving some to commit suicide — and if Fox succeeds, he says, New York City will serve as a model for school districts around the country.
While some Department of Education employees had addressed similar issues as part of their job in the past, Fox's full-time, dedicated position is a first.
"There's nobody out there that's doing this job," Fox said. "I think this changes things because it says, 'This is so important that we're willing to fund a position (for someone who) will do this work morning, afternoon and night.'"
New York City Councilman Daniel Dromm led the effort to create the position last year. The city approved $200,000 for salary and other costs, including LGBT author visits to schools, paying teachers to help write curriculum, professional development for teachers and a pride event.
Dromm, who chairs the council's education committee, taught in city public schools for 25 years and came out as gay early in his teaching career, at a time when most LGBT teachers and students remained closeted.
The councilman from Queens, a Democrat, has long advocated for the LGBT community. The appointment of a schools-based liaison is a culmination of a career's worth of work, he told the
Times Ledger of Queens
in February.
"With the appointment of Jared Fox … the department has taken a bold step forward to assure students and teachers alike that anti-gay discrimination will not be tolerated and that, in fact, the department will look for ways to be more inclusive of the LGBT communities."
Since starting the job in January, Fox has gone on a listening tour of sorts to hear what educators, community advocates and nonprofit leaders are doing to address LGBT concerns and how they can coordinate their efforts as he works in the DOE's Office of Guidance and School Counseling.
"A lot of the staff training that I've been doing is focusing on, 'What's sexual orientation?' 'What's gender identity and expression?' 'How do these things manifest themselves in our classrooms, in the curriculum?' 'How do we intervene when something happens?'" Fox said.
This spring, he will bring 20 LGBT authors that he connected with through the Los Angeles-based
Lambda Literary Foundation
and their books into classrooms.
The foundation's executive director, Tony Valenzuela, said the organization established a similar authors-in-schools program in San Diego but it doesn't have the funding that the New York partnership does.
He said talking about these issues in schools doesn't happen enough, and the program helps students see their lives portrayed "in all of their nuances" and affirmed.
"Right now the (national) landscape is this tapestry of some very progressive places and some very hostile places to LGBT young people," Valenzuela said. "Sure, we're doing this in New York … but this kind of work needs to be done all over the country."
Fox is also planning student social events to introduce student members of Gay-Straight Alliances in different schools. Eventually, he hopes to have a dedicated adult LGBT liaison in each school to whom students can turn for help.
Fox attended Lake Forest College in Cleveland and earned a degree in politics and community organizing and activism. As a senior in 2008, he interned for then-Sen. Barack Obama. But when his friends and fellow interns triumphantly followed Obama to the White House, Fox decided to teach.
He spent three years teaching at a public school in New Orleans through Teach for America, the highly selective program that takes graduates from the country's top colleges and trains them to teach in low-performing urban and rural schools.
After New Orleans, Fox moved to New York to start an eight-week public policy fellowship at the Department of Education. It turned into a permanent role in the technology department, where he stayed for three years helping teachers use iPads, SmartBoards and other digital tools.
At the same time, Fox founded the New York City chapter of the
Gay Lesbian Straight Education Network
(GLSEN), and was spending many non-work hours volunteering. When Dromm's proposal surfaced in 2015, it was clear that Fox's passion, personal history and professional experience made him a natural fit for the job.
However, it was a far more harrowing experience that would ultimately propel him toward his current work.
Two-and-a-half years ago, during a family visit in Cleveland, Fox was attacked on his way to a popular gay bar. About 20 young men, mostly teenagers, surrounded him in the dark, yelling anti-gay slurs, beating him and attempting to rob him,
The Plain Dealer of Cleveland reported
. He ran to safety, but the assault left Fox with ruptured eardrums, a black eye and covered in bruises. The next day, in a video
posted on YouTube
, he tearfully detailed the assault — which also included a death threat, he said — and publicly reaffirmed his conviction in the power of education to change the lives of young people, like those who attacked him.
"I've devoted my life to education because I believe that it's the only thing that truly matters in this world," he said in the video. "It is the only thing that got me to where I'm at, it's the only thing that continues to push communities forward."
The ordeal left him grateful to be alive and determined to advocate even more strongly for LGBT youth, Fox told The 74, "because I don't want anyone to ever have to go through a thing like I did."
Fox's work at the DOE comes as parents, students and school officials throughout the country
are hashing out emotionally fraught battles
over transgender students' access to same-sex restrooms and locker rooms that match their gender identity.
On April 19, a
federal appeals court sided
with a transgender teen in Virginia, allowing him to sue his school board on discrimination grounds because it banned him from the boys' bathroom. Gavin Grimm was born a female but identifies as male.
Mississippi and North Carolina both just adopted laws that either specifically prohibit protections for LGBT citizens or make it permissible to discriminate against them based on religious grounds. Both Southern states are experiencing intense backlash from advocates and corporate America, among others.
Fox said LGBT families are seeking greater inclusion in their communities and schools now and he hopes to set changes in motion that will ultimately shift the status quo.
That could include everything from acknowledging a student's same-sex parents by replacing the words "mother" and "father" on school forms with the gender-neutral "parent" or "guardian" to advising heterosexual parents on how to support their child who has just come out.
"I think both of those families have been on two separate sides of a fence for too long," he said. "By bringing these families together and understanding that in a post-marriage equality world, where LGBT couples can get married, where (their) families are possible, those families are going to be in our school system, and education is really the civil rights issue of this decade."
Support The 74's year-end campaign. Make a tax-exempt donation now.