New Voter ID Requirements in Ohio Put Hurdles in Front of Out-of-State Students
The policy is one of the most restrictive voter-ID laws in the country.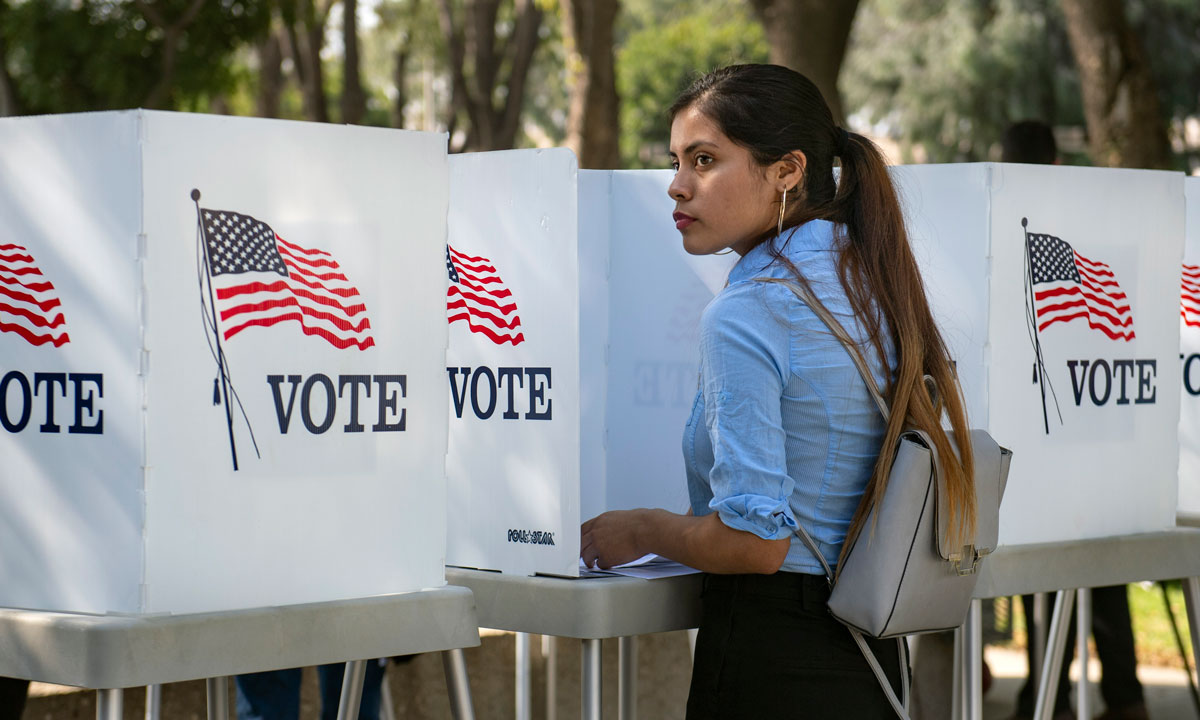 Support The 74's year-end campaign. Make a tax-exempt donation now.
A new law changing voting ID requirements makes it more challenging for out-of-state college students to vote.
House Bill 458 requires a photo ID to vote — meaning an unexpired Ohio driver's license, a state ID card, U.S. passport or military card — so out-of-state college students must get an Ohio issued ID card if they want to vote in Ohio.
But getting an Ohio issued ID card would invalidate their driver's license in another state.
"Out-of-state college students are really hampered by this bill because the structure of this bill and the photo ID requirements for voting in person really puts out-of-state college students between a rock and a hard place," said ACLU Ohio Deputy Policy Director Collin Marozzi.
Ohio Gov. Mike DeWine signed HB 458, originally introduced by State Rep. Thomas Hall, R-Madison Twp. in October 2021, into law on Jan. 6 and it will go into effect on April 7. This has been called one of the most restrictive voter-ID laws in the country.
But Ohio Secretary of State's office doesn't see it that way.
"It's not problematic," said Rob Nichols, the press secretary for Ohio Secretary of State Frank LaRose. "It's not adding additional hurdles or anything like that."
The new law limits counties to one ballot drop box, shortens the window to request absentee ballot to one week before the election and absentee ballots must be received four days after Election Day. The law also mandates citizenship status on IDs and excludes county-issued veterans' identification and college IDs from the list of IDs one can use to vote.
Out-of-state college students
The new law specifically puts hurdles in front of out-of-state college students, Marozzi said.
"Out-of-state college students have just as much a right to vote in Ohio as any other eligible Ohio voter," he said. "What's at stake is this student population having a voice in their government. It is a fundamental aspect of American life for people to be able to have a say in their government."
College students live on their college campuses at least nine months out of the year and should be able to easily cast a vote in the county they live in, he said.
Students can use a passport as a photo-ID, but Marozzi questions how many college students have a passport and, if they do, how many bring their passport to college.
If college students don't want to get a state-issued ID or a passport, their only other option is voting by mail "and we know that can be a very arduous process," Marozzi said.
"It requires planning ahead significantly, making sure that you are meeting all the request deadlines, and meeting those mailing deadlines," he said.
The new voter ID requirements "puts out the unwelcome mat" for out-of-state students coming to Ohio, said David Niven, a University of Cincinnati professor in the school of public and international affairs.
"It probably hits college students as hard as any group within the state," Niven said. "It really becomes a logistical dilemma."
How Ohio colleges are responding to the new law
Sierra Nathans, a graduate assistant for Bowling Green State University Votes, said college students already complain that the voting process is too difficult.
"This one extra step will make it that much harder for people to want to do it," she said. "Any steps you add to it are going to make people not want to do it. We should be making it easier (to vote), not harder.
BGSU's spring semester ends days before Ohio's May 2 primary election and Bowling Green doesn't have any ballots on the primary, so Nathans said they are encouraging out-of-state students to vote in their home state for primary elections.
For the Nov. 7 general election, she said they recommend out-of-state students either get an Ohio state-issued ID card or register to vote using their home address and request an absentee ballot.
University of Cincinnati Votes recently hosted an information session for students on the new voting ID requirements.
"They go to school here and they deserve to have the chance to give their opinion on a candidate, an issue, whatever is on the ballot when it comes time since they do go to school here in Ohio as well," said Callie Buchanan, a 19-year-old UC sophomore from Zanesville. "It can lead to them not knowing what the restrictions are when they go to vote and then they'll get turned away at the polling place."
Ohio State University spokesperson Dave Isaacs said the university will develop guidelines for out-of-state students over the summer and is "happy to work with individuals" in the meantime who have questions.
The deadline to register to vote for the primary election is April 3. Early voting begins April 4 and ends April 30.
Ohio Capital Journal is part of States Newsroom, a network of news bureaus supported by grants and a coalition of donors as a 501c(3) public charity. Ohio Capital Journal maintains editorial independence. Contact Editor David DeWitt for questions: info@ohiocapitaljournal.com. Follow Ohio Capital Journal on Facebook and Twitter.
Support The 74's year-end campaign. Make a tax-exempt donation now.