New Video: Gov. Scott Walker Talks Education and School Choice With The 74 at the RNC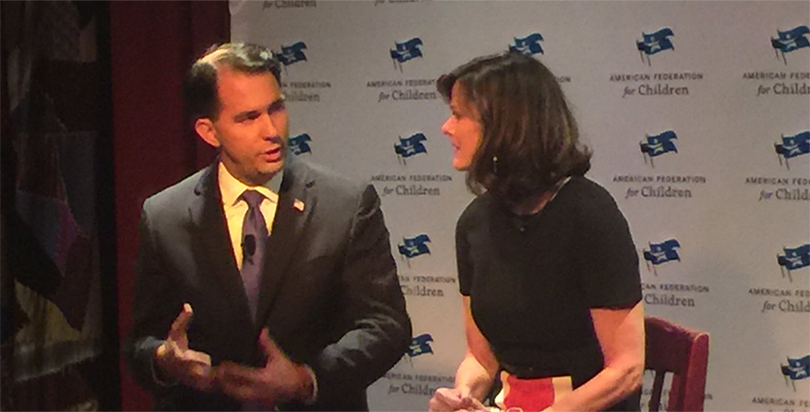 Follow The 74's live coverage of both the Republican and Democratic National Conventions
(Cleveland, Ohio) — During a special forum organized around the Republican National Convention, Wisconsin Gov. Scott Walker offered some unexpected advice on the best way to sell school choice measures – talk about improving traditional schools, too.
"People who truly believe in education, they recognize greatness whether it's coming from a charter school, a choice school or a traditional public school, and they want as many good options as possible. They want schools to succeed no matter what, and that's really got to be your core point," Walker said at a Cleveland event hosted by the American Federation for Children and moderated by 74 Editor-in-Chief Campbell Brown.
---
---
Back in Wisconsin, Walker has expanded Milwaukee's voucher program, the first in the country, and pushed to create a statewide program for low-income families. But he also worked to overhaul teacher tenure, layoff, and compensation laws, moves he said helped improve traditional public schools.
Placing an emphasis on improving all schools helps counter opposition arguments that school choice programs only help a select group of students, Walker said.
"It's really important, not just politically, but it's the right thing to do, to make that argument that you're not just looking out for one sliver of students, we're looking out for all students," he said.
Ultimately Walker says he feels both an economic and moral urgency to support school choice – as governor, he needs better schools training a more prepared and productive workforce, and he considers it a core obligation of society to ensure that every child has access to a great school, regardless of the circumstances of their life.
"You've got to make it about the children. You've got to make it about the students, and you can't make it about pitting one against the other," Walker said.
He pointed out the educational backgrounds of his own sons – Matt just graduated from Marquette, a private Jesuit college, while Alex will be a senior at the public University of Wisconsin. No one flinches at the idea that siblings in the same family could simultaneously be attending public and private colleges, he said, and it shouldn't be a surprise when that happens in K-12 schools, either.
Walker, who spoke late Tuesday afternoon en route to the convention floor where he was set to cast Wisconsin's votes for president, also complimented GOP vice presidential nominee
Mike Pence
, who Walker said had done an excellent job promoting school choice.
Walker, of course, also attempted his own run for the White House this year: "Was Donald Trump my first choice? No,
I was my first choice
," he joked.
---
Flashback: Walker goes in-depth on U.S. schools at the New Hampshire Education Summit
SaveSave
SaveSave
Get stories like these delivered straight to your inbox. Sign up for The 74 Newsletter