New Superintendent Alberto Carvalho Plans to Fill Hundreds of Classroom Teacher Vacancies by Reassigning LAUSD School Staff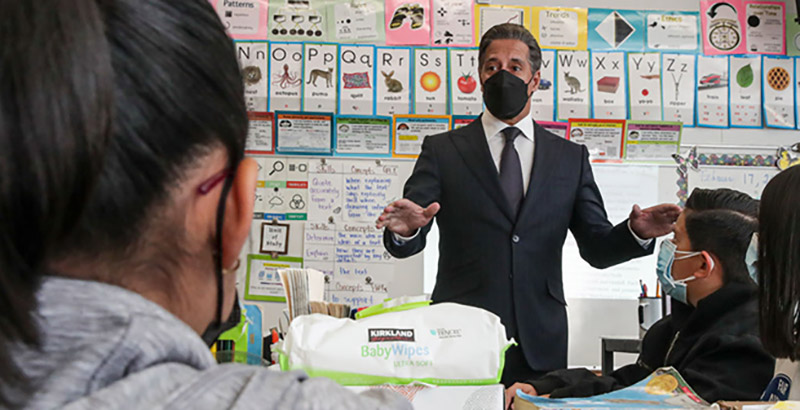 Support The 74's year-end campaign. Make a tax-exempt donation now.
This article is part of a collaboration between The 74 and the USC Annenberg School for Communication and Journalism.
New Los Angeles Unified school superintendent Alberto Carvalho plans to fill hundreds of teaching vacancies by reassigning school staff to classrooms for the remainder of the year.  
"The adults may feel inconvenienced by this, but it is right for the students," Carvalho told LA School Report. "If we fail to do it, we are not only witnessing a problem, we are participating in something that is tantamount to educational malpractice."
Carvalho said after spring break he will fill 400 classroom teacher vacancies throughout the Los Angeles Unified School District by drawing from a pool of about 3,000 administrators, intervention specialists and other school staff.
Since school began in the fall, classes at some L.A. Unified schools serving low-income Black and Latino students have swelled and been filled by a rotating assortment of substitutes, one director of a nonprofit that works in the schools said.
In one case, a principal stepped in to teach a class, the director said.
Carvalho's plan came in response to a new report which found thousands of teachers, counselors and other critical school staff positions remain vacant in LAUSD — with empty posts twice as likely in high needs schools than those serving wealthier, white students.
Three months into the 2021-22 school year, with the pandemic dragging on, staff vacancies "skyrocketed," the report found, with 10,000 staff vacancies in district schools.
High-need schools that were "deeply impacted" by the pandemic have seen staff shortages exacerbated in the last two years and are now facing an average of 10 vacancies, the report from the Partnership for Los Angeles Schools found. The average staff shortage in low need schools was just five.
"We're really seeing a crisis situation here," said Chase Stafford, vice president of policy and planning at the Partnership. "Now more than ever we need talented teachers supporting students in our highest need schools after all they've been through with the pandemic."
Stafford said Carvalho's plan to immediately staff classrooms showed he was "responding with urgency"… and "it will take both urgent and sustained leadership from the superintendent to address the challenges of the teacher shortage crisis."
Elmer Roldan, executive director of Communities in Schools of Los Angeles, which provides extra support to high-need students in the district, said Carvalho's plan to focus on classroom teaching vacancies first "is good, but everything thus far has been a band-aid solution. How specifically is he going to implement this?"
L.A. Unified District 7 board member Tanya Ortiz Franklin said she supports Carvalho's plan, but warned it could create tension with school staff who are reassigned to classrooms.
"It's definitely a bold move, but it's a move in the right direction," Franklin said. "Some staff may feel that they worked hard to get a promotion out of the classroom or be upset that this isn't a mutual decision."
Spokespersons for the United Teachers Union and the Administrators Union did not respond to requests for comment.
Board president Kelly Gonez also did not respond to repeated requests for comment on Carvalho's plan.
In 2019, administrators had to step into classrooms when tens of thousands of LAUSD teachers went on strike demanding smaller class sizes and more school support staff.
To mitigate staff shortages when the current school year began, the report found, LAUSD received $6 billion in state and federal funds. The district implemented "Path to Recovery," a program that created 7,333 new positions, including psychologists and intervention teachers.
But currently, 3,491 of those positions remain unfilled throughout the system, with 1,386 vacant staff positions at highest need schools and 704 vacant positions at lowest need schools. Remaining vacancies exist in schools throughout the system.
Of the roughly 650 traditional L.A. neighborhood schools, 143 are identified as highest-need this school year with the most teacher vacancies, the report found.
"Some schools are hurt the most in times of crises and there's a pattern to which schools those are," Stafford said.
At the Diego Rivera Learning Complex High School, in Southeast Los Angeles, for instance, serving a majority low-income Latino students, there are 19 vacancies out of 42 staff positions including classroom teachers, intervention teachers and school psychologists.
At Cleveland High School, which is located across the city in a largely affluent white and Latino suburb of the San Fernando Valley, just 20 out of 169 staff positions remain unfilled.
Roldan said the staff shortages have taken a toll.
"You can see it in the faces of the staff at these high-need schools," Roldan said. "Students came back from the pandemic carrying a lot of trauma and we need consistent staff to support them."
The report noted experienced staff often choose more affluent, white schools because those schools have more resources, while schools serving low income students tend to hire young, inexperienced teachers who often leave once they secure a job at a school with better conditions.
In October 2021, LAUSD tried to break this cycle by offering stipends to staff willing to serve at least three years at one of the highest-need schools, but the effort didn't make much of a dent in the already severe shortages at high-need schools for the 2021-22 school year. School hiring usually occurs in the spring and the additional hiring effort in the fall before the new year did not do enough to help the shortages already present this school year.
The district needs to change their staffing methods, so that all schools are not competing for the same talent when the playing field is so clearly unequal, Stafford said.
The report outlines how LAUSD must create a new hiring system focusing on high-need schools –- including hiring staff at those schools first, improving the working conditions, and creating more partnerships with education programs around the country so that teachers of color come to Los Angeles's high-need schools.
In February, the school board unanimously voted to study the hiring and retention of Black teachers in the district after district data showed that there are far less black teachers in classrooms than any other ethnicity.
Stafford said Los Angeles must become more affordable for teachers to actually live. The report offers strategies to make this possible including loan reduction, housing and childcare vouchers, and gas cards.
Franklin said school staff hiring is an immediate problem, but the district must also invest in long-term solutions.
"We need to make teaching attractive to high school and college students as a profession," said Franklin. "We need to invest long-term in the pipeline, so that people want to work for our school system."
Support The 74's year-end campaign. Make a tax-exempt donation now.