Allovue: How a New Software Platform Is Helping Schools Follow Their Money — and Make Sure It's Working for Every Student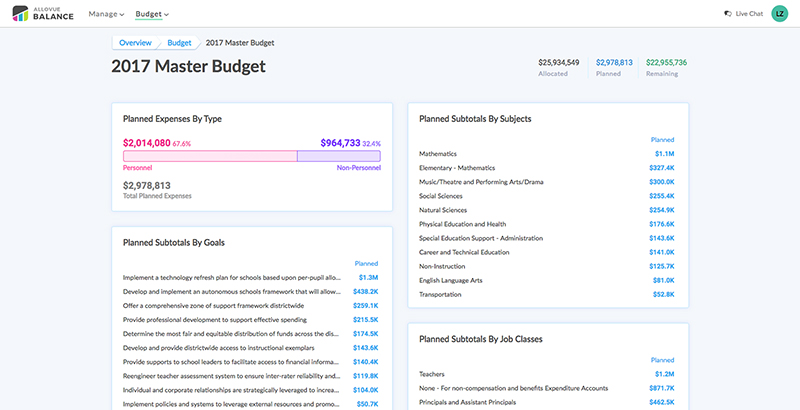 Jess Gartner, a former Baltimore middle school teacher and the CEO/founder of Allovue, knew education had a real budgeting problem when she saw schools in the same district with wildly divergent resources for their students.
"You could walk into five different schools in the same district and see a very different resource-allocation profile at each," she says. "Even within a single district with roughly the same population and same funding allocation model, you could have one school that doesn't have books, paper, and other essential learning supplies, and another school has 1-to-1 iPads, a resource room, and extra teachers."
In fact, roughly $635 billion per year is spent on public education across the country, without much quality data on where that money actually goes. While teacher and student data have moved forward into the 21st century, some districts are stuck using 30-year-old financial systems to run dozens, or hundreds, of schools — and funding can get lost in the shuffle.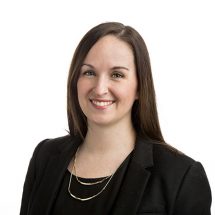 So Gartner created Allovue and its Balance software platform to bring innovation to district financial data and help give educators a handle on every dollar allocated and spent.
The timing couldn't be better — the Every Student Succeeds Act requires districts to report all dollars in terms of actual per-pupil expenditures at the school level, instead of simply taking averages districtwide that don't account for unique student demographics across a district.
"I wish I could say this is all part of my grand master plan, but it is pretty coincidental that the way this legislation is written basically reads like our marketing materials," Gartner says. "These are the things we have been pushing school districts to do anyway. Even if this legislation is wiped out tomorrow, we would still advocate for this. It is common sense."
By tracking at the school level, districts can see how they spend based on demographics, whether a neighborhood is affluent or high-needs. "It is not enough to just divide by x and this is our per-pupil spending," she says. "We want to know where the dollars are actually going. This is a big challenge for some school districts if they have not been budgeting and accounting this way."
Allovue's Balance software can track budgets in near-real time. Through managing, budgeting, and evaluating, Gartner says, they create a "continuous cycle of strategic budgeting and planning, effective and continuous monitoring, and management of dollars.
"What if we can take that data — at the end of the day they are just numbers and account names — and make it really easy for folks to access and analyze and look at on a day-to-day basis? I am not a financial professional, but I can log into Bank of America and see what is going on with my checking account," Gartner says. "Can we make this easier for people who are making daily budget and spending decisions?"
For administrators who are using the program, the answer is a resounding "yes."
"The most pressing issue was that district administrators were not tracking their dollars well, or weren't doing it in conjunction with the latest budget figures at their fingertips," says T.J. Vinci, chief financial officer at Pueblo County School District 70 in Colorado. Now the district can tie every dollar spent back to staff, programs, and technology to see how it directly impacts student outcomes.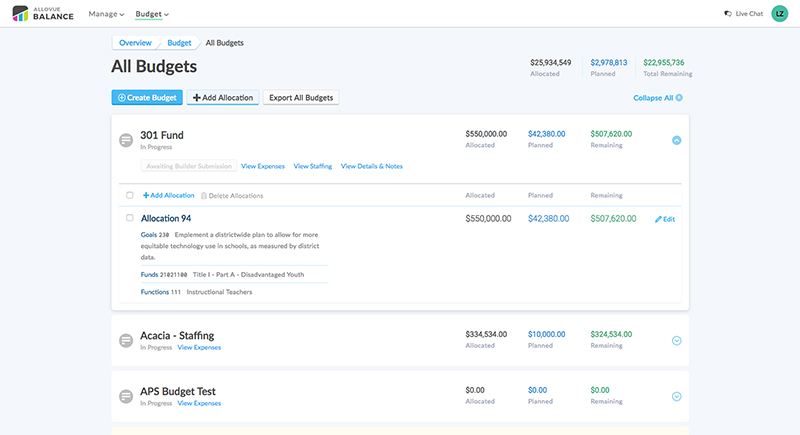 One sweet spot for Allovue has been large districts trying to manage thousands of students, hundreds of schools, and sometimes hundreds of thousands of account codes. In these situations, tracking proves difficult and grant money gets left on the table. An Allovue trend study showed that last year 71 percent of Title 1 funding was spent in the final quarter of the school year, after administrators realized they had to start using their grants. "We want to avoid that," she says. "Typically when that happens, it is not the most intentional spending of money."
"I now have immediate access to my financial account status and detail so I can plan for future projects and expenditures," says Laura Larimer, information technology officer at Indianapolis Public Schools. Chris Marczak, superintendent of Maury County Public Schools in Tennessee, says Allovue provided meaningful analysis and reporting, "allowing MCPS to keep our finger on the pulse of financial information for the district in real time."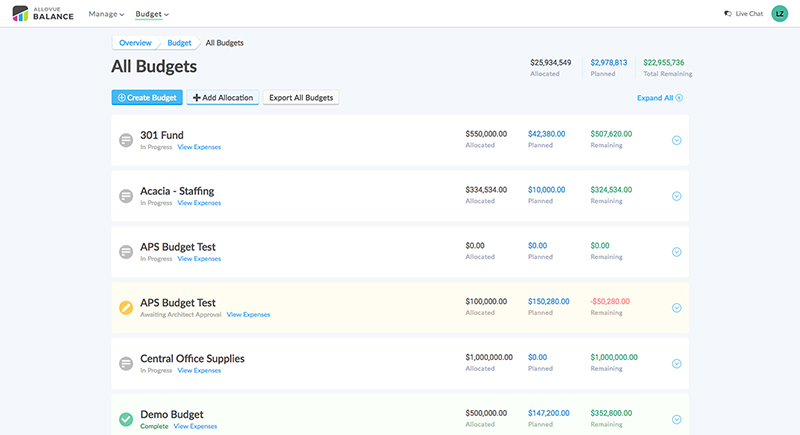 More than just watching where money goes, Gartner says, Allovue saves staffers time — one district says it saves 20 hours each time it runs a specific report that Balance now does in 30 seconds — that they can now spend tracking the usefulness of expenditures, tying student outcomes directly to specific money spent on programs and efforts.
"We have been completely obsessed with just one side of student performance — the outcomes," Gartner says. "Everything we talk about is on the outcome side. Attention is not paid anywhere close to the same level to the input and resource side."
Get stories like these delivered straight to your inbox. Sign up for The 74 Newsletter