New Rankings: Most & Least Educated Cities — a Tale of Two Californias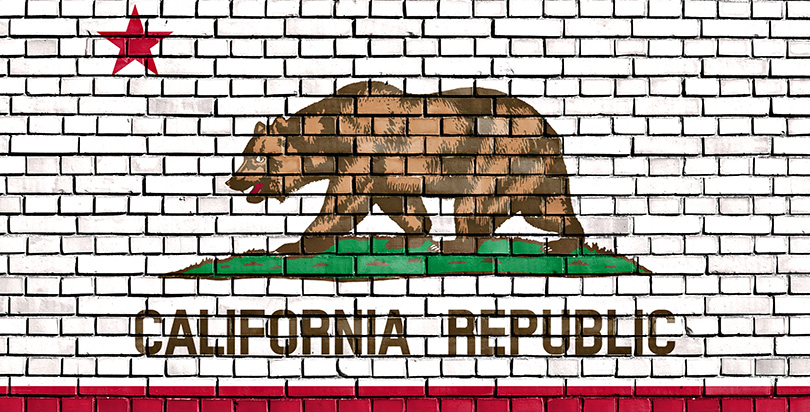 An annual ranking of America's most and least educated places reveals a true split in California when it comes to educational equity, with six of its cities scoring in the top 10 and six scoring at the very bottom.
San Jose, Sunnyvale, and Santa Clara, taken together, scored third, while the area encompassing San Francisco, Oakland, and Hayward ranked as the survey's eighth-most-educated metropolitan area. Taking up five of the seven lowest spots, however, are Salinas, Fresno, Modesto, Bakersfield, Visalia, and Porterville, all cities in California's Central Valley.
---
---
The findings come from WalletHub, a Washington, D.C.–based financial advisory website. Its
annual rankings
look at the 150 most populated metropolitan areas in the U.S. for the educational attainment of the adults ages 25 and older living there and the quality of the area's schooling options. School quality is judged based on data collected from GreatSchools.org, which relies on standardized test scores from K-12 schools. For post–high school quality metrics, the WalletHub survey pulled from
U.S. News & World Report
's "Best Colleges" rankings.
Ann Arbor, home to the University of Michigan, scored the top spot, followed at number two by D.C. and its surrounding well-to-do suburbs, including Arlington and Alexandria, Virginia.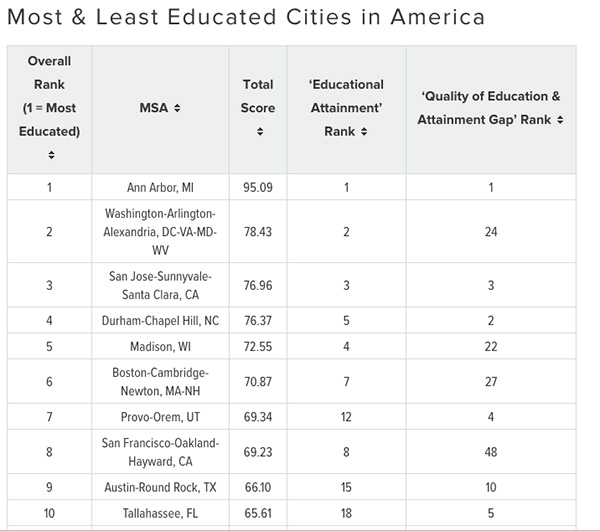 The data also show racial and gender educational achievement gaps. Areas like Oxnard, Thousand Oaks, and Ventura, California, had small racial achievement gaps between the percentage of whites and blacks holding bachelor's degrees, as compared to Minneapolis, St. Paul, and Bloomington, in the Minnesota and Wisconsin metro area, where WalletHub found wider racial divisions.
With regard to gender, Vallejo and Fairfield, California, had the smallest educational achievement gaps between men and women holding bachelor's degrees, while Albany, Schenectady, and Troy, New York, had the largest.
WalletHub also asked experts how the Trump administration's proposed cuts to education, including student loans, after-school programs, and teacher training, could affect the education achievement between the cities.
David H. Feldman, a professor of economics at the College of William & Mary in Williamsburg, Virginia, told WalletHub that the K-12 budget cuts are more likely to hurt the cities with low-income families. But he called higher-education proposals a "mixed bag" for disadvantaged students, with year-round Pell Grants helping them to finish college sooner, but a lax approach to holding for-profit colleges accountable hurting them.
"There is a one-to-one relationship between income inequality and education inequality," said Robert J. Birgeneau, a professor of physics, materials science and engineering, and public policy at the University of California at Berkeley. "So far, the Trump administration seems to be taking us in exactly the wrong direction."
In a request for comment, the U.S. Department of Education disagreed that the current budget priorities don't address inequality.
"The current system is absolutely failing too many students," department spokeswoman Liz Hill said in an email. "Too often, it's lower and middle-income students who bear the brunt of the failure. This administration is committed to leveling the education playing field and ensuring that all children, no matter where they grow up, have equal access to a high quality K-12 education and then multiple pathways to success after high school graduation. The President's budget request reflects these priorities."
Get stories like these delivered straight to your inbox. Sign up for The 74 Newsletter