New Poll: Majority of Adults Don't Trust Educators to Handle Sensitive Topics
Annual poll of public attitudes towards public schools shows adults rate local schools highly — but are split on teachers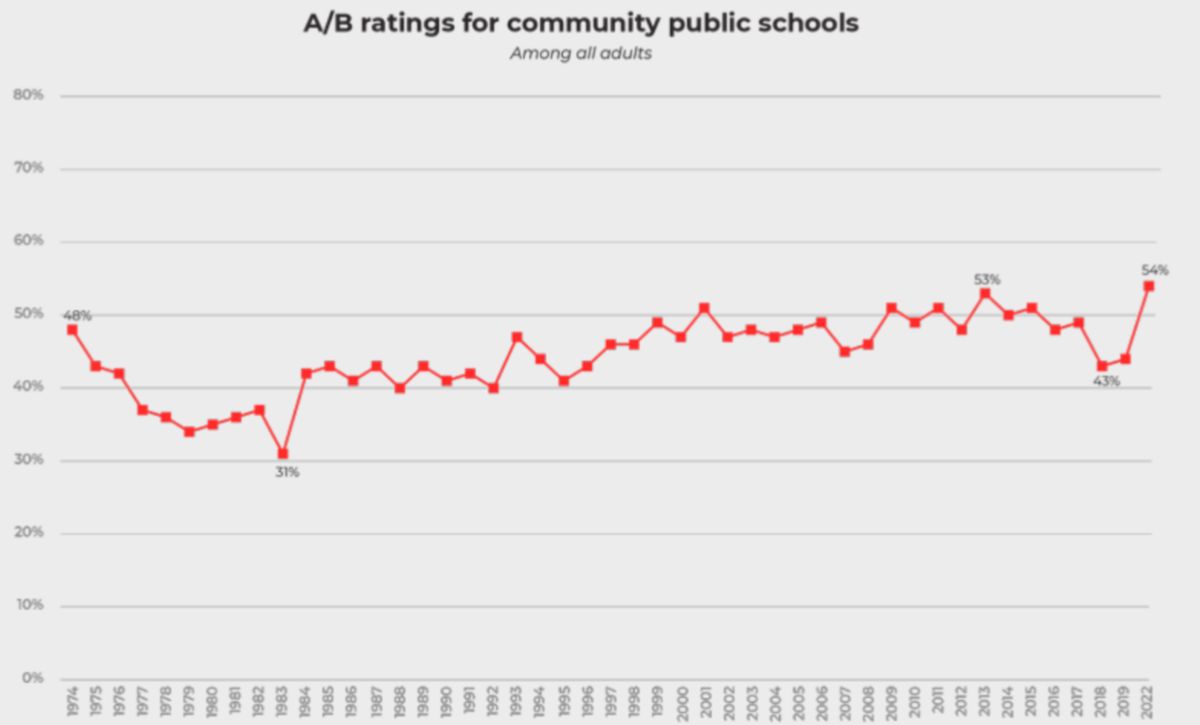 Support The 74's year-end campaign. Make a tax-exempt donation now.
Correction appended Aug. 25
New polling on the American education system shows widespread approval of local schools — along with ominous signs of dissatisfaction among both parents and the public at large.
In a report published today by PDK International, a professional organization for teachers, over 1,000 adults expressed higher levels of faith in their community's public schools than have ever been recorded in the survey's 48-year history, with 54% giving them an A or B. That figure represents an 11-point increase from 2018 and a robust show of support given the extraordinary challenges of post-COVID learning recovery.
But respondents also showed only modest trust in educators to deliver capable instruction on potentially controversial subjects like race, gender and sexuality. In keeping with other recent public opinion data, that result was split across partisan and ideological lines, with Democrats showing greater trust than Republicans. And the percentage of respondents saying they would want their own children to become teachers fell to just 37%, a record low.
Teresa Preston, PDK's director of publications, said the perceived desirability of the teaching profession had been declining in recent years and that its current low might reflect public recognition of the hardships inflicted by COVID.
Observed Preston, "2018 was the first year when we had a majority of respondents say that they would not want their child to become a teacher, and now it's an even higher percentage. It suggests continued awareness of how tough teaching is, especially during the pandemic, and all the pressures that teachers have been under."
Poor compensation was the most commonly listed reason for the negative reaction (cited by 29% of respondents), followed by workplace demands and stress (26%) and lack of respect (23%). Across 13 previous polls that included a version of that question, an average of 60% of respondents favored the idea of their children working in classrooms.
Perhaps more concerning was the low confidence in educators to teach sensitive subjects. Although fully 72% of public school parents said they had faith in their community's teachers, compared with 63% of the full adult sample, far fewer members of the general public trusted teachers to "appropriately" handle politically contentious issues.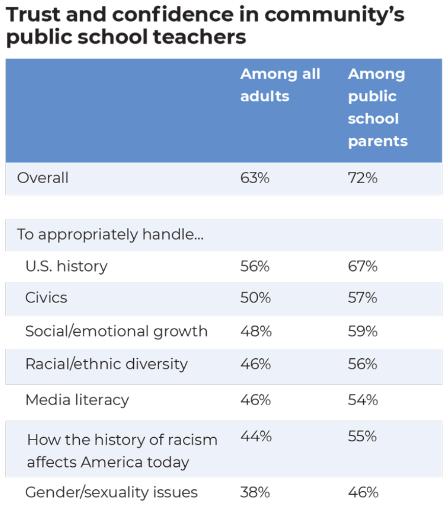 Only in the case of U.S. history and civics did bare majorities believe teachers could do this (56% and 50%, respectively); in five other areas — social-emotional growth (48%), racial and ethnic diversity (46%), media literacy (46%), gender and sexuality (38%), and how the history of racism affects America today (44%) — fewer than half of respondents said the same. Among parents, who generally thought more highly of teachers' capacity to navigate dicey subjects, just 44% said teachers would handle gender and sexuality appropriately.
Those figures dovetail with findings from other recent surveys. An Ipsos poll from October showed a six-point dip in trust for teachers between 2019 and 2021. More recently, a survey released this week by the University of Southern California's Rossier School of Education found a majority of state residents wanted parents to be able to opt students out of content that they found objectionable.
Notably, stark divisions existed in which demographic groups trusted teachers in their community most (though margins of error were higher for these subgroups, given their smaller sample sizes). Black respondents in particular said they trusted teachers less than their white counterparts with respect to every controversial subject. Just one-third said they believed teachers would handle gender, sexuality or racial diversity appropriately.
A partisan disparity prevailed as well. While Democrats said they trusted local teachers by a nearly 50-point margin (73%, versus 27% who said they did not), the spread among Republicans was less than half that (60%/40%). Just 58% of independents said they had confidence in local teachers, compared with 42% who didn't.
Preston noted that respondents did not list reasons for their assessment of teachers — it is possible, for instance, that African-Americans want much more intensive instruction in racial diversity than is currently offered, she said.
"I think it does speak to the fact that Americans have a lot of questions about what's going on in their local schools and schools across the nation," said Preston.
That view was shared by others in the education community.
Shannon Holston, the chief of policy and programs at the National Council on Teacher Quality, an advocacy group that favors strengthening teacher preparation and classroom standards, said it was "heartening" that parents and the public gave high marks to their local schools. Still, she added, the declining prestige of the profession was a major concern that could be driven by the perception that "teaching doesn't require specialized skills and knowledge." 
"The significant increase in the number of people who wouldn't want their child to become a teacher is concerning," Holston said in a statement. "To elevate the status of teaching so that we can attract and retain the strong, diverse teacher workforce our children need, we must set a high bar for entry into the classroom and provide teachers with comprehensive support and the competitive salaries they deserve."
The poll's full sample was 1,008 U.S. adults, with a margin of error of plus or minus 3.3 percentage points.

Correction: Shannon Holston is chief of policy and programs at the National Council on Teacher Quality.
Support The 74's year-end campaign. Make a tax-exempt donation now.