New Poll Shows Majority of Voters List Schools As Big 2016 Issue, But 2/3 Haven't Heard Peep From Politicians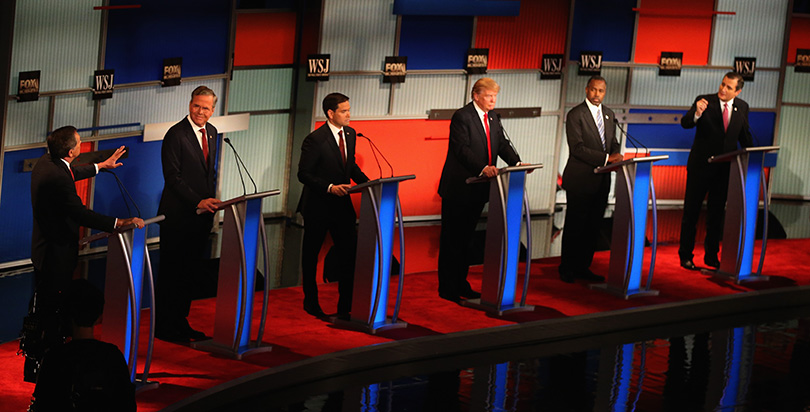 Most swing-state voters say improving K-12 public education is a critical issue in the 2016 presidential election — ranking it above immigration and Obamacare — but few say they are hearing about it, according to a new poll.
The poll is the first examination of K-12 education in the context of the presidential race. Of the voters surveyed, 68 percent said improving public education should be a priority in the election, but only 36 percent have heard candidates discuss it. The poll studied 1,200 voters in Florida, Ohio, Virginia, Iowa, New Hampshire, Colorado, Nevada, and North Carolina.
Dan Fuller, vice president of legislative relations at Communities in Schools, which commissioned the poll, said it shows an opening, a chance for leadership on K-12 education.
"In the crowded field where people are looking to distinguish themselves," Fuller said, "this could be a great opportunity, and a great way to speak to the voters."
Voters ranked the issue a higher priority than others that have been hot-button topics in the campaign so far: immigration, the Affordable Care Act, taxes, Social Security and Medicare, and the cost of higher education. Yet voters reported hearing more discussion on all of those issues than they did on K-12 education.
In the debates so far, both Democrats and Republicans have discussed higher education. Republicans in their first debate briefly discussed Common Core.
(The Seventy Four interviewed six GOP candidates on K-12 education issues in August at an Education Summit in New Hampshire sponsored by the American Federation for Children, and caught up with Dr, Ben Carson and Sen. Marco Rubio in Milwaukee around this week's GOP debate.)
A dropout prevention nonprofit, Communities in Schools places coordinators in schools to help match community resources to student needs in areas like food, counseling, health care, and mentoring.
Its poll found echoes of the national discussion on the growing wealth gap. Almost two-thirds of voters, 63 percent, agreed that poverty is a barrier to student learning.
"We think that any candidate talking about education … and the impacts of poverty on education is going to have an opportunity to really resonate with voters in swing states," Fuller said.
Respondents were split on which party could best improve education by tackling five specific areas.
A plurality, 30 percent, said Republicans are better equipped to "reform teacher laws to make it easier to remove ineffective teachers in my local schools."
They ranked Democrats, meanwhile, as better able to increase access to early childhood education (36 percent) and ensure that college is affordable (40 percent).
Voters didn't cite either party as notably better at implementing higher academic standards or measuring students' academic growth.
Public Opinion Strategies conducted the poll online from Oct. 27 through Nov. 2. It has a margin of error of plus or minus 2.8 percent.
Get stories like these delivered straight to your inbox. Sign up for The 74 Newsletter