New Poll Finds Majority of Parents & Voters Favor Open School Enrollment, Elimination of Attendance Boundaries
The Virginia poll shows a majority believe that students should be able to attend any public school regardless of proximity to their residence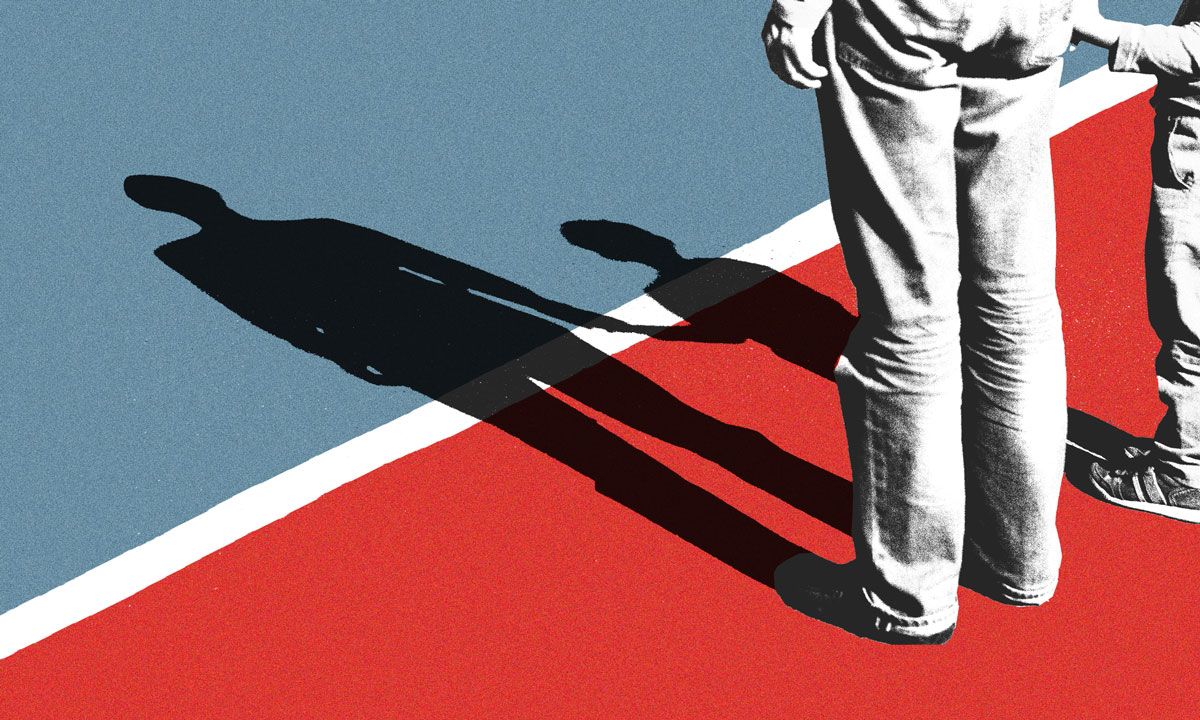 Get stories like these delivered straight to your inbox. Sign up for The 74 Newsletter
A new poll shows a majority of Virginia parents and voters want families to have greater flexibility when choosing schools for their children, and believe students should be able to attend any public school regardless of proximity to their residence.
The poll, released late last year by education advocacy group Yes. Every Kid. and conducted in October by WPA Intelligence, surveyed 504 registered voters across the state. Nearly every voter polled (97%) agreed that all students should have access to the best public schools, regardless of race, gender or income.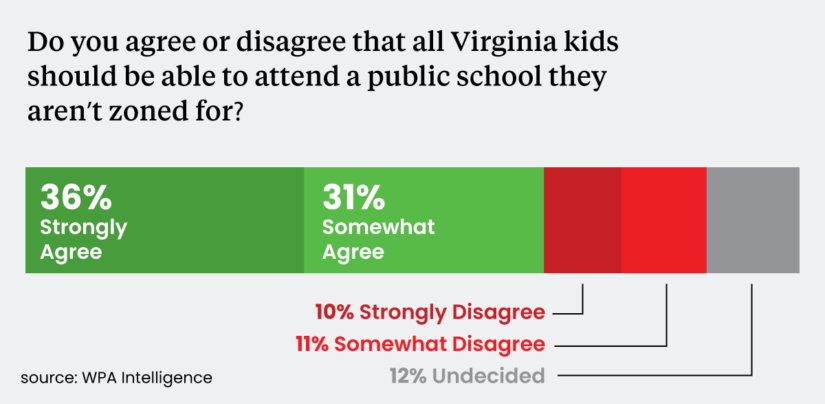 More than two-thirds (67%) of voters and an overwhelming majority (72%) of parents said students should be able to attend the public school of their choice, regardless of attendance boundaries. The poll's margin of error was plus or minus 4.4%.
The elimination of attendance zones, commonly referred to as open enrollment, has become a priority for some school choice proponents. In recent years governors in several states, including Iowa Gov. Kim Reynolds, have moved towards eliminating certain enrollment rules and restrictions.
While more than two dozen states specifically allow open enrollment, Virginia is among a handful of states that leaves the decision to school districts, according to the Education Commission of the States.
Craig Hulse, executive director of Yes. Every Kid., said Virginia still retains arbitrary attendance boundaries that haven't been modified in decades and have long been discriminatory to students. The location of a child's house often reflects the quality of education they will receive in their school district, disregarding those in underserved communities.
"Because of real estate in the United States, and Virginia specifically, boundaries sort of create haves and have-nots," Hulse said. "Simply because you can't afford a bigger, nicer house and a nicer neighborhood with a nicer school, you're not allowed to go to that school."
Since its inception in 2019, Yes. Every Kid., which works as part of the wider Stand Together Trust network, has worked to expand open enrollment policies across the country.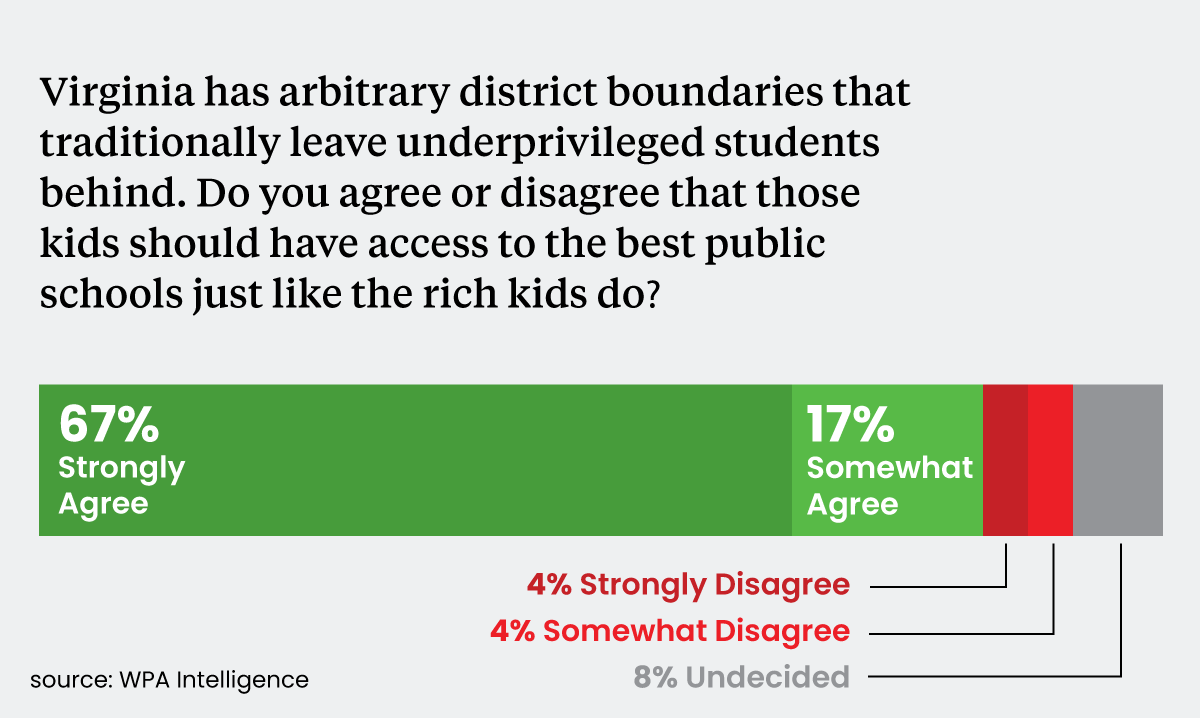 Nearly 84% of voters in the new poll agreed that low-income Virginia students should have access to the same public schools as students in high-income households.
The Senate's Joint Economic Committee reported in 2019 that the average U.S. zip code associated with the highest performing public elementary school has four times the median home price than the average neighborhood associated with the lowest performing elementary schools.
Earlier this month, Virginia Del. Jason Ballard wrote a column in The Roanoke Times announcing that he plans to introduce legislation to eliminate attendance boundaries.
Ballard said the state needs to become a more student-centered education system. "There is no legitimate reason to deny a Virginia student who lives outside of a school's zoning boundaries from enrolling there if the school has available capacity," he wrote.
"The current system has proven to be a barrier to quality education and upward mobility, particularly for students in lower-income families."
The inequalities can be a contributing factor to deepening segregation between schools, according to a 2020 study from Virginia Commonwealth University and Penn State University. This can especially occur in elementary schools, which have smaller and more compact attendance boundaries.
Lindsey Burke, director for the Center for Education Policy with the Heritage Foundation, said the pandemic has been a "punctuation mark" on issues caused by tying housing to education.
"If you were a family with a child in a school district that decided to shut down completely or do long-term emergency remote instruction, and it wasn't serving you well, you had very little recourse if you weren't able to move," Burke said.
Though the pandemic has triggered more states to move in the direction of open enrollment, some states dismantled their boundaries years ago, she said.
Students in Colorado and Wisconsin have been able to cross district lines for more than two decades, according to the Reason Foundation, a nonpartisan public policy research organization.
All schools in Florida are required to offer open enrollment within districts and between districts, according to the foundation. Nearly 273,500 students utilized these options during the 2018-2019 school year.
While advocates say there aren't many valid reasons for opposing open enrollment, there can be some disadvantages such as transportation. Some districts don't have enough drivers or buses to transport students who want to go to schools outside of their attendance boundaries.
Students in Virginia's Richmond Public Schools can apply to three out-of-zone schools, but they won't receive district transportation, and acceptance can vary depending on building capacity or staffing numbers.
Burke said besides creating more access and equality, open enrollment can help improve low-performing schools.
"You don't see this mass wave of public schools shutting down," Burke said. "What you see is more of an impetus for underperforming districts to start responding better to the needs of families."
Hulse said students who are able to choose the school they want to attend tend to perform better.
Another key data point from the December poll that Hulse says points to public support for breaking down boundaries: Two-thirds of voters disagreed that any child should be forced to stay in a school they don't want to be in.
"They see how discriminatory it is. If public schools should truly be public, it's similar to a public hospital — we would never say, 'You don't have the right zip code to go to that public hospital,'" Hulse said. "'You don't get access to that simply because you can't afford its neighborhood.' That sounds so wildly crazy."
Disclosure: Stand Together Trust provides financial support to The 74.
Get stories like these delivered straight to your inbox. Sign up for The 74 Newsletter