New Nonprofit Teaches Philly Students CTE Skills — and Pays Them for Their Work
Building21's Launchpad takes students from high school through graduation to college-level work and a paid career — all without a bachelor's degree.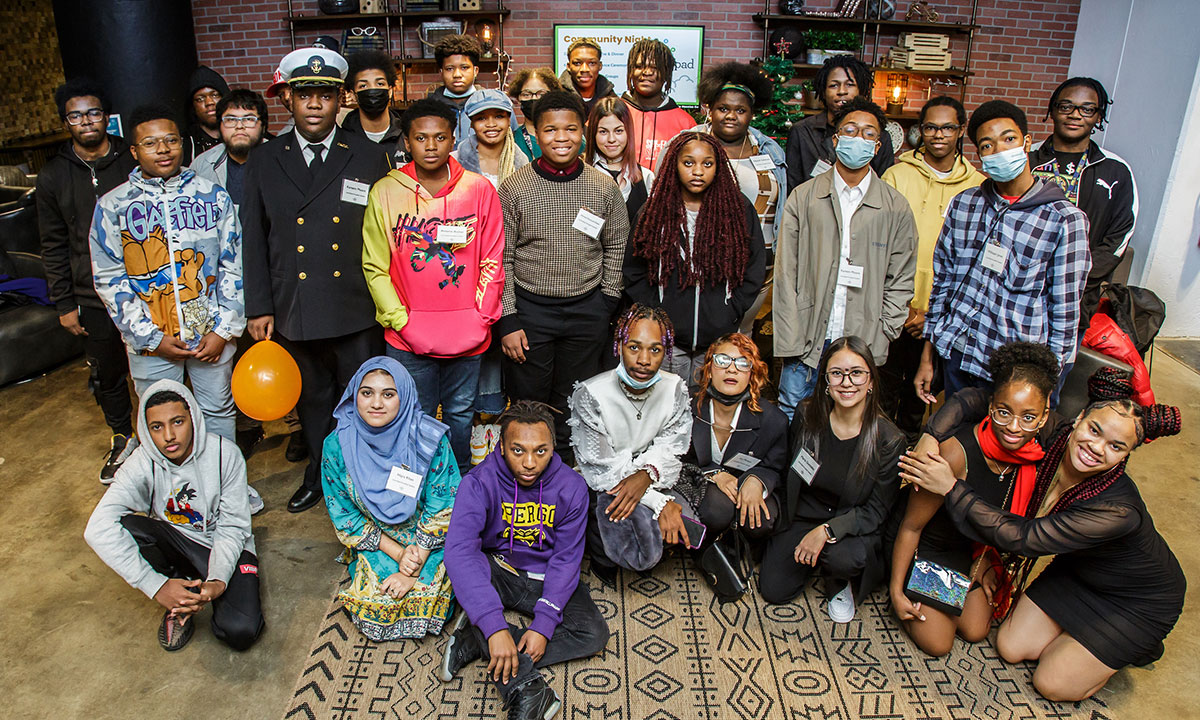 Support The 74's year-end campaign. Make a tax-exempt donation now.
Jamar Kellam's dream was to become a video game developer. During the first semester of his junior year, the Philadelphia high schooler had his plan for achieving that goal already set: attend LaSalle University, a local private college with a price tag of more than $32,000 for tuition each year.
But Kellam began to change his mind after a local nonprofit presented a new opportunity during a career class last fall: Launchpad, a new, three-year career and technical education program that not only was free, but paid students for their work.
Though he couldn't both do Launchpad and earn a bachelor's degree, the more Kellam learned about the program, the more he thought about changing his path.
"After learning that Launchpad was not compatible with a four-year college, I dropped" my plan, Kellam said. "I wanted to do Launchpad more than I wanted to do college because of the opportunities it gives me to get a better job."
Kellam is one of 45 students who were selected last fall among an inaugural group of 90 applicants. Launchpad's program is presented in four stages.
In the first, which began in January and lasts through the semester, students attend weekly afterschool meetings to participate in a variety of workshops and activities. Offerings include learning about infotechnology and building a computer; going on private tours with local companies; and creating presentations to teach younger students about the tech industry.
In the second, students take half-days during senior year and the summer after graduation to complete online classes through Arizona State University. They also receive coaching from Launchpad staff and build relationships with local industry experts through networking and observing different companies.
The third stage is an intensive bootcamp at Launchpad's Philadelphia office after graduation. Participants will work at least 30 hours a week to learn technical skills, develop a portfolio of completed projects and earn more college credits. In the fourth stage, they transition into a guaranteed paid career with an industry partner, working with real clients. The goal is to place participants in jobs that pay at least $50,000 a year.
Dannyelle Austin, executive director of Launchpad, created the program's framework in 2022. She said it's crucial for students to start workforce development and career education early on. "So often, workforce programming waits until young people are disconnected from school and work to try to engage them, as opposed to saying, 'We know there are young people that are not going to go to college — how do we tap into them when they're still in high school, when they're still connected and engaged?'" Austin said.
Launchpad's mission is to show students that career success doesn't require a college degree, she said.
A 2019 report from the U.S. Department of Education found that by eight years after their expected graduation date, students who focused on career and technical education while in high school had higher median annual earnings than those who did not.
Launchpad was created by Building21, a Philadelphia-based nonprofit founded in 2013 to help traditional schools transition to a competency-based approach, which values student performance levels instead of grade-point averages. The nonprofit uses the framework in two of its own high schools — Building 21 Philadelphia, which Kellam attends, and another in Allentown, roughly one hour to the north. It also coaches educators and schools around the U.S. to transform their curriculum to be competency-based.
Austin said she hopes Launchpad can branch out to include more industries, but it's starting with tech because of the variety of opportunities available.
"There's such a need for tech — and coders, web developers in our [Philadelphia] community particularly — and we also know there's not a lot of Black and brown folks in tech," Austin said. "We have to think about equity and really help our young people see themselves in this field."
The students will be compensated through Launchpad, eventually earning up to $5,000 for their work and time by the end of the program. Austin said the program is funded by donations and grants.
The initial 45 students come from 10 public and charter schools around Philadelphia that have partnered with Launchpad. One, Belmont Charter High School, has three students participating. Malaun Yuille, Belmont's director of college and career services, said Launchpad is a great fit for students who are already taking technology classes but might not want to go to college.
"Since our school does not currently have a career-technical education program, we look for different organizations and businesses within our community to provide our students with opportunities to gain job-readiness skills," Yuille said. "I like that Launchpad provides them with different opportunities to gain skills as well as being able to find employment."
She said students have told her they are enjoying the program so far and appreciate the hands-on experience.
Manora McCoy, a student at Mastbaum High School in Philadelphia, said her favorite part has been the project they're working on right now: creating an interactive presentation that highlights local job opportunities in tech. McCoy wants a career in health infotechnology.
"My mom is very proud of me for getting into a tech career, because nobody in our family is really interested in that," she said. "This program is amazing."
Chip Linehan, Building21 co-founder, said Launchpad's first group of students have been "phenomenal, with amazing energy." They have been ready to learn and are looking forward to the next three years of the program, he said.
"We are working really hard to connect these young people to the futures that they deserve," he said. "It is so apparent that for these kids, the sky's the limit."
Support The 74's year-end campaign. Make a tax-exempt donation now.