New Mexico's Education Reform Plan Presented to Tribal Leaders
Education officials deposed again as part of the Yazzie-Martinez settlement, attorney says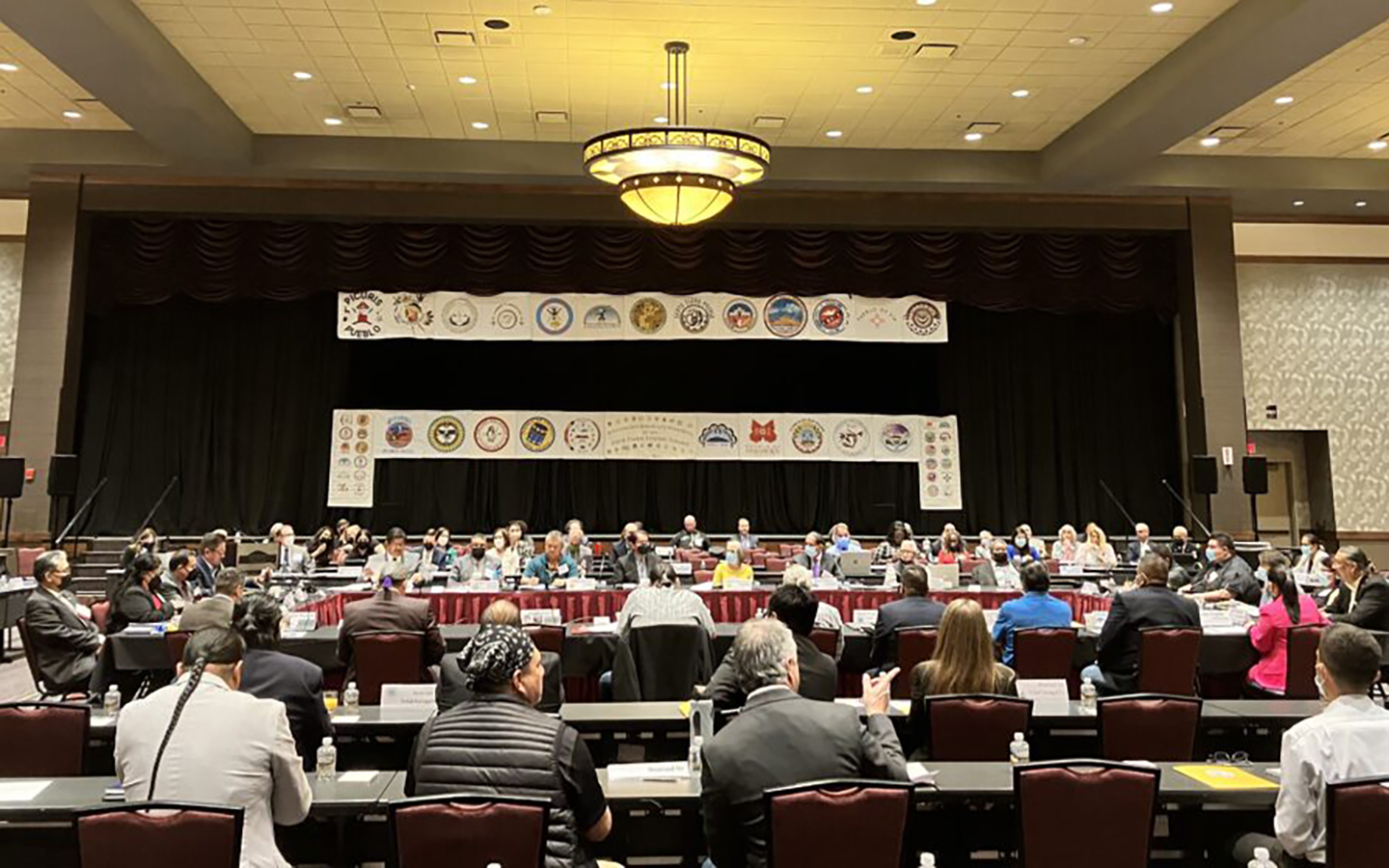 No paywall. No pop-up ads.
The plan is still a draft, but New Mexico leaders say it's one step closer to meeting a judge's order to reform public education across the state.
But advocates want a greater balance than the back-and-forth, top-down approach they say goes in creating the education plan. And lawyers representing the plaintiffs in the Yazzie-Martinez lawsuit that prompted reform continue to argue their case by deposing top state leaders.
The plan comes in response to the 2018 Yazzie-Martinez judgment that unveiled a history of failures by state government in providing adequate education for a majority of public school students. The case resulted in the court ordering New Mexico to fix the system.
Last week, Gov. Michelle Lujan Grisham presented highlights from the proposal to Native American leaders during the 2022 State Tribal Leadership Summit at Sandia Casino, stressing every facet of government must acknowledge failures and have a role in fixing the broken system.
"To recognize that we were not investing in educational opportunities that begin in each of your sovereign nations, that if we don't do that, we're discriminating against the very educators who will make a difference," she said. "Not just in the classroom, but in every opportunity for every single student and family member statewide."
The state is looking at a substantial overhaul after "decades of neglect and underfunding" that affected young people with disabilities, those learning English, Native Americans, and students from families with low incomes, the action report summarizes.
While the state's 55-page follow up outlines several efforts by the state to adhere to the court order, advocates want more voices included, saying this process is an opportunity to bring in more stakeholders to help shape education now and in the future.
Regis Pecos is the former governor of Cochiti Pueblo and a staunch advocate for tribal education reform. He said he is optimistic with the state's plan and sees this as a positive path forward, but he noticed gaps in the process to create the plan, exacerbating the very problems the state is trying to fix.
What sticks out to Pecos in the state's plan is the piecemeal inclusion of the Tribal Remedy Framework, a possible solution to Yazzie-Martinez prepared by the University of New Mexico's Native American Budget and Policy Institute that was authored by Indigenous educators.
"We're still fighting the pushback" from the Public Education Department and the Legislative Finance Committee, he said. "If there was a better alignment, then we shouldn't be having the kind of pushback in the process so that we all are aligned."
How the Tribal Remedy Framework is included in the state's education reform plan is already ongoing, due in part to multiple pieces of legislation pushed by advocates and signed into law.
Judy Robinson, a spokesperson with PED listed several initiatives in the action plan that are directly from the framework: funding for traditional language preservation, revised social studies standards, curriculum development that is culturally relevant, more money for the Indian Education Fund and tribal libraries.
However, many of those initiatives, especially the funding for programs and libraries, required people like Pecos and Rep. Derrick Lente (D-Sandia Pueblo) to fight for legislation and appropriation at the Roundhouse.
During the 2022 legislative session Lente, another prominent advocate for the framework, sponsored and passed bills like the one that boosted pay for traditional language teachers. He said he understands the role that the Legislature must have in reforming education but does not understand why commonly accepted norms, such as making school better for children, is still politically contentious.
"It's a long process. It's a much more political process than I thought I was going to get into," he said. "I thought it was gonna be a slam dunk with a Democratic-majority House, Democratic-majority Senate, Democratic governor. But it has been much more of a battle. That's just politics."
No authors of the Tribal Remedy Framework took part in writing the state's plan.
"I think more local control is extremely important— local control where we are the creators, we are the authors, we are the founders of the education that's going to help improve our students' outcome," he said. "​​It's got to be balanced between Western ideas and our traditional teachings, and so I think the only people that are best suited to do that is our own people."
Lujan Grisham's office asserted that tribal viewpoints were brought into crafting the state's plan, saying members of the Indian Affairs Department and the Department of Cultural Affairs took part in the process. "The drafting also came after robust outreach to and input from tribal leaders, educators and communities," said Maddy Hayden, a spokesperson for the governor.
One thing Pecos wants to see included in the state's action plan is hardline investments into teacher programs at UNM and tribal colleges that are creating a pipeline to bring more Native American teachers into schools with a high population of Native students.
"That's where this plan is still not fundamentally connecting," he said, "Navajo, Apache, Mescalero and the 19 pueblos develop very specific recommendations on policy changes, program development, statutory changes, appropriations. And then we've transformed those into what is now the tribal remedy framework."
The state's plan makes it clear why this teacher pipeline is necessary, writing that students perform better when educators have ties to the community where they work and live.
Teacher vacancies doubled in just a year — with over 1,000 last year — according to the Southwest Outreach Academic Research Evaluation and Policy Center at New Mexico State University.

Major gaps in teacher diversity mean there's also a push to recruit new teachers who better represent the students they serve.
Depositions and turnover
Lashawna Tso (Diné) was the assistant secretary of the state's Indian Education Department during the process and oversaw parts of the report, according to PED.
Tso recently left her position to be the executive director Navajo Nation's Washington D.C. office.
Tso's departure is significant because the turnover in leadership at PED is a cause of concern, says Melissa Candelaria, a lawyer with the New Mexico Center for Law and Poverty that represents the Yazzie group in the lawsuit.
Candeleria (San Felipe) said her office has recently deposed six top-level employees at PED as part of the lawsuit, she couldn't share much about the depositions but said many of those individuals have left for other jobs.
Pecos is encouraged by the commitment to stay for the long haul by PED Secretary Kurt Steinhaus, but he expressed concern that the turnover at the department could hamper the reform efforts, because it causes leadership to start from step one when new employees take over.
"The question now becomes, who's going to lead the effort to implement (the state plan) when all of the top-ranking deputy secretaries are now gone? And now coming into their roles will be a whole new team that is now going to result in us going back to the table to try and educate those who are going to replace those who have left," he said. "There's no stable leadership in PED. That's the fundamental problem there."
Steinhaus is now pitching the plan to communities. Last week he presented the plan to tribal leaders for the first time and will host another listening session next week. Public education leaders are seeking input on the plan from any community leaders and will take comments until June 17.
Source New Mexico is part of States Newsroom, a network of news bureaus supported by grants and a coalition of donors as a 501c(3) public charity. Source New Mexico maintains editorial independence. Contact Editor Marisa Demarco for questions: info@sourcenm.com. Follow Source New Mexico on Facebook and Twitter.
Get stories like these delivered straight to your inbox. Sign up for The 74 Newsletter